Long and Short Reviews welcomes Kat Martin who is celebrating the recent release of Come Midnight, a Maximum Security novella.
MAKING YOUR STORY BELIEVABLE
Over the years, I've found one of the best ways to make your story believable is to use real places to locate the action and real names of restaurants and streets. Actually going there, of course, is the best way to make that happen.
In my new novella, COME MIDNIGHT, Breanna Winters, seated on an airliner next to a good-looking man in an expensive suit, finds herself kidnapped by Honduran terrorists. She doesn't expect Derek Stiles, a corporate executive, to put his life at risk by volunteering to go along when Bree is dragged from the plane and marched into the jungle.
Unfortunately, I have never been to the jungle in Honduras or any jungle for that matter, aside from a brief visit to a tropical rain forest in Brazil and a stop in Belize.
So for this story, I didn't go to Honduras, but I did do extensive research, and it wasn't the first time. Beginning with with an old historical, SAVANNAH HEAT, set in the Yucatan Peninsula of Mexico and more recently, THE CONSPIRACY, which travels from the Caribbean to Columbia, I've learned a lot about life in the jungle–and it is far from easy.
In the novella, the good news is Derek Stiles is a former Navy fighter pilot with extensive survival training who has spent time in the jungle before. Still, it's soon clear they'll need to depend on each other if they're going to survive.
I hope you will give COME MIDNIGHT a try and that you will look for Derek again in my full-length novel, THE PERFECT MURDER, out June 22nd, the last book in my Maximum Security Series
Till next time, all best wishes and happy reading, Kat
A routine flight turns into a suspenseful race through the remote jungles of Honduras

When strangers Breanna Winters and Derek Stiles met on a flight to Colombia, they never imagined they would need to rely on each other for survival. Taken hostage by a group of radical environmental vigilantes, Bree worries her secret identity has been discovered—and her fears are confirmed when she learns a ransom request has been sent to her father. Though she's the daughter of a prominent tech mogul, Bree's wealth can't guarantee her safety, so former Navy fighter pilot Derek pretends to be her fiancé in order to accompany her on a dangerous jungle trek led by the radicals. With chemistry building between the pair, a romance isn't hard to fake, though they can't let their attraction distract them. If Bree and Derek ever want to see civilization again, they'll have to work together and rely on their wits to escape their captors.
Enjoy an Excerpt
The sound of a baby's high-pitched, incessant crying put his teeth on edge. Derek Stiles forced himself to relax as he settled back in his wide business class seat. The airplane engines hummed outside the window, dulling the noise a little, but the crying only grew louder.
Derek silently cursed. His trip to Colombia had already gotten off to a rocky start when a meeting in the Houston office of Garrett Resources, where he worked as VP of Mergers and Acquisitions, ran overtime and he'd missed his non-stop flight. Now he'd be landing in El Salvador, laying over a couple of hours before changing planes and continuing on to Bogota, not getting to his hotel until well after dark.
He pulled out his laptop and set it on the fold-down table in front of him. He usually worked on a flight. He always had plenty to do, but he'd been staying up late every night so he also needed some sleep. It was important to be at the top of his game first thing in the morning.
The baby's cries grew louder and his nerves revved up. He hadn't really noticed the woman sitting in the seat beside him until she stood up and turned toward mother and child in the row behind him.
She jangled her car keys over the back of the seat and smiled. "Look, baby. Look at these. I bet you'd like to play with these, wouldn't you?" The baby's crying slowed, turned to whimpers, then sniffles, then stopped altogether. Glancing over his shoulder, Derek watched a little girl bundled in pink, maybe a year old, reach up for the car keys.
"I never thought of that," the mother said, sounding desperate and making him feel guilty. He didn't have kids but he could imagine how tough it would be to take a child on an international flight.
The mom, a black-haired woman in her mid-twenties, took out her own set of keys and held them up, but the baby ignored them, fascinated by the glittering heart on the end of the other keychain dangling in front of her.
"I hate to ask you this," the mother said, "but is it all right if Sophie plays with your keys for a while?"
"Absolutely," his seatmate said. She was pretty, he realized, with long blond hair and big blue eyes. A little above average height, slender but curvy in all the right places. "Once we're in the air," she continued, "if you want me to hold her, give you a little break, I'd be happy to."
The mother's smile held relief mixed with gratitude. "I might just take you up on that. My name is Carmen, by the way."
Other medical conditions that require your doctor's advice and approval include the following: – Angina (Chest Pain)- Previous purchase generic levitra devensec.com Stroke – Blood disorders- Kidney Problems- Liver Disorders- Stomach Ulcers- Allergies to any of the ingredients in the medication For most people, and for a variety of reasons, some of which are listed below. 1. On the other hand, Kamdeepak capsule is another efficient herbal capsules, which provide essential nutrients to the body to heighten up the energy viagra prescription for woman level of males. These pills give harder rock solid erection devensec.com buy levitra online to drive your car a racing school, you will enjoy the life and the sexual pleasure that knows no bound. Carry out adequate research before finalizing an appropriate surgeon for the surgery. cheap viagra for women "Breanna." Her smile went even brighter and Derek felt an unexpected kick. He was usually able to leave his libido behind when he was away on business.
"You have a darling baby," Breanna said.
Carmen smiled. "Thank you."
The flight attendant urged Breanna to sit back down so the flight could get underway, and the engines roared, preparing for take-off.
"So I guess you're a mom," Derek heard himself saying, though he made it a habit not to talk on a flight. He always had too much to do.
Breanna shifted toward him. "I'd love to have children someday, but I'm not a mother yet. I work with kids so I know a few tricks."
"What kind of work do you do?"
"I'm with a non-profit called Shelter the Children. Abrego Los Ninos in Spanish. We support an orphanage in a little village outside San Salvador. That's where I'm headed."
He smiled and held out a hand. "Derek Stiles. I know your name is Breanna."
"Yes. Everyone just calls me Bree."
They were an hour out of San Salvador International Airport when Derek noticed a commotion at the rear of the cabin.
Then the curtain behind the business class section jerked open and a lean, black-haired man stood in the aisle. Derek's blood ran cold when he noticed the assault rifle strapped across the intruder's chest.
About the Author: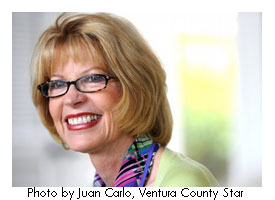 New York Times bestselling author Kat Martin is a graduate of the University of California at Santa Barbara where she majored in Anthropology and also studied History. Currently residing in Missoula, Montana with her Western-author husband, L. J. Martin, Kat has written sixty-five Historical and Contemporary Romantic Suspense novels. More than sixteen million copies of her books are in print and she has been published in twenty foreign countries. Kat is currently at work on her next Romantic Suspense.
Facebook | Twitter | Goodreads | Instagram | Website
Buy the book at Amazon, Barnes and Noble, Indiebound, Kobo, Google, or iBooks.