Thanks for joining us on our 14th anniversary scavenger hunt! There are two ways to enter to win and it's easy to play– first read the blurb below, then answer the question on the first Rafflecopter. You might win a $100 Amazon or Barnes and Noble GC (along with other prizes). Follow and visit authors' social media pages on the second Rafflecopter and you're entered to win another $100 Amazon/BN GC (along with other prizes)!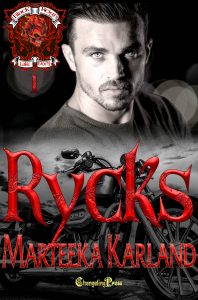 Lyric: I'm in so much trouble. My orders are to find the highest-ranking member of Salvation's Bane or Black Reign MCs and sleep with him. Worm my way into his bed so I can feed information to Kiss of Death. Little did I know I would find the one man I could never forget — the man who broke my heart six years ago and left me to fend for myself against a ruthless club who will break me the first chance they get.

Rycks: Lyric ran out on me six years ago. Not that I'd given her any reason to stay. The second I see her again, I want to punish her. She waltzes back into my life with an agenda I can't figure out. When I do, the truth is as scary as it is infuriating. Lyric is my torment. She's sent to me as bait in a bigger plan I can't fathom. Mainly because I'm too distracted by what she reveals. Now I'm questioning my loyalties to both her and my mentor, El Diablo. She pulls at my need to protect at the same time she might just prove herself to be a traitor.
Facebook | Twitter | Instagram | Bookbub
Buy the book at Books2Read.
Scavenger Hunt:
Social Media: