Enter the Rafflecopter below for your chance to win a $100 Amazon/BN GC and more!
Summertime Livin' by Brenda Whiteside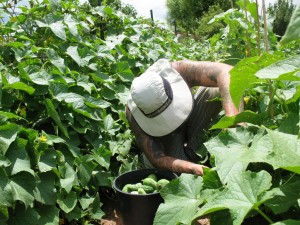 Summertime and the livin' is…hectic! When you live on a family farm, there's no time for easy livin' in the summer. We grow a variety of crops to feed ourselves, and we grow cucumbers to make awesome pickles and relish which are popular at the farmers' markets.
I'm the jack-of-all-trades and the main killer of weeds on Tortuga Flats Farm. I really hate weeds. Harvesting sometimes falls on my list of chores, especially certain crops no one else cares that much about such as green beans and peas. But once in a while, I'm requested in the cucumber rows. It's a little disconcerting with all the buzzing, but my son told me if I just ignore the bees, they'll ignore me. Still…I do my best not to disturb too many of them. Imagine a steady buzzing drone and you'll have some idea of how many bees there are to ignore. The cucumbers came slowly at the beginning of summer and now they're manic. Thank you, bees.
The monsoons are lasting longer than normal this year, which means the weeds are thriving. For a weed-hater it's pure torture to walk around the fields and crops and see so many. But at some point – like now – I have to put my blinders on. There are too many other chores and I could never keep up with them anyway. I only weed around the vegetables that are particularly bothered by weeds (onions, potatoes and a couple of ground vine plants).
One morning this summer, I was treated to a rare weather phenomenon for here – fog. I think we've only had a foggy farm one other time in the three years we've been here. Fog fascinates me for some unknown reason. The urge to walk into the cloud to see if there's something waiting pulls at me. A romantic notion because I know the only thing waiting is mud. We've had so much rain. Sorry, I took the romance right out of that. And romance is what I'm all about!
 Lacy Dahl never questioned her past until the deaths of her adoptive parents and her husband. A husband who wasn't what he seemed. Her research uncovers secrets about the mother she never knew; secrets that dispute the identity of her father and threaten her life.
Sheriff Chance Meadowlark is still haunted by the murder of his wife and the revenge he unleashed in the name of justice. When he meets Lacy he is determined not to become involved, but their pasts may make that impossible. As they move closer to the truth, saving Lacy may be his only salvation.

Lacy begins to think the present is more important than her past…until Chance's connection to her mother and a murder spin her deeper into danger and further from love. Will the truth destroy Lacy and Chance or will it be the answer that frees them?

Buy this book:

TWRP http://www.wildrosepublishing.com/maincatalog_v151/index.php?main_page=index&manufacturers_id=726

Amazon http://www.amazon.com/Art-Love-Murder-Brenda-Whiteside-ebook/dp/B00K0N0Y6M/ref=sr_1_1?s=books&ie=UTF8&qid=1399254400&sr=1-1&keywords=the+art+of+love+and+murder
ABOUT THE AUTHOR: Brenda spends most of her time writing stories of discovery and love. The rest of her time is spent tending vegetables on the small family farm she shares with her husband, son, daughter-in-law and granddaughter. Together, they've embraced an age-old lifestyle that has been mostly lost in the United States – multiple generations living under one roof, who share the workload, follow their individual dreams and reap the benefits of combined talents.
After trying her hand at a couple of genres, she's settled on romantic suspense. She's found all good stories involve complicated human relationships. And if you add murder to the mix, the novel makes for good entertainment. She's also found no matter a person's age, a new discovery is right around every corner. Whether humorous or serious, straight contemporary or suspense, all her books revolve around those two facts.
Website URL www.brendawhiteside.com
Blog URL http://brendawhiteside.blogspot.com/
Facebook page www.facebook.com/BrendaWhitesideAuthor
Twitter account URL https://twitter.com/brendawhitesid2