Long and Short Reviews welcomes David K. Hulegaard who has stopped by to chat with us today. David is giving away 5 signed copies of the book (digital copies for international winners) – just leave a comment! Check out our 5 star review of the book!
David had never really set out to be a writer. In fact, when he was growing up, he wanted to be a professional baseball player.
"I lived and breathed baseball growing up, and we used to play pick-up games in the middle of the street every day after school," he remembered. "Unfortunately, I never got to play organized sports, so I never really developed any actual skill or, more importantly, any actual athletic ability. Once I realized that door was closed for me, I moved on to other interests."
He did, however, have a tremendous fear of flying so, if he had to travel for work, he would take other forms of transportation, usually alternating between train and bus, depending on the distance.
"Because these forms of travel are much longer, you get to meet and spend time with some very colorful characters. I'd show up for these work events with all kinds of stories because, inevitably, something bizarre would happen to me on the trip. After several years, my stories became part of the business functions, with partners all wanting to hear what happened this time. One year, a partner said, 'You should write a book with all these stories.' I'd never thought about writing a book before, but for some reason, the idea really struck a chord with me. I didn't do it right away, but within a couple of years, I began dedicating free time to writing and discovered that I loved it. Once I got going, I couldn't stop!"
David began exploring fictional ideas he'd come up with over the years and started writing some every night until his first novel was completed in 2010. He's written six more since then.
He told me that his books all start with a single idea, but where that idea comes from varies.
"As a child, I suffered from pretty nasty night terrors," he said, "and a lot of those dreams have stuck with me ever since. As I've gotten older, the night terrors are gone, but from time to time my subconscious will blast me with something intense, and I'll wake up sweaty and out of breath. When that happens, I immediately write down as much as I can remember, and with any luck, I'll have something that may or may not fit into a larger story. Sometimes I get something that I can work with right away, and other times I get something that collects dust in the 'idea box' folder on my hard drive. I hope someday to deplete that sucker, but the sad reality is that one lifetime wouldn't be enough to use everything in my idea box."
I asked David what advice he would give to a new writer just starting out.
"You're going to hear lots of advice from other writers. Some of it good, some of it bad. Only you will be able to determine what's going to work best for you, so take all advice with a grain of salt. Use this advice as a guide to get you started, but once you're feeling comfortable at the helm, be selective with what advice you take to heart. Always remember that not one single writer has all the answers. Writing is not a one-size-fits-all process."
He admitted that he had been fortunate because he's never suffered from writer's block, even though he's known plenty of other writers who have – sometimes to the point of completely crippling their project.
"For me, I think it's been helpful to do a lot of prep work before actually starting to write," he said. "I start with things like character bios and a very rough, basic outline of where the story is going. By doing this, I always have a good idea of the story's direction, and filling in the blanks to get there is the fun part! However, if I ever do start to feel as though I'm approaching a block, I'll shift focus and work on something else for a little while. Sometimes a bit of time apart can help me regroup and come back with a fresh perspective."
David had been retaining bits and pieces from books he's read is whole life, but he can specifically recall reading Bernard Schaffer's Guns of Seneca 6.
"All of a sudden something just clicked. It's hard to explain, but there was a rhythm to his writing that I'd never noticed before, and it was kind of like seeing the 'raining code' from The Matrix. In that moment, I understood everything I'd been doing wrong as a writer, and immediately knew how to improve upon my existing work. At least in a structural sense. After that, it was a matter of learning how to create a compelling narrator, which is something I've reached outside my genre for. I've attended several classes taught by Julie Christine Johnson, who is absolutely amazing. She just gets it. Doesn't matter the genre, she can read your work and pinpoint your areas of opportunity right away. Learning from her has been a tremendous help, and I think my writing reflects that."
When David's not writing, he plays his guitar a lot – he thinks it's just another way of scratching the creative itch in his brain. Music plays a large part in his life and has ever since he was a teenager. He also finds time to do some video gaming.
"I'm a nostalgic guy, so I'm more of a retro gamer, though," he explained. "Give me an hour or two with Final Fantasy VII or a couple races in Super Mario Kart, and I'm one happy camper."
"Are you a plotter or a pantser?" I wondered.
"I started out as a pantser, and wrote all my first books that way. However, I've since become more of a plotter, and I think it's greatly improved my writing. I don't map out every little detail in advance, so there's still a fair degree of "pantsing" going on when I write, but I'm far more structured now than I've been. Working with Tony Healey was a huge help in that department. When we worked together on Planet of Ice, I was playing in his Broken Stars sandbox, and so I had to stick to his pre-existing "rules of magic." Tony gave me so much leeway to make the story my own, but he wanted to see an outline before turning me loose. That was a completely new experience for me at the time, but I found it to be so helpful, and I can't imagine not plotting in advance anymore. I honestly have no idea how the hell I managed to work as a pantser for so long!"
David lives in Port Townsend and he told me that it is an "absolutely stunning Victorian seaport town on Washington's Olympic Peninsula." He likes to call himself a "defective Pacific Northwesterner," because he doesn't hike or canoe or even really like the outdoors all that much.
"However, the natural beauty of this place is so inspiring," he explained. "It's no wonder so many writers and artists end up here, and no surprise at all that Port Townsend continually ends up on many 'Best Small Towns in America' lists."
It's the winter of 1947 in Ashley Falls, West Virginia, and a teenage girl has gone missing. Local private detective Miller Brinkman takes the case, quickly uncovering a string of bizarre clues. A hidden diary, cryptic riddles, and buried secrets all pique Miller's interest, but one key detail gives him pause: the girl's parents haven't reported her disappearance to the authorities.

As the case deepens, Miller's investigation begins to poke holes in the idyllic picture of his beloved hometown. No longer certain whether anyone in his community can be trusted, Miller dives headfirst into a desperate search for the truth that extends far beyond the borders of Ashley Falls. He soon discovers that his missing persons case is not an isolated incident, but part of an otherworldly mystery—one that, if confronted, may threaten the very future of humanity.
About the Author: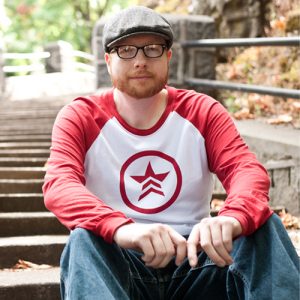 David K. Hulegaard is an American author and paranormal investigator. His Noble trilogy has garnered comparisons to the works of Philip K. Dick and Stephen King. In 2016, he collaborated with best-selling author Tony Healey on the novel Planet of Ice.
David previously worked at BioWare, a premiere video game development studio known for creating the popular Mass Effect and Dragon Age franchises. He now lives in the Victorian seaport town of Port Townsend, Washington with his wife Jennie, and their banana-obsessed Welsh Terrier, Tobi. In his spare time, he enjoys video games, professional wrestling, and photography.
Website | Facebook | Twitter