A special welcome to Madeleine Shade, who has stopped by Long and Short Reviews to talk about her Shady Lady Fairy Tales series.
*****
 It seems as though fairy tales are everywhere these days and that's fine by me. My childhood was spent in daydreams full of fairy tales and folklore. I still have some of those books, even though the bindings are crumbling and the pages are held together with rubber bands. As an adult, I started collecting fairy tales and mythology from cultures around the world. The oldest versions tended to be my favorite and before long I became an amateur scholar and a passionate archivist of fairy tales, folklore and mythology.
I have always been a writer and I actually worked as a successful freelance writer for more than a decade. Even then, I would sneak tidbits of folklore and allusions to fairy tales in my non-fiction work. On the side, I devoured scholarly books on the subject and dabbled in writing fantasy rooted in my studies. My entire life, including my work as a writer, crumbled after a series of unfortunate events and prolonged domestic violence issues forced me to change my identity. It was fairy tales that provided me the assurance that I could survive those difficult years as I worked to rebuild my life one step at a time.
With the increased attention to fairy tales in mainstream media, more and more people are discovering what I've known for years – fairy tales have deep roots digging into such dark social issues as forced unions, premarital sex, domestic violence, child abuse, incest, pedophilia, bestiality, rape, cannibalism, necrophilia, murder, disfigurement and dozens of other taboo topics. Bluebeard, a French folktale written by Charles Perrault, tells the story of a cunning nobleman who murders his wives. Being a victim of domestic violence, this story resonates with me and I read and reread Angela Carter's version of the tale in her short story collection The Bloody Chamber: And Other Stories. It gave me hope and it did so with prose so erotic and lush that I became inspired to write my own versions of the older tales, the darkest stories in the fairy tale canon.
The stories in the Shady Lady Fairy Tales universe are not your traditional childhood bedtime stories. I have taken elements from various collections and looked for unusual ways to connect tales both familiar and obscure. The stories work as stand-alone novellas, however there are complicated ties that link them all together. For instance, characters make cameo appearances and magical items often change hands. In order to help readers navigate the tales, I've included author's notes and a transcript of the original tales in the back matter of each book.
In August, I released Rumpled: An Erotic Twist on Rumpelstiltskin, which explores concepts of nurturing and the practice of erotic lactation. This was followed up by the September release of Porked: An Erotic Twist on the Three Little Pigs, which delves into the practice of bondage and discipline while exploring issues of self-perception and body image. At the end of September, I had a major setback in my progress when I fell and hit my head. I spent the month of October in a daze as I slowly healed from the traumatic brain injury. When I was finally allowed to return to my creative pursuits, I returned to my beloved fairy tales and wrote Tangled: An Erotic Twist on Rapunzel, which was released at the end of November.
In writing Tangled, I worked through the anger I still hold from being abused by a man who promised to take care of me. It has been the most difficult re-telling I've tackled to date. This story blends together elements from two tales (Rapunzel and Donkeyskin), while tackling forced marriage, incest and sexual ethics. By chance or fate, Tangled happens to combine two fairy tales with links to Christian saints. Like Rapunzel, Saint Barbara was locked in a tower in an attempt to keep her away from the rest of the world. Her feast day is December 4 and she is the patron saint of armorers, architects, artillerymen, mathematicians and prisoners. And, as in the fairy tale Donkeyskin, a king decided to marry his daughter Dymphna after his wife died. When the girl resisted, he beheaded her. Saint Dymphna's feast day is May 15 and she is the patron saint of mental disorders, neurological disorders, runaways and victims of incest.
On the editorial calendar, Hunted: An Erotic Twist on Little Red Riding Hood is scheduled for release in December and will be followed up with Tempted: An Erotic Twist on Snow White in January and Snowed: An Erotic Twist on The Snow Queen in February. Other fairy tales scheduled in 2015 include erotic twists on Cinderella, Diamonds and Toads, Sleeping Beauty, The Swan Maiden, Beauty and the Beast, and East of the Sun and West of the Moon. As a special treat, subscribers to the Shady Lady Fairy Tales blog (http://shadyladyfairytales.com/) will get sneak peeks at up-coming releases and access to free short stories set in the Shady Lady Fairy Tale 'verse. Come on by and join the fairy tale fun!
About the Author: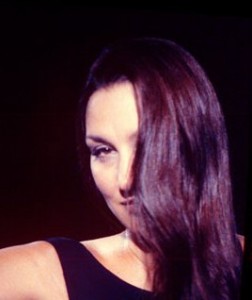 Madeleine Shade writes erotic fairy tales and cross-pollinated mythic fiction drawn from her extensive studies in folklore and mythology. Her erotic fairy tales take a steamy twist on childhood favorites and, as a special bonus, each novella comes complete with author's notes and the transcript of the original fairy tale. Madeleine Shade is a member of the Erotic Authors Guild (http://eroticauthorsguild.org).
Web: http://shadyladyfairytales.com/
Facebook: www.facebook.com/MadeleineShade
Twitter: https://twitter.com/MadeleineShade
Goodreads: https://www.goodreads.com/author/show/8475639.Madeleine_Shade
Pinterest: http://www.pinterest.com/madeleineshade/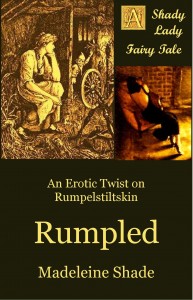 Rumpled: An Erotic Twist on Rumpelstiltskin
After freeing himself from a spell that left him trapped deep within the earth, Rumpelstiltskin returns to the kingdom built on the foundation of spun gold to claim his promised bride. Trapped in a twisted form, the ensorcelled fairy prince keeps the beautiful Bianca bound as he suckles at her breasts, inducing the virgin's milk needed to return to his true form. Bianca witnesses her captor's transformation from her breast milk and, in turn, begins to explore her new sensuality under his nimble touch. But when he refuses to consummate their union, Bianca must make the choice of returning to her place as a princess of the realm or reveling in her new-found sexual freedom. Can she seduce the fairy prince to succumb to her charms or will his noble resolve keep them apart forever? Will the fair prince Rumpelstiltskin keep his promise to free the woman of his dreams or will the captor become the captive?
Amazon Link: amazon.com/dp/B00MT60ZWG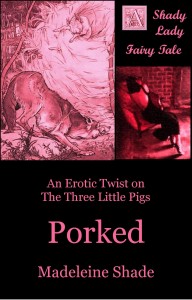 Porked: An Erotic Twist on The Three Little Pigs
Painter extraordinaire Raúl Villalobos, known in the underground world of the fey by the title of the "Wolf," has an insatiable hunger for shapely human women. When his appetites overpower his sensibilities, the artist breaks all the rules by binding a fairy woman in a canvas with magical pigment and paint. Fleeing the repercussions of his crime, the Wolf finds refuge in the form of an extravagant portrait commission extended by a reclusive heiress living in the remote South. She and her two curvy companions welcome the rangy painter with open arms. The Wolf seeks to slake his thirst with the buxom blonde Claire, a milliner known for her stunningly intricate straw hats. His hunger for power manifests in the domination of the leggy brunette Sophia, the owner of the perfect ass and a woodworker of the highest caliber. But Deidre, the redheaded leader of the curvaceous clan, keeps the artist at bay with her refusal to satiate his ravenous appetite. Eager to add the women to his private collection, the artist plots the perfect coup. Will the Wolf be able to blow down Deidre's defenses or will the fiery minx prevail in the orchestration of the perfect ménage à trois? Will the Wolf ensnare the three voluptuous women in his clever trap or will the hunter become the hunted?
Amazon Link: amazon.com/dp/B00NG7INJ4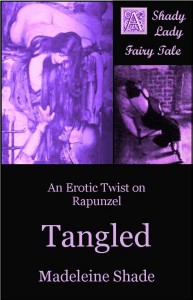 Tangled: An Erotic Twist on Rapunzel
When Adara's fairy godmother Mireille fails to save her from a series of horrific events, the raven-haired princess is forced to flee her father's realm. But before she leaves, Adara charges Mireille with the task of raising a girl child they save from the fate of poverty and abuse. Twenty years later, Adara is called back to take over the care of their charge after her fairy godmother flees the woodland sanctuary under the pursuit of Fae hunters sent to track her down. When Adara returns to the tower protecting Rapunzel from the dangers of the world, she finds a beautiful young woman full of quiet curiosity and wild desires. When a prince breaks through the enchanted wards to claim the lovely Zel, Adara is forced to acknowledge her love for the girl with the long golden hair. Will Zel succumb to the passionate pleas of the prince come to rescue her or will she remain in the tower under the domination of the princess who protects her? Will Adara relinquish her claim on the girl she devoted her life to protect or will she fight to save the woman who stole her heart?
Amazon Link: amazon.com/dp/B00PYQIPZC