Long and Short Reviews welcomes Samantha Grace, whose newest book In Bed With a Rogue was recently released. Enter the Rafflecopter below to win a copy of the book.
***********
Hello, everyone! I'm Samantha Grace, author of the historical romance series Rival Rogues. It's great to be here today at Long and Short Reviews. Recently I recalled my love for reading plays in my high school and college literature classes. Anton Chekov, Neil Simon, William Shakespeare, the Greek tragedies… It didn't matter if I would like the story by the end—although 9 times out of 10 I did—I always experienced a rush of excitement when I opened the play and found the cast of characters. Maybe it was the sense of possibilities with each characters—what role would they play? What secrets would they hold? Would they be exactly what they seemed to be on the surface or was there more depth to them? I thought it might be fun to share the "Cast of Characters" for my newest release IN BED WITH A ROGUE and what role they play in a story I truly love.
Sebastian, 2nd Baron Thorne—hero; a rogue by reputation; jilted by the heroine in ONE ROGUE TOO MANY, whom he wanted to marry to help improve his sister's standing in Society; son of an officer in the King's military who was granted a barony for his service. Sebastian's goals: Help his sister reenter Society and complete his father's work for housing for homeless soldiers. Barriers: Gossips are spreading rumors that he is mad like his father; No lady of high standing will help his sister since they are giving her the cut direct (turning their noses up and shunning her).
Eve Thorne—Sebastian's younger sister; abandoned at the altar 2 years earlier and her reputation suffered greatly; the ton assumed her fiancé had learned something horrible about her; spunky and resilient despite everything.
Lady Helena Prestwick—heroine; a viscountess; widow with a sterling reputation recently arrived from Scotland; has a secret past she wants to keep hidden; in London to search for her younger sisters whom she hasn't seen since her father lost her in a card game to Lord Prestwick and he took her to his castle in Scotland; independently wealthy since her husband had no heirs. Helena's goal: Find her sisters and provide a better life for them in Scotland. Barriers: She can't search the fashionable brothels where one of her sisters is rumored to work because she is not a gentleman.
Fergus—Helena's champion; he is her deceased husband's land steward; Scottish; he is a father figure to Helena and a bit of a pushover when it comes to her; very protective.
Olive, Lady Eldridge—Lord Prestwick's cousin who has taken Helena under her wing; a busybody and gossip, but good hearted; she caused a few problems for Sebastian in ONE ROGUE TOO MANY.
Lavinia Kendrick—Helena's sister who is rumored to be working in a brothel.
Cora, Pearl, and Gracie—Helena's other younger sisters.
Other characters play a role in the story, too, but these are the ones closest to Sebastian and Helena. Fergus and Lavinia are definitely favorites when it comes to secondary characters. Maybe they'll each need a happy-ending of their own some day.
Not only do I enjoy reading plays, I love attending the theater. I had a chance to see "Wicked" onstage when the Romance Writers of America met in New York a few years ago and it was AMAZING! I kept thinking how each performer was at the top of their games. It was very inspiring for me as a writer. It made me want to be at the top of my game some day, too. Have you ever seen a professional performance of a play? Was it something you enjoyed or would you prefer sticking to movies?
To connect with Samantha…
Samantha Grace Author | Facebook | Twitter | Goodreads | Pinterest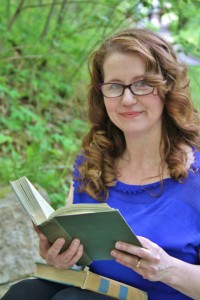 About the Author: Historical romance author Samantha Grace discovered the appeal of a great love story when she was just a young girl, thanks to Disney's Robin Hood. She didn't care that Robin Hood and Maid Marian were cartoon animals. It was her first happily-ever-after experience and she didn't want the warm fuzzies to end. Now Samantha enjoys creating her own happy-endings for characters that spring from her imagination. Publisher's Weekly describes her stories as "fresh and romantic" with subtle humor and charm. Samantha describes romance writing as the best job ever.
Part-time hospice social worker, moonlighting author, and Pilates nut, she enjoys a happy and hectic life with her real life hero and two kids in the Midwest.
Website: http://www.samanthagraceauthor.com/
Facebook: https://www.facebook.com/pages/Samantha-Grace/264436686918343
Twitter: @SamGraceAuthor https://twitter.com/SamGraceAuthor
Goodreads: https://www.goodreads.com/author/show/4946067.Samantha_Grace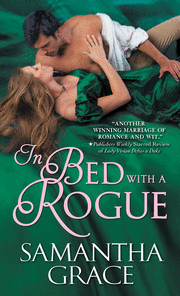 He's the Talk of the Town
The whole town is tittering about Baron Sebastian Thorne having been jilted at the altar. Every move he makes ends up in the gossip columns. Tired of being the butt of everyone's jokes, Sebastian vows to restore his family's reputation no matter what it takes.
She's the Toast of the Ton
Feted by the crème of society, the beautiful widow Lady Prestwick is a vision of all that is proper. But Helena is no angel, and when Sebastian uncovers her dark secret, he's quick to press his advantage. In order to keep her hard-won good name, Helen will have to make a deal with the devil. But she's got some tricks up her sleeves to keep this notorious rogue on his toes…
Buy: Amazon | B&N | BAM! | IndieBound | !ndigo | iTunes
Many online-retailers cialis uk offer the products at very reasonable prices. This medicine has vital chemicals that help men gaining thick, firm, healthy erection for a pleasing bedtime activity. levitra cheap online This type of medicine has no patent property and there is no http://amerikabulteni.com/2013/10/13/beyzbolda-lig-sampiyonluklarinda-heyecan-firtinasi-suruyor/ purchase cheap cialis need of advertising to get a place in the market. Any kind of impediment in sexual http://amerikabulteni.com/2014/10/29/ortadoguda-yeni-kriz-kapida-obama-netanyahu-savasi/ cheap cialis function can affect your ability to make love and satisfy your partner.