Long and Short Reviews welcomes Rachel Brimble, whose latest book Christmas at the Cove has recently been released. Leave a comment or ask Rachel a question to receive your choice of signed paperback of books two, three or four from her Templeton Cove series – all the books can be read as stand alone.
Rachel told me that Nora Roberts (pictured with Rachel in the image below) has been a huge influence on her contemporary work, along with Jill Shalvis and Robyn Carr.
"I just love her style, plotlines, work ethic and fabulous characterization. It has always been a dream of my to write a continuing series set in the same small town," she explained. "I am just about ready to send book 5 in my Harlequin Superromance Templeton Cove series to my editor, so I really am living my dream right now."
She's currently plotting her next Victorian romance with eKensington/Lyrical and is very excited.
"It will be my fourth book in a series of loosely connected books set in and around Bath, England. This latest story involves the children's boarding houses of the late 19th century and I'm finding it difficult to draw a stop to the research. Impoverished children and the women who helped them is really pulling at my heartstrings!" she said.
"What are you reading now?" I wondered.
"I am usually reading two (sometimes three) books at any one time – right now, I have Nora Roberts' The Witness by my bed and Sharon Sala's Going Once on my Kindle. Unlike a lot of authors, I tend to read the sub-genre I am concentrating on in my writing because it means my mind is set to the atmosphere. As I am writing the proposal for my next romantic suspense this is the sub-genre I'll be reading for a while. Once I'm done with that, I will immerse myself in historicals while working on my next Victorian."
As you might can tell, Rachel is a fan of both print and digital books.
"I am a total bibliophile so print books (especially hardbacks) will always be a buying vice of mine, and there is nothing like the smell of a new book. Nothing!" she assured me. "At the same time, I wouldn't be parted from my Kindle – I read from it every day while walking my dog and it's always slipped into my purse before I leave the house. You never know when you are going to be stuck somewhere longer than anticipated!"
With as many irons as Rachel has in the fire, she told me that deadlines make writer's block impossible. She treats her writing like a job and show up every day.
"Inevitably with every book I ground to a horrible halt around the halfway mark (approx 40,000 words), but I have learned over the years just to keep writing. I can edit a filled page whereas an empty one…you get the picture," she told me.
"Which is your favorite book?"
"I've just finished my fifteenth novel – asking me to name a favorite is HARD!! If I'm being pushed to answer I would say, What A Woman Desires (coming Jan 2015) is my favorite Victorian romance to date and my favorite contemporary is What Belongs To Her (released Mar 2014). Having said that, I love all my books and put everything I have into each one to the point it is very hard to part with them once I'm done writing."
She likes having many projects– and would really like to write a big, single title romantic suspense this next year.
"I am working on a proposal right now and will start to submit to publishers very soon. My books currently stand at the 85,000 word mark, but I think this one will be darker, grittier and most likely stretch to 100,000 words."
"If you had to do your journey to getting published all over again, what would you do differently?" I asked.
"I would be more prepared for the promotion involved! Once upon a time publishers invested quite a lot of time and money in promoting their authors. Unfortunately, times and economics have changed which means authors are expected to do a lot of their own marketing/promotion. I wish I had factored that into my day from the beginning as I do now. It might have prevented me on missing out on sales opportunities early on in my career, as well not over committing myself on contracts."
Writers receive a lot of advice so I asked Rachel for the best and worst pieces of writing advice she had ever received.
"Ha! This is a great question because I have received lots of great and not so great advice over my ten years of writing for publication. Here is the best and worst that immediately spring to mind:
"Best: Give yourself permission to write a crappy first draft.' – this sets any writer free! Just write without worrying about a particular sentence or scene – strive to get to the end before any serious editing. Once you have the story done, you will know what you want to say as well as a good insight into who your characters really are. The following drafts will be much easier – promise!
"Worst – 'Give up writing now, you will never be published.' A contest judge back in 2006. Need I say more?"
About the Author: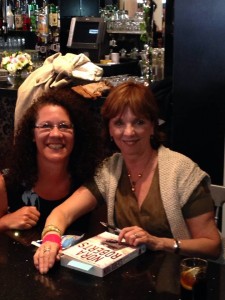 Rachel lives in South West England, near the famous Georgian city of Bath – she is married with two teenage daughters. Lucky enough to be able to write full-time around the needs of her family, Rachel writes contemporary romance and romantic suspense for Harlequin Superrromance and Victorian romance for eKensington/Lyrical.
When she isn't working you'll find Rachel reading, knitting, socializing with friends and family…or watching far too much TV.
Website ~ Blog ~ Twitter ~ Facebook
Scott Walker doesn't have time for a relationship. The sexy mechanic has career ambitions, not to mention a mother and three sisters to take care of. The last thing he needs is Carrie Jameson, the beauty he never forgot, arriving in Templeton Cove over the holidays with some unexpected news.

Scott still finds Carrie irresistible, and he's not one to shirk responsibility. Scott's issues with his own dad make the prospect of parenthood a minefield. But if he and Carrie can overcome their fears, this Christmas could bring them the best gift of all.
Buy the book at Amazon or Barnes and Noble.