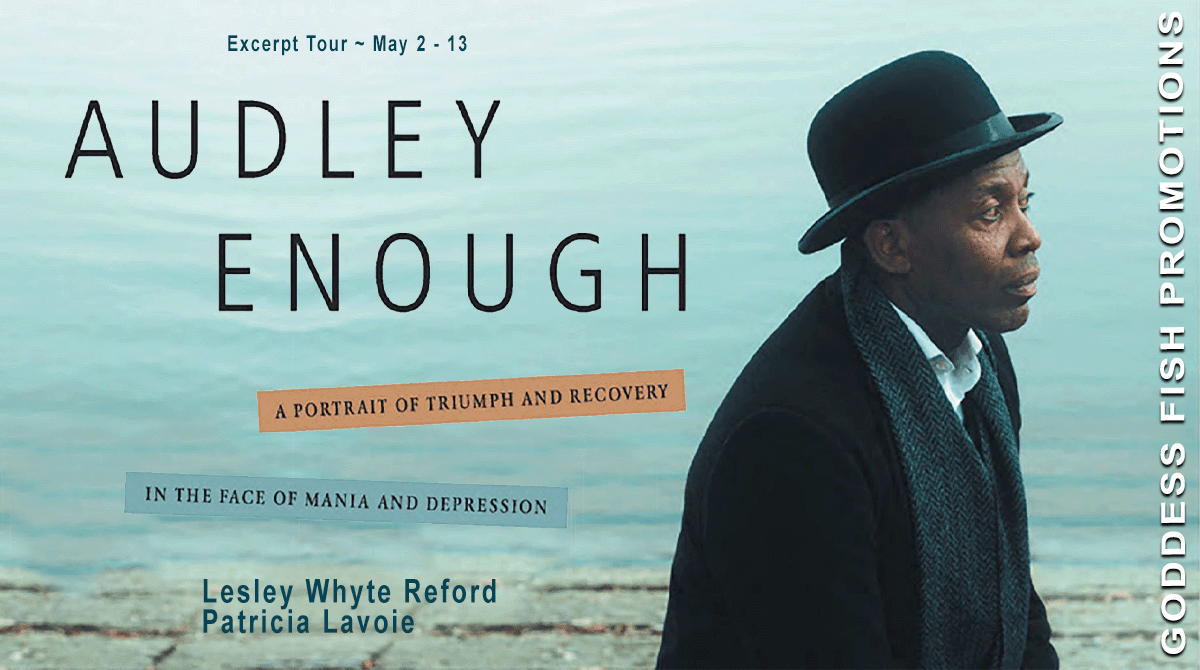 This post is part of a virtual book tour organized by Goddess Fish Promotions. Lesley Whyte Reford & Patricia Lavoie will be awarding a $15 Amazon or B/N GC to a randomly drawn winner via rafflecopter during the tour. Click on the tour banner to see the other stops on the tour.
Audley Enough follows Audley's journey through "The Matrix," specifically his mental health. The book describes his adventures into his mania and depression that occurred during the peak employment years of his life, from 27 to 38 years old. It takes one through the spiritual essence of his being, and gives one steps to travel through mania and depression. After reading his book, one comes out stronger with multiple coping tools. The book is about Audley refusing to let his bipolar diagnosis define him, nor stop him from leading a mentally, healthy, and productive life.
Enjoy an Exclusive Excerpt
OUR barter started off as a light-hearted agreement between friends. I would receive personal training to achieve a weight-loss goal and, in exchange, Audley would have a story about his challenges and resiliency with mental illness. But as I chuckled to myself about any of it actually being realized, Audley took it seriously . . . very seriously! And soon, as I started grueling training with him and commenced writing his story, I found myself immersed in both, in order to honour my commitments to him and to myself.
Audley Enough is Audley's very revealing and personal account of his life with mental illness. It's courageous beyond words. And for substantial change and acceptance to occur in the field of mental health, more real-life stories have to be shared.
Everything shared in this book is from interviews and personal memorabilia of his life that he has provided. While some people happily recounted stories of their experiences with Audley, others could not be located. As such, some of the names in the book have been changed for privacy purposes.
At the outset, I would like to note that I don't pretend to be an authority on mental illness. Any information on the illness and any offering of advice come strictly from Audley's own experiences with his condition and how he has lived with it. He and I both hope that his story will provide inspiration and faith for those facing personal challenges; will encourage others to seek help for mental illness; and/or, will help diagnosed sufferers manage it effectively to lead balanced, peaceful, and productive lives.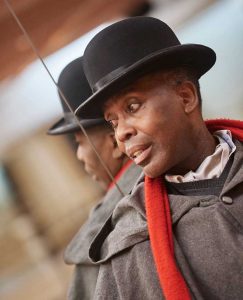 Audley Coley is a mental health coach, a philanthropist, the subject of a book and a Friend of the Bell Let's Talk campaign. He is often called upon to host forums on mental health awareness and was more recently seen on CBC's You Can't Ask That describing his life with bipolar disorder and on Facebook, hosting the live broadcast to the Alianait Arts Festival for the Nunavut community alongside his lovely daughter.
His ability to soar above mental illness is something he credits to many things. His support system: a strong Jamaican, God-fearing, and closely knit family, first. Sports and physical activity come in at a close second. Audley has always been extremely active. He played hockey, soccer and was a dancer/choreographer, most of his life. At the fine age of 62, he can be found at the Atwater Club teaching a class that could put people half his age to shame. Just ask his Yummy Mummies who subscribe to his workouts and carefully crafted playlist. And then, it's about food for Audley. He perfected his culinary skills working as a chef in Frobisher Bay (Iqaluit) and today, cooking is truly his labour of love. He takes his vitamins (his medication) regularly and frequently visits to Up House, a place where he goes to get centered and to give back to those who once gave to him. The last and perhaps most important box he checks off on his self-care list is REST.
Audley's objective is to tell his story often so people may recognize themselves, to provide hope for families of those affected, to share a recipe for success that he knows works and to have the opportunity to change someone's life in the same way that Patty Duke's openness changed his.
ABOUT THE AUTHORS
LESLEY WHYTE REFORD is a seasoned writer who has a passion for communications and storytelling. She obtained her Master's degree in Public Administration (MPA) from Queen's University in 1993 and went on to build her career in Corporate Communications and Public Relations in the public, private, and non-profit sectors. As she raised her two sons, Lesley put her career on hold but continued with her writing when time allowed. Engaging in small contract freelance opportunities and volunteer work, Lesley published a centennial book commemorating the Montreal Children's Hospital's contribution to the Montreal community titled "100 Years of Stories" in 2004. In 2013, she collaborated with Audley Coley to author "Audley Enough", an inspiring resource to share his journey with bipolar disorder and help combat the stigma of mental health issues. Lesley is currently a full-time grant writer at One Tree Planted, Inc., a global reforestation non-profit organization.
PATRICIA LAVOIE has been writing and producing feature films and television series for many years including seventeen seasons with Sesame Street (CBC) in Canada where she honed her pre-school expertise. She developed the original concept for and produced the first Heritage Minutes, a multi-million dollar television and cinema project based on anecdotes of Canadian history, as well as many award-winning preschool and family productions for broadcasters such as CBC, Radio-Canada, YTV, Treehouse, Animal Planet, TVOntario, TFO, Télé-Québec, Discovery Channel USA and PBS.
Ms. Lavoie also co-produced several feature length films with international partners in Australia, New Zealand, France, Japan and the USA. Her online game productions were created for PBS, National Geographic, CBC, Radio-Canada and Treehouse.
As a broadcaster, Ms. Lavoie also served as interim Director of Yoopa, a multiplatform brand comprised of a television channel, an online community for children and parents and a magazine for parents.
Audley Enough is her third book.
Connect with Audley Coley
Website | Facebook | Instagram | Twitter | Goodreads | LinkedIn
Buy the book at Amazon, Chapters Indigo, Barnes and Noble, or Book Depository.