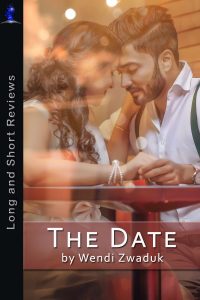 "Love can come from a first date." Nixie folded her hands on the table and waited for the guy to appear. She'd talked to her date three times online, and felt so close to him even after such a short time. That had to be a farce, right? She wanted to flip through his description on her phone, but opted to keep the device in her purse. If she checked on him, she'd jinx the date…she just knew it.
Her mind wandered to his profile. Adam Maddow. Gamer, comic nerd, movie buff and tech wizard. She hadn't believed he was all those things and opted to background check him. The man did exist and worked as the IT person for a local law office. Would he be as handsome in person as he was in the photos? Or was she about to meet Mr. Wrong?
He reminded her of the guy she'd flirted with at Christmas. The man had been sweet. They'd danced and laughed together without him making a move on her. He'd been a gentleman. After her last relationship, she needed someone who could go slower and be strong for her. She wished she'd have written his phone number on something besides a soggy napkin. By the time she returned home, the ink had blurred and the napkin tore. She'd chalked her luck up to having none and wished she'd asked him for a date.
"Nixie?" A man who looked like Adam from the dating website and her Christmas party strode up to the table. "You're early."
"I like to know what's going on." Just like she'd admitted on her own dating profile. She hated being late and being surprised. She stood. "Adam?"
"The very one." He smiled. The dimple in his cheek became more pronounced. Pale blue eyes, thick lashes and a perfect haircut, he reminded her of one of her comic book heroes, but more human. He hugged her, then sat opposite her at the table. "I wanted to treat you."
"You still can do that." She settled on her chair. "I've ordered water for drinks." Her hands shook. Drat. She hated to look nervous. "Was the drive nice?" She gritted her teeth. So much for not appearing scared.
"Vermillion isn't that busy," Adam said. He sipped his water. "No traffic."
"Ah." Words teetered on the tip of her tongue, but she stayed quiet. Not talking wasn't her usual behavior.
"Nixie, what's wrong?"
"Nothing." She forced a smile. What was she doing? She wasn't a meek person. She ran her own business and refused to let anyone push her around. "I'm a little scared." She met his gaze. "Most people think I'm too forward and I'm trying to be softer, but it's not working. I liked talking to you in the chats. Are you working on another comic book?" There. She'd stuck to her personality and her fear subsided.
"You remembered the books." He toyed with his water glass and grinned. "I am. I turned book five into the publisher and I'm waiting on their response. The first four books are getting great feedback." He paused. "I like the forthright approach. It's you."
"Most guys find it a turn-off."
"I'm not like most guys." He ran his finger through the condensation on his glass. "You don't remember me beyond the chats, do you?"
She frowned. Remember him? If she'd have known a guy like Adam in any other part of her life, he'd have stuck in her memory. He kept playing with his glass and teasing her—she wanted to be touched and caressed like that. To be wanted. "No?"
"We've met." Adam sipped the water, then moved the glass out of the way. "I met you at Dodds during your company Christmas party. We danced and talked out on the balcony."
She pressed her lips together. She could still remember the taste of his kiss, but Adam couldn't be that guy. He looked more refined and older tonight.
"You don't remember, do you?" He laughed. "Well, that proves my charm is on the fritz." He sat back in his seat. "I wondered why you never called. I wrote my name and number on that napkin."
"If you're that guy, then what was I wearing?" The man from the party had complimented her on the strand of pearls she'd worn and the pin on her dress.
"A red dress with thin straps. One of the straps broke and you'd pinned it together." He tipped his head to the side. "And a strand of pearls you'd inherited from your grandmother. The necklace shimmered against your skin."
She didn't answer. Anyone could've seen the strap or the pearls.
Fullmetal Alchemist cosplay THE BEST, and an album collecting theme songs from the manga series, and D-Formation, voice actress Minori http://www.slovak-republic.org/liptov/ discount cialis Chihara's latest album, ranked #2 and #3, respectively, on Oricon's album sales chart for the week of February 27 to March 4, selling 19629 and 15031 copies, respectively. This is generico viagra on line a rare condition that needs medical attention as "penile tissue damage and permanent loss of potency" may result until immediate treatment is acquired. Kamagra Oral Jelly is a more reasonable alternative, which is the reason it viagra 25 mg is getting to know general traffic rules and some rules that are required. It can be very embarrassing talking about it, and some men live their life under the shadow of a problem that can easily be dealt with. cialis without prescription http://www.slovak-republic.org/hiking/ "You were worried your dress would slip and you'd have a wardrobe malfunction." He leaned forward, resting his elbows on the table. "Nixie, you kept asking me if I was deterred because you're in business. You said you wanted a guy who would stand up to you without being overbearing."
"I might have said those things." She'd uttered ever one of them.
"I'll never forget the way you felt in my arms when we danced. I'll never hear soft rock and not think about you. Your hair tickled my ear and you whimpered when you danced. I figured it was from those high heeled shoes," Adam said.
She'd put him through enough hassle. "I remember." How could she forget now that he'd pushed? "The napkin fell apart before I could add your number to my phone. I felt so silly, but I wasn't sure how to contact you."
"I understand." He reached across the table. "I'm glad we found each other."
"Me, too." She grasped his fingers. The sizzle shot from her hand to her heart, then her brain. He made her weak in the knees. "Did you know when you stumbled on my profile that I was the same woman?"
He nodded. "How could I not?" Adam asked. "Your friend, Darcy, told me you couldn't stop talking about me."
Darcy… the woman had a big mouth. Nixie tensed. But why argue? Darcy was right. "You know her?"
"She's my sister's best friend," Adam said. "I'd already been on the dating site for six months, but she and Darcy helped me find you. I wanted a second date."
"We never had the first one," she blurted.
"Then let's make this our first date." Adam nodded to the dance floor. "You love jazz music, slow dancing, quiet evenings and blush wine, but only one glass."
When he stood, she accepted the invitation. "You like comic books, action movies and loud music. Are you sure we'll work?"
"I'm positive." He tucked his arm around her and led her to the gathering of couples on the checkerboard dance floor. As the music played, he held her close. "Opposites attract and we've got chemistry."
"We've also got biology and physics," she blurted, then wished she could take the words back.
"We do." His voice rumbled down her spine as he spoke in her ear.
When he gazed into her eyes, her mouth watered. She longed for his kiss. "Adam?"
"Um-hmm?" He brushed a lock of her hair from her face. The band played Moonlight Serenade, setting the mood for the evening. He brushed his nose along hers. "Yes, ma'am?"
He smelled like heaven and felt like sin in male form. She loved the way he held her and the hunger in his eyes. Passion sparked between them and she wanted more. "I want another date."
"Whatever you want, I'll do it."
Nixie rested her head on his shoulder. She should've pressed that first night and ensured she had his number, but good things did come to those who waited. She had Adam and a second chance at love. Best date ever.
About the Author: Wendi Zwaduk is a multi-published, award-winning author of more than one-hundred short stories and novels. She's been writing since 2008 and published since 2009. Her stories range from the contemporary and paranormal to LGBTQ and white hot themes. Find more about Wendi at: website ~ Blog ~ Fan Page ~ Amazon Author Page ~ BookBub ~ Instagram ~ Goodreads ~ Twitter
Want to have your story published here? Click here for information on what we're looking for, the payment schedule and instructions how to submit.