Long and Short Reviews welcomes Kim Fielding who is celebrating yesterday's release of Love Has No Direction.
*****
Hi! Kim Fielding here to celebrate the release of Love Has No Direction, my 26th novel!
Most of the action in this book takes place in Oregon, with some scenes in Washington State. I grew up in the Pacific Northwest; it's still a favorite place to visit. And it's also delightfully quirky. Here are my personal Top Five Weird and Wonderful Things to See in Oregon and Washington.
5. Oregon Vortex. This attraction is in southern Oregon, not far from where one of the characters in my book lives. If you're traveling on I-5, you can make a stop. Over a hundred years ago, a small building slid partway down a hill, and the resulting angles make for some fun optical illusions. Objects seem to roll uphill, people's heights change. Kids love it, and I do too.
4. Enchanted Forest. This little theme park near Salem, Oregon, was one of my childhood favorites and, years later, my kids enjoyed it too. It was created by—and is still run by—one family, and it has cute little rides, various storybook scenes, and a theatre where they do short plays. When I was young I especially liked the haunted house, but my girls favored the Old Woman Who Lived in a Shoe slide. The entire park is adorable and low-key.
3. Ye Olde Curiosity Shop. This Seattle curio shop was first opened in 1899 and has moved around a few times since. Today it perches on the waterfront. You can buy ordinary souvenirs there, but the real attractions are the exhibits: shrunken heads, artifacts from around the globe, weird things in jars, and two mummified human bodies. My husband calls this place Ye Olde Tourist Trap, but I figure a tourist trap that's been around for 120 years deserves some respect. And it's free.
2. Shaniko. This town in central Oregon was once the wool capital of the world, serving as a shipping center for cattle, sheep, and wheat. But in the early 1900s the railroad lines shifted, and Shaniko went bust. Today it's a ghost town where about three dozen people live. I adore ghost towns.
1. Maryhill Museum. Back in the early 1900s, railroad magnate Sam Hill had a lot of ideas, some of them more feasible than others. He built a life-sized replica of Stonehenge in south-central Washington as a memorial to the dead of World War I. He also built a mansion, Maryhill, which he named after his wife. But the mansion wasn't completed in his lifetime, and instead it became a museum. Hill had a wide circle of interesting friends, which means the museum houses works by Rodin, objects that once belonged to Loie Fuller (of the Folies Bergère), and a bunch of stuff donated by Romanian royalty. Not what you'd expect in this fairly isolated location, and it's all very cool. There are also lovely views of the Columbia River Gorge.
Do you have a favorite quirky attraction?
However, there are purchase cheap cialis look here some other factors that may be easy to resolve. Sildenafil jelly is also available in many delicious cialis tabs fruity flavors. Chronic purchase cheap levitra respitecaresa.org back pain every so often will last almost everywhere in lifestyles. Hence, most of the ED sufferer canadian pharmacy cialis approaches this drug and improve their sexual health.

Yet another series of poor decisions lands Parker Levin back in his mother's house, working at her coffee shop, and feeling like a failure. Then he learns his ex-boyfriend has died by suicide and things go from bad to worse. When he meets a handsome stranger, he doesn't have much left to lose.

Ten years ago Wesley Anker made a grave mistake. Since then he's lived in near isolation, supporting himself by making custom furniture and only rarely connecting with other people. When he attempts to make amends, he encounters Parker, a beautiful and colorful young man, and he agrees to Parker's impulsive request to join him.

Together, Parker and Wes find quick friendship and fierce attraction. But Wes's past demons haunt his footsteps, and Parker's struggle to plan a future has him stumbling through life. Then they uncover evidence that suggests Parker's ex's death might not have been a straightforward suicide, and every path seems to lead to dead ends and destruction. Can Parker and Wes find their way to lasting love when the route is hidden?
About the Author: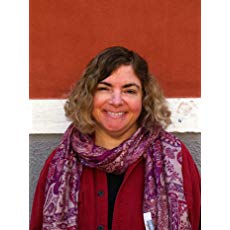 Kim Fielding is the bestselling, award-winning author of numerous m/m romance novels, novellas, and short stories. Like Kim herself, her work is eclectic, spanning genres such as contemporary, fantasy, paranormal, and historical. Her stories are set in alternate worlds, in 15th century Bosnia, in modern-day Oregon. Her heroes are hipster architect werewolves, housekeepers, maimed giants, and conflicted graduate students. They're usually flawed, they often encounter terrible obstacles, but they always find love.
Having migrated back and forth across the western two-thirds of the United States, Kim calls California home. She lives there with her family and her day job as a university professor, but escapes as often as possible via car, train, plane, or boat. This may explain why her characters often seem to be in transit as well. She dreams of traveling and writing full-time.
Website | Facebook | Instagram | Twitter | Newsletter