This post is part of Long and Short Reviews' Winter Blogfest. Leave a comment for a chance to win a digital copy of F.D.N. Wives. 
The Mango Crème Brûlée That Blew Her Away ​​By Dawn Turzio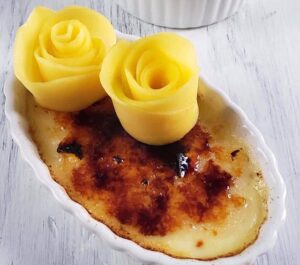 Gail looked on as Leonard sipped his drink. "A nice, retired fireman who likes restoring things and has a proclivity for preparing fancy meals? It definitely won't get any better than this."
Leonard gazed in her direction, their eyes connecting. "We are two very lucky people."
The fever she was experiencing caused her to turn away.
"Hey, do you like mangoes?" Leonard asked, whisking away the bare dinner plates.
"I've only tried mango sorbet. Does that count?"
Leonard pulled a small porcelain bowl from the refrigerator and put it where Gail's supper had been. He took a dessert spoon and sat again. "It's crème brûlée," he said, cracking the hardened sugary shell with a careful jerk of the utensil. "Under the vanilla custard are bits of fresh mango sprinkled with rum." He scooped up the white and orange mixture and held it out to Gail.
The silverware glistened as it moved. Gail parted both lips, allowing it to enter. The creamy filling was an explosion of flavor. Leonard slowly pulled his hand away. She kept her jaw loose, chewing the soft fruit, sights fixed on his, and swallowed. She readied her mouth for more. Leonard grinned and carefully dipped his serving tool into the dessert, seemingly eager to please. As the spoon came close, she licked at it and took it in a little faster this time then swallowed, eye contact strong.
By the fourth bite, Leonard dropped the tableware and rushed to her. His kiss was firm, filled with pent-up tension, urgent for release. Gail pulled away, breath heavy, and then pulled him closer.
​​​Leonard's Mango Crème Brûlée
Ingredients
•
1
tsp
pure vanilla extract
•
1 ½
Tbsp
sugar
(for topping)
Instructions
2.
Place 4—3 oz. ramekins in a baking dish (9×13 works best). Fill the baking dish with water so it reaches halfway up the sides of the ramekins
.
3.
Distribute diced mango evenly among the ramekins.
4.
In a 2 cup liquid measuring cup (the spout here makes later steps easier), whisk together egg yolks and sugar.
5.
In a small saucepan, mix vanilla and cream. Heat over medium heat until the cream just begins to smoke and a film appears over the top. Note: You do not want the cream to boil.
6.
Very slowly, pour the cream into the egg mixture, whisking constantly.
7.
Pour the egg mixture into the mango-filled ramekins, covering the mango chunks.
8.
Bake until the custards have set, about 35 minutes.
9.
Transfer custards to a wire rack to cool completely. Then, refrigerate, uncovered, until well cooled (3-4 hours or overnight works well).
10.
Just before serving, sprinkle the top of each ramekin with roughly 1 tsp of sugar.
11.
Caramelize the sugar with a blow torch, or preheat your broiler to high and broil for 2-3 minutes.
Bon appétit!
The New York City Fire Department is the most prestigious and well-respected in the world. F.D.N. Wives is the sisterhood behind the brotherhood of that infamous department. The camaraderie among four profoundly different women, Megan, Erin, Gail, and Deirdre, coupled with men who run into burning buildings to save lives, illustrates their support during moments of elation and in times of despair. Battling blazes to fighting breast cancer, this fierce group of ladies exemplifies the very essence of what makes the fire department so unique.
Dawn Turzio, award-winning writer and former Howard Stern intern, is armed with interesting insider background to all things FDNY, NYPD, USMC, the Navy, and the Army. Dawn's essay, "A Year After Hurricane Sandy, A First Responder's Wife Reflects," was selected as the feature story for national firefighter magazine New York Firefighters Now, where her family was photographed for the issue's cover. Her work has also gained exposure from the television show Inside Edition, which contacted her for an episode about women's dating preferences based on an article she'd written titled, "Why Are Women Attracted to Men in Uniform?" published by YourTango.com.
Dawn's work has been featured in Chicken Soup for the Soul, The New York Times, The Huffington Post, New York Magazine, Salon, MSN Lifestyle, Yahoo!News, Parents Magazine, Brain, Child Magazine, TheGood Men Project, Entropy Magazine, Hello Giggles, New York Press, New York Firefighters Now, WittyBitches.com, Skinny Dip City, Cupid's Pulse, The Write Life, and The Staten Island Advance. She spearheaded a feature column, Fire Wives, which detailed the implications of "uniformed living" in Jersey Firefighters Now Magazine.
The first woman to graduate from the television and film studies program at St. John's University, Staten Island campus, Dawn has worked in production for E! Network on The Howard Stern Show, AJ Afterhours, and E! News Daily, which has been recognized by The New York Times.
Buy the book at Amazon.