This post is part of Long and Short Reviews' Winter Blogfest. Leave a comment for a chance to win a $25 gift card to Bed, Bath, and Beyond. Recipes/baking tips cards.
Let's Bake Some Memories: Holiday Glitter and a Kitchen Renovation by Zelda Benjamin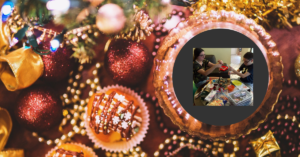 T'was 2 weeks before Christmas/Chanukah several years ago. My kitchen renovation was almost complete. New countertops would arrive any day.
As things happened, I was asked to bake dessert for a family holiday party. Most people would explain the situation and offer to bring a store-bought treat. Not me. After all, I had a working oven and a refrigerator. The missing countertops were a minor inconvenience.
I called my usual assistances, my grandchildren. They agreed on mini cupcakes with all the trimmings. Not a problem. To save time, I would bake the cakes and have them ready for them to decorate.
We cleared the coffee table in the family room and decorated two-dozen little cupcakes with glitter and sprinkles. The tiny space versus my soon-to-be beautiful spacious counter was no problem.  
The slight dilemma was a lesson that proved anything is possible.
My grandchildren are older and off to college and take what they learned from our baking experiences.
Baking is precise and reinforces the importance of reading directions carefully.
Math is involved. It's not all basic like teaspoons to tablespoons. Sometimes you need to convert grams to ounces.
Everyone brings something to the table. My granddaughter has an eye for color and style. Her attention to decorating details works for me. Unfortunately, I'm a better-than-average baker but a terrible decorator.
My grandson's attention to detail is precise and orderly. He's the best assistant when working with Puff Pastry. Perfectly cut and aligned corners and edges make the pastry look professional.
We still find time to share new baking experiences. I look forward to this year's holiday baking with enthusiasm. They may want to bake a fancy cake or cookie trending on social media. I'm open to any suggestions.
Bake your memories.
Zelda
Sophia MacLennan Porter grew up in an environment of wicked duplicity with a stepmother who was nice to dad and mean to his daughter. A series of events brings her to the upstate New York town of Highland Falls and her late aunt's bakeshop. Highland Falls is a town of Scottish descendants, well-kept secrets, and the best shortbread cookies for miles. No one in this town is immune from the secrets of their ancestors or greedy developers.

When Ian Campbell, a handsome Scottish research professor appears in her life, she struggles with the chance to put romance on the menu. Sophia is more concerned with the future of her bakeshop than the lives of her dead ancestors. Reluctantly, she finds herself drawn into his investigation of the history of her family's clan.
Zelda Benjamin writes sweet, sassy romances. She has a passion for baking, chocolate, and traveling with family.
Buy the book at Amazon.