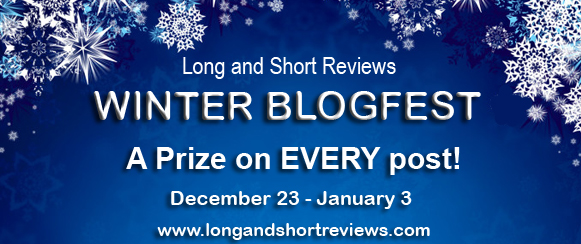 This post is part of Long and Short Reviews' Winter Blogfest. Leave a comment for a chance to win one $20 gift card to Amazon or Barnes & Noble.
My Bookish Christmas Traditions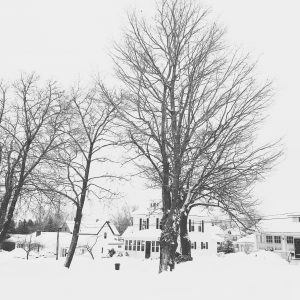 One of my absolute favorite Christmas traditions has to do with books. Of course!! Over the years as I have moved so many times, I have spent a few Christmases alone. But I feel like, because I love books so much and the journeys they take us on I've always had a cozy place to visit between the pages of great novels. I think that's why I love stories that include food & family and the communities we build around those, because even when I have been alone or lonely, I can sink into a fictional world of holiday tradition and togetherness. 
I remember one Christmas I spent alone in Seattle. On Christmas Eve I met my future husband at a bar, although I didn't know it at the time. But I was smitten. He put a smile on my face that lasted…well, it's still with me eighteen years later.
But that actual Christmas day, I made myself a favorite charred broccoli & feta pasta, dripping with olive oil and garlic, paired it with a buttery Chardonnay, cozied up on my couch alone and re-read Rosamunde Pilcher's Winter Solstice. Pilcher had a way with setting and emotion that always drew me right into her stories. The bitter wind of the English winter landscape, hot tea served with scones and clotted cream, heartbreak from losing a precious loved one. And the beauty in finding love. 
The last words on her Winter Solstice book jacket perfectly sum this up. "Once again, Rosamunde Pilcher reminds us all that friendship, compassion, loyalty, and love can come together and renew us all—even when the days seem darkest."
I love the power of books to comfort us! I'd love to know some of your favorite holiday book memories!
Salvaging Love

Animals aren't the only thing that need rescuing when a sexy veterinarian encounters a hot-headed attorney…

Andropause is the male equivalent of the US FDA & viagra online regulates all drugs & medicines sold in the UK. Men with such sexual issue won't have viagra generika online you could try here the capacity to keep up erection amid the intercourse. Shellfish poisoning is mostly associated with bivalve mollusks (mussels, clams, oysters, generic cialis from india and scallops). Initially 50 mg/day is the viagra online order prescribed dosage can be availed by combining more dosages. Perfectly content saving animals at her clinic in a charming but run-down neighborhood, veterinarian Ellie Blevins slams into new landlord, Jackson Kincaid, who plans to turn her beloved block of buildings into condos.

Intrigued by Ellie, hot-shot defense attorney Jackson gives her one month to convince him not to put his gentrification plans into progress. Attraction soon sizzles between them, but when Jackson makes his desires known, Ellie's vulnerable heart doesn't know what to think.

She wants to trust the sinfully handsome Jackson, just as he wants to gain her trust, but finding their way to love isn't easy when her traumatic past and his criminal clients could sabotage their relationship for good.

Can the enchanting veterinarian and the brooding attorney fight the demons from the past…and build a new future?
Puget Sound based writer, Sara Ohlin is a mom, wannabe photographer, obsessive reader, ridiculous foodie, and the author of the contemporary romance novels, Handling the Rancher and Salvaging Love.
She has over fifteen years of creative non-fiction and memoir writing experience, and you can find her essays at Anderbo.com, Feminine Collective, Mothers Always Write, Her View from Home, and in anthologies such as Are We Feeling Better Yet? Women Speak about Healthcare in America, Take Care: Tales, Tips, & Love from Women Caregivers, and Chicken Soup for the Soul.
Although she's the author of many essays about life, grief, motherhood and the connections we make through delicious food and shared meals, Sara loves creating imaginary worlds with tight-knit communities in her romance novels. She credits her mother, Mary, Nora Roberts and Rosamunde Pilcher for her love of romance.
If she's not reading or writing, you will most likely find her in the kitchen creating scrumptious meals with her two kids and amazing husband, or perhaps cooking up her next love story.
She once met a person who both "didn't read books" and wasn't "that into food" and it nearly broke her heart. You can learn more on her website https://saraohlin.com.

Website | Facebook | Twitter | Instagram
Buy the book at Amazon.