This post is part of Long and Short Reviews' Winter Blogfest. Leave a comment for a chance to win Blood Crescent Book one is available immediate for those that sign up for the Newsletter. Book two Blood Rebirth and Blood Crescent will be given to runners ups, and grand prize winner will be given the whole series, including the recently released Blood Queen, book three. Available in PDF/MOBI/and EPUB. .
Going PROS with your New Year's Resolutions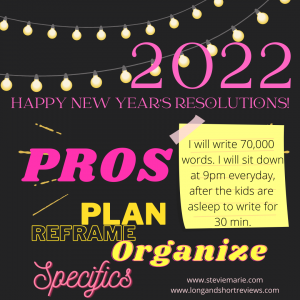 With a new year approaching, we prepare our many doubts and insecurities to come out from their not so hidden dark places in our mind to flog us for what we haven't accomplished, or wayward goals left dusty in the wake of 2021. Is it that our goals are so out of reach? Is it that I am incapable of following through on my New Year's resolutions?
To that I answer a resounding, no!
Stand up my fellow writers, grab the author next to you, and help pick them up from the dirt they've found themselves in, along with yourself. It's common to let the doubt monsters reign free this time of year, recounting everything we "haven't" done, but this year will be different. You are going to take a moment to count what you HAVE done, and then re-evaluate how you frame your goals for next year.
Is my goal out of reach? It's more likely that you created a goal that takes time to reach, and the fact that it might not be condensed into a single year makes the goal daunting, and more difficult to maintain your momentum.
Follow the PROS!
PLAN, REFRAME, ORGANIZE, SPECIFICS
Yup, I just made that up, but it works.
What is your goal? PLAN for it. I want to finish my book.
REFRAME: It's okay if it takes me longer than one year to do that, I'll take one step at a time.
ORGANIZE: Create a spreadsheet, and then tell EVERYONE your goal so that you feel obligated not to be  a liar to yourself or others, you'd be surprised how motivating that is to not want to let others down. We think so little of ourselves sometimes that it takes that extra outside force to get us going. That's okay.
SPECIFICS: Goals are hard to reach if your goal is too broad. Narrow it down to steps. I want to finish my book becomes I need to write 70,000 words, then edit those words before December 2022, by creating 30 minutes once a day at 9pm after the kids are asleep, or 5am before the kids wake up to work on my goals. No kids? Adjust that insert to whatever may distract you.
You'd be amazed how much you can get done in a focused 30 minutes a day. Create that habit.
Be graceful with yourself, but also remind yourself why you're doing it! This should be something you enjoy, not a chore.
Trust me when I say you'll definitely finish your goal sooner than you thought possible, and all it took was consistency, and allowing yourself to breath. Goals are hard to accomplish when there is too much pressure, and when you aren't specific enough about how to accomplish your goal.
Take this time to write down your goal on a sticky note, and get as specific as possible. Need multiple sticky notes? Do it!
Broad to specific goals. Give yourself the time to accomplish that goal. Stick to your plan.
I will write 70,000 words to finish my story. How? Everyday at 9pm, after the kids go to bed, I will spend at least 30 minutes sitting at my keyboard ready and prepare to write.
Remind yourself, it's okay if all I wrote was 30 words. Do not go back and edit until you've reached your goal marker. THEN, create a new goal.
Before you know it, you've finished your goal and making new ones.
Happy Holidays! Share your specific goals for 2022!
If you like fresh new takes on vampire lore, auras, witches, and heart felt journeys of self discovery then you'll enjoy the completed Divine Series.
This isn't your typical vampire paranormal fantasy. The BookLife Prize said, "The writing is descriptive and enjoyable… echoes of the Twilight series and Harry Potter, (though) the characters and scenario are wholly original…the author provides enough mystery and suspense to keep readers turning pages."
A slow burn romance wrapped in a darkly enjoyable dive into the supernatural realms. A missing mother. A dangerous predator. A mysterious magical legacy. Can Chrystal uncover the secrets of the council before the bloodline runs dry?
Another reviewer said: "This book frustrated me on so many levels, mainly because I was making my own scenarios and started liking some of the characters, only to realize nothing is as it seems, or at least how I thought it would be. That's mostly why I liked it so much!"— Lilly's Book World
If you hate insta-love but enjoy world building and the gray zone of who's good and evil then the Divine Series is for you.t
Stevie Marie is the author of young adult paranormal fantasy and the Divine Series. Born within the apex of another universe, where magic flows like leaky faucets, and forged from the fires of the Underrealm she dug her way to Earth and reluctantly participates in human society, secretly returning to her home world to relay the stories of her monsters, and the troubled love of her characters. When she isn't writing she's crafting clothing in her sewing room, cuddling her tiny humans, or pretending to adult by managing a different kind of book called accounting in the rainy city of Seattle, Washington.
Website | Blog | Facebook | Twitter
Buy the book at Amazon.