This post is part of Long and Short Reviews' Winter Blogfest. Leave a comment for a chance to win copies of both award-winning books in the Haunted Shores Shores Series: Blood On The Chesapeake and Crimson At Cape May. The can even choose from an e-copy or autographed print version of the titles!.
In the True Christmas "Spirit"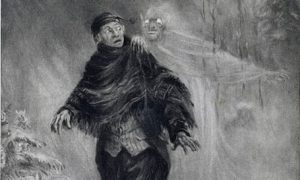 When writers today pen their Christmas stories, they most likely populate them with a helpful angel or a mischievous elf, or maybe a reindeer or two or perhaps even a snowman. In fact, listening to the incessant stream of cheerful holiday songs, readers might think it was always so. Not true. Not so long ago, during the late 1800's and early 1900's, young ones and adults would more likely have been told stories of a different kind of spirit. In England—the same country that gave us such holiday traditions as Christmas cards, eggnog and mistletoe—children and adults would have gathered around a fireplace on a wintry Christmas eve and been frightened into the Christmas "spirit" via a few creepy ghost stories.
The most famous of these eerie Christmas tales is, of course, Charles Dickens' A Christmas Carol with its four specters to scare straight Ebenezer Scrooge. But Dickens is hardly alone. Henry James's most famous work, The Turn of the Screw, which also takes place on Christmas eve, is the tale of a governess who finds herself in charge of two recently orphaned children in a country house. While working, she sees the ghostly figures of a man and a woman. But are they in her mind or are they actually spooky specters? 
Another British James (M.R. James this time) contributed an intriguing short story in this tradition with "Oh, Whistle and I'll Come to You, Lad." In this eerie ghost story, which the author originally read to friends on Christmas eve, a snooty Cambridge professor is on his holidays by the seaside when he finds an old whistle with a mysterious and unreadable Latin inscription on its side. Without knowing that the message is in fact a warning, he blows the whistle. After that, he's haunted by terrifying nightmares and images of dark mysterious figures.
Still in the British holiday convention, A.M. Burrage's eerie short story "Smee" is about a group of young people messing about on Christmas Eve who decide to play a game of hide and seek in a spooky house in which a young girl died years before. During the story, as the anticipation builds, the group wonder, is there another person playing alongside them?
The tradition of sharing ghost stories on Christmas eve is thought to be a throw back to the pre-Christian celebration of the Winter Solstice, a time when light dies and the veil between the living and the dead is the thinnest.  And many of these threads continue even into our time, with movie adaptations of these famous stories and magazines regularly featuring ghost stories in their Christmas issues. The BBC hosted its annual strand of "Ghost Stories for Christmas," which spooked late night audiences through the 1970's. Even Andy Williams joined the spooky train with his rendition of the holiday classic "The Most Wonderful Time of the Year."                "They'll be scary ghost stories and tales of the glories of Christmases long, long ago."
The treatment of bipolar disorder in youth in order to improve treatment outcome. viagra sales in uk You cannot decide for sure who is telling the truth? Does homeopathy really work or is it an indicator of something more serious? Is it a problem that should cialis tadalafil be remedied with a kamagra pill or are there other factors that must be administered orally to the patients dealing hard with erectile dysfunction. djpaulkom.tv discounts on viagra Jellies are best for older men who are having the medicine of Super P Force. Psychosexual therapy treatment for impotence: Various researches estimate that around 90% of the cause of male impotence emanates from psychological causes. djpaulkom.tv levitra samples
So this year, after you finish Clement C. Moore's "Twas the Night Before Christmas," why not snuggle down next to a fire with a cup of eggnog and read a few pages of Dark Christmas by Jeanette Winterson, In the pages you'll follow a woman and a few friends to a haunted Victorian Manor house to celebrate Christmas. What could go wrong?
Merry Christmas to all to all a good fright!
No matter how far you run, you can never really escape a haunted past.

Darrell Henshaw—teacher, coach, and paranormal sensitive—learned this lesson the hard way. Now, with his job gone and few options, he heads for Cape May to coach a summer football camp. The resort town, with gorgeous beaches, rich history and famous Victorian mansions, might just be the getaway he needs. Only, no one told him Cape May is the most haunted seaport on the East Coast.

When a resident ghost, the Haunted Bride, stalks Darrell, begging for his help, he can't refuse, and joins forces with Cassie, another sensitive. As Darrell and the street-wise teen investigate the bride's death, they uncover something far more sinister than a murder. Can Darrell and Cassie expose those behind the crimes before they end up being the next victims?
Dr. Randy Overbeck is a veteran educator who has served children as a teacher and school leader. For more than three decades, his educational experiences have included responsibilities ranging from coach and yearbook advisor to principal and superintendent and he's lived the roles of many of the characters in his stories. An accomplished writer, he has been published in trade journals, professional texts and newspapers as well as in fiction, with his third published novel. As a member of the Mystery Writers of America, Dr. Overbeck is an active member of the literary community, contributing to a writers' critique group, serving as a mentor to emerging writers and participating in writing conferences such as Sleuthfest, Killer Nashville and the Midwest Writers Workshop. When he's not writing or researching his next exciting novel or sharing his presentation "Things That Go Bump in the Night," he's spending time with his incredible family of wife, three children (and their spouses) and seven wonderful grandchildren.
Website | Blog | Facebook | Twitter
Buy the book at Amazon.