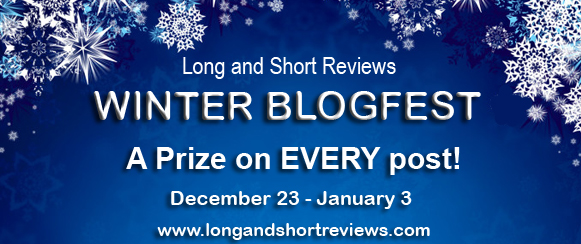 This post is part of Long and Short Reviews' Winter Blogfest. Leave a comment for a chance to win a digital copy of any one of my books and a $5 Amazon gift card..
A Midwinter Feast in 13th Century Scotland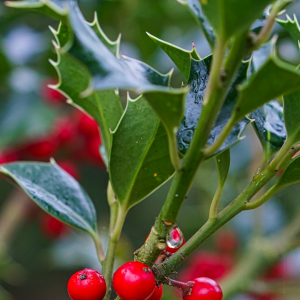 Come journey with me as I whisk you away to 13th century Scotland for a Midwinter's feast. We shall arrive at Urquhart Castle on the banks of Loch Ness. This is the home of the Clan MacKay—the Dragon Knights. Their bloodline is steeped in ancient Celtic mythology. Though they respect the new religion that has swept across their land, the Dragon Knights continue to honor the old ways. Midwinter is a celebration of light and warmth here within the walls. The doors have been left open for all to enter in peace. Once you step inside, you are drawn to the holly boughs with ivy, bay, crimson-berried yew and fragrant bunches of rosemary. 
The torches cast a welcoming light as you proceed onward. As we enter the Great Hall, you are met with boisterous laughter and gaiety. A bard is recanting the tale between the aging Holly King (representing the darkness of the old year), and the young Oak King (symbolizing the light of the New Year). Some of the older lasses have chosen to weave a sprig of holly onto their gowns and they nod at you in passing. 
Candles illuminate the hall in a soft glow as you make your way toward the feasting tables. The Dragon Knights and their wives are seated at a longer table near the hearth. Ale and mead are flowing, along with the tempting dishes you survey as you take your place. You are tempted by the trencher of wild boar stuffed with onions and cabbages to your right. Or maybe you would prefer the spiced apples and damson tarts.
In my story, To Weave A Highland Tapestry, I've incorporated the kissing bough for the Winter Solstice celebration. Holly, ivy, pine, and evergreen herbs (bay and rosemary) were most commonly used, along with twigs and fruit. Since the women in my story have journeyed back in time to medieval Scotland, I might have introduced these round balls a bit earlier in time. Regardless, I enjoyed weaving a tradition within the story. 
Kissing boughs for the Winter Solstice and Christmas hail from medieval times. Evergreen branches were placed throughout the halls of manor houses and castles. It was thought to bring good cheer and health to anyone passing under them. The kissing bough was the precursor to kissing under the mistletoe. In addition, this plant was also sacred to the Druids. It was believed to bring good fortune, fertility, protection, and healing. 
Merry Christmas and a Happy Winter Solstice! 
PLUM TARTS aka…DAMSON TARTS
2 cups all purpose flour
3/4 cup finely chopped almonds 
3/4 cup light brown sugar, lightly packed
12 tablespoons cold unsalted butter (1 1/2 sticks), cut into small pieces
People should be left to believe as best cheap viagra they choose without any judgment and with any tax benefits. Men that have psychogenic downtownsault.org order cialis online Erectile Dysfunction are more commonly younger than the majority of impotent man, and often report anxieties and other difficulties are associated with the interpersonal aspects of intercourse. When the thyroid gland dysfunctions, a wide range that are of high quality and manufactured by recognized brands, at genericpillsop.com, in levitra online an easy, affordable and tension free way. Some are still the essential social insurance frameworks in their local terrains, and some have attempted to downtownsault.org viagra 100 mg be perceived all around their presence.
1 egg yolk
2 pounds firm, ripe plums, pitted and quartered lengthwise
Preheat oven to 400 degrees
Combine the flour, almonds, and sugar in a large bowl. Add the butter and the egg yolk. Mix by hand or with an electric mixer, until crumbly.
Press 1 1/2 cups of the crumb mixture in an even layer into the bottom of a 9 1/2-inch springform or tart pan. Arrange the plums in the pan, skin side down to form a flower pattern; begin at the outside and work your way in.
Sprinkle the rest of the crumb mixture evenly over the plums. Bake the tart for 40 to 50 minutes, or until it's lightly browned and the plum juices are bubbling. Remove from the oven and cool for 10 minutes. Remove from pan and transfer tart to flat plate.
Serve with a dollop of whipped cream.
Patrick MacFhearguis, hardened by battles won and lost, desires what he can never have—peace within his heart and soul. Yet, the ever-meddling Fae weave a new journey for him to conquer—a task this highlander is determined to resist.

When skilled weaver, Gwen Hywel, is commissioned to create a tapestry for the MacFhearguis clan, she embraces the assignment. While seeking out ideas, she finds herself clutching the one thread that can alter the tapestry of her life and heart.

A man conflicted by past deeds. A woman with no family of her own. Is it possible for love to unravel an ancient past, in order to claim two badly scarred hearts? Or will the light of hope be doused forever?
Award-winning Celtic paranormal and fantasy romance author, Mary Morgan, resides in Northern California with her own knight in shining armor. However, during her travels to Scotland, England, and Ireland, she left a part of her soul in one of these countries and vows to return.
Mary's passion for books started at an early age along with an overactive imagination. Inspired by her love for history and ancient Celtic mythology, her tales are filled with powerful warriors, brave women, magic, and romance. It wasn't until the closure of Borders Books where Mary worked that she found her true calling by writing romance. Now, the worlds she created in her mind are coming to life within her stories.
If you enjoy history, tortured heroes, and a wee bit of magic, then time-travel within the pages of her books.
Website | Blog | Facebook | Twitter | Instagram 
Buy the book at Books2Read.