This post is part of Long and Short Reviews' Winter Blogfest. Leave a comment for a chance to win a $10- Amazon gift card to US/CA .
Finding Joy in the Little Things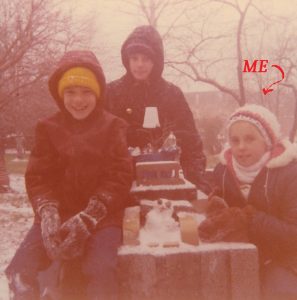 Born in Virginia but having moved to Florida when I was three, I didn't know what true seasons were. There was little changing of the foliage and there certainly wasn't any snow, and I was okay with that. Simply because I didn't know life any differently.
As Christmas approached and I'd see wintry landscapes and a white Christmas on TV shows, it always seemed special. And I think part of me always felt like, even though I hadn't experienced a snowy holiday, I was missing out. Like Christmas wasn't Christmas without snow. (The thoughts of a young girl.) So when my parents told us we were taking our first road trip from Florida back to Virginia and Ohio to visit family, I was thrilled!
First, just the prospect of riding and eating in the car, seeing new sights, and even staying in a motel was so different and exciting. (This was in the late 70s, early 80s) Second, the fact that we'd get to see snow and play in it was even more exciting. Bundling up in coats and hats and gloves just wasn't done in Florida the way it was in Ohio.
Upon our arrival, the scene was bare, but we had high hopes. Spending time with family we seldom saw was fun. Going to a giant mall all decked out in holiday décor was splendid. Riding on an escalator for the first time was… intimidating. My aunt had to coax me onto it, and still, to this day it takes me a split-second to take that first step when the timing is just right.
A few days into our visit, the snow finally came, and boy were we ready for it! What seemed like a good deal to us was but a skiff, a dusting to Ohio natives. We made the most of it anyway. We went out tree hunting then returned to build our first snowman – albeit, a very teeny, tiny snowman. Didn't matter to us Florida kids. (In the picture, I'm with my brothers. I have a younger sister but don't remember why she wasn't in the picture. Mom was the one taking the photo.)
My memories of the two or three trips north will always bring a smile to my face. Being treated to KFC on the road. Staying in a Howard Johnson and of course jumping on the hotel beds. Seeing Grandpa (who served in WWII) and being introduced to music from the 40s, such a Glenn Miller Orchestra, The Andrews Sisters, and more. Grandpa and mom teaching me the Charleston which I later performed in a grade school show. Mom even made my flapper dress. (Off on another tangent…)
My message is to take the time to enjoy the simple things that bring us joy. Make those unforgettable memories with your family. And may the Christmas spirit of love be with you all year long.
~
In my featured book, Forever Feral, my story revolves around found-family and the joyful memories they make. And for Leah, who grew up in Southern Arizona, snow for Christmas was the ultimate treat!
When invited to spend Christmas in Arizona with their friends they now consider family, Irena and Roberto don't hesitate. The Arctic fox shifter and mountain lion shifter are right at home among the others—hawk shifters Mason and Brennon, wolf shifter Max, and their mates, Charity, Mikki, and Caterina. Not to mention the precocious and delightful Leah, Charity's niece.

The holiday brings welcomed surprises such as proposals, babies, and snow in the desert. Brought together under dire circumstances and bonded by kinship, these shifters and their mates discover a love that will forever be feral and ever-lasting.
Laura's living life in the Pacific Northwest, enjoying family and the chance to make her author career soar. A veteran and semi-retired dental hygienist, a wife, mother, and grandmother, as well as an experienced mover, having traversed the country from the East Coast to the West, she sprinkles her experiences into her writing. She also writes about adventures she may not otherwise experience herself. Her goal is to provide laughter and swoon-worthy moments, as well as captivating stories in which the reader can lose themselves.
Buy the book at Amazon.