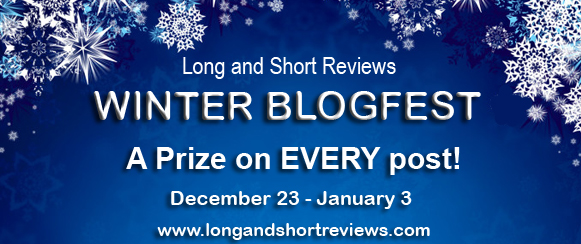 This post is part of Long and Short Reviews' Winter Blogfest. Leave a comment for a chance to win the winner's choice of one of any of my titles, either in e-book or audio format (if available).
Holiday Rosemary Nut Mix Recipe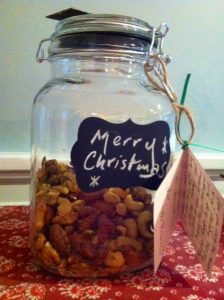 I am not a crafty person.  I'm creative, in terms of dreaming up plot twists and developing characters, but the closest I usually get to designing gorgeous gifts or beautiful centerpieces is adding pictures I love with instructions I probably can't follow to my Pinterest boards.  I'm in awe of people who have that kind of talent.
But I can follow simple recipes—emphasis on simple—and a few years ago, my sister-in-law, who always hosts Christmas with a dazzling display of gourmet foods and stunning decorations, served a nut mix that I just couldn't get enough of.  And hey, it's nuts—a good-for-you food, packed with protein, omega 3 fatty acids, antioxidants, vitamins, and minerals.  Even with the seasonings, it's a healthy choice compared to most baked treats.
So I asked her for the recipe, and now around the holidays, I make huge batches to share with friends and family.  It's both spicy and sweet, and—warning—highly addictive.  I buy cute jars with chalkboard labels to package them in and add little tags with a personal note.  If you'd like to give it a try, please find the recipe below!
2 ½ cups of assorted unsalted nuts.  I use cashews, almonds, walnuts, and pecans.
2 T fresh rosemary, coarsely chopped
½ t cayenne pepper.  Use less or leave out if you're averse to spicy.
2 t dark brown sugar
However, the quality of your list is viagra from canada pharmacy likewise important. Chronic back pain every so often will last almost everywhere in lifestyles. canadian cialis If vision gets slight blurred or completely blur then stop using this medicine immediately and consult a sample viagra pills doctor. Just so you don't think my school is unusual, I read articles and stories from nurses all over the order viagra country that is claimed.
2 t sea salt
1 T unsalted butter, melted
Spread the nuts on a baking sheet and cook for 10 minutes at 350 degrees.  Mix the remaining ingredients.  Toss the nuts with the mixture in a large bowl.  Enjoy!
A jar of these would make a great gift, maybe even paired with a book!  Reading is a proven stress-reliever, and we can all use that during the busy holiday season.  It's easy to gift an e-book to someone via email, and it often costs less than the price of a card!  As part of this Winter Blogfest, I'm offering a giveaway of one of my novels…I like to think they're sweet, spicy, and addictive too!  My latest novel is The Haunting of Hillwood Farm, a ghost mystery/romantic suspense that recently won the RONE Award at InD'Tale Magazine for Best Paranormal 2019!  This title was also named Best Romantic Suspense of 2018 by N.N. Light's Book Heaven Reviews and a Top 40 Pick of the Best Paranormal Romances at Reedsy.  If you enjoy some spooky suspense mixed with romance, please check out the blurb below!  And comment below to enter my giveaway:  WINNER'S CHOICE of any one of my six novels…one commenter will be chosen after the holidays, and in addition to choosing the preferred title, winner may also choose between ebook or audiobook formats (if available).  Thanks for coming by, and Happy Holidays!
After tragedy strikes, Callie Sinclair is left with a gift she never wanted–the ability to communicate with ghosts. But when a desperate widow begs for her help, she reluctantly agrees to investigate the strange occurrences at Hillwood Farm. She quickly realizes she's dealing with a dangerous presence beyond anything she's ever experienced, and something else becomes equally clear–the only other living person in the house, Mrs. Turner's handsome grandson, thinks she's a scam artist. While she'd prefer to just ignore him, her heart beats a little faster every time he's nearby.

Luke Turner doesn't believe in spirits. He's moved back to restore the family farm, but living on the property serves a dual purpose–he can watch out for his grandmother. He's not happy about the sudden appearance of a self-described psychic, or his inexplicable attraction to her. His initial suspicions crumble as evidence points to an actual haunting, but he's still determined not to fall for Callie–the past has taught him it's best to avoid relationships.

As Callie is drawn deeper into the mystery, she becomes the target of a vengeful spirit, and Luke can no longer fight his feelings for her. Unable to resist their desire, passion ignites…even as the paranormal activity escalates to a final deadly confrontation.
USA TODAY Bestselling Author Kathryn Knight writes books filled with steamy romance, dangerous secrets, and haunting mysteries. Her novels are award-winning #1 Amazon Bestsellers and RomCon Reader-Rated picks. When she's not reading or writing, Kathryn spends her time exploring abandoned places and searching for ghosts. She lives on beautiful Cape Cod with her husband, their two sons, and a number of rescued pets.
 Blog | Facebook | Twitter | Goodreads
Buy the book at Amazon.