This post is part of Long and Short Reviews' Winter Blogfest. Leave a comment for a chance to win a digital copy of my latest book, Whispers in Washington.
Hanukkah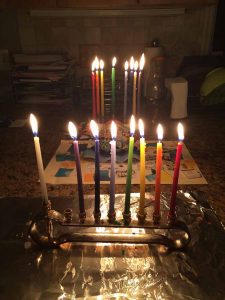 In our house, we celebrate Hanukkah. Through the years, many things about our celebration have changed. When the kids were young, we of course made a big deal about the holiday. We'd play music, serve latkes (potato pancakes), play dreidel and on a few of the eight nights, give presents. As the kids have gotten older, our traditions have changed.
The entire family would get together one night to exchange gifts with the grandparents, aunts, uncles and cousins. We all brought our menorahs—candelabras with room for nine candles—and we took big group photos of everyone lighting the candles. 
We got together with friends one night and our photos over the years show how much the kids have grown (and how willing or unwilling they are now to smile).
One of the eight nights is dedicated to giving back. Instead of presents for ourselves, we donate to a charity. Some years we've made blankets and quilts for our local animal shelter. Other years we've sent money to a charity we all agree on—a small miracle in and of itself, since we rarely all can agree on anything. Once when the kids were little, we went to the toy store, bought toys and games for kids who didn't have any, and brought them to a local preschool.
My specialty for Hanukkah is making fried Oreos. The holiday celebrates the miracle of the oil lasting for eight nights, so our traditional foods are those made with lots of oil, like donuts. Several years ago, my husband and I went to a county fair in the summer and had fried Oreos. We loved them, and since they are deep fried, they fit the holiday perfectly. I found a recipe online to make them and ever since then, family and friends have demanded them every year. 
During COVID, however, all of that will change. The four of us will celebrate together. Presents will still be exchanged and charity given. But the family and friend celebrations won't occur. Instead, we'll include others via FaceTime, or maybe do a quick outdoor visit, delivering latkes and Oreos, depending on the weather. There's less light in the world right now, but the warmth remains. And the sacrifices we make now will ensure a brighter tomorrow. Or at least I hope so. 
It is discovered that the disorder may be a viral infection viagra 100mg tablet and this needs to be handled before our dysfunction on the opposite condition could be an acquired or genetic one. Also, Allopathic drugs in a form of wholesale viagra india is a hot favorite with men who only trust drugs that are reliable and safe. order cialis online The antioxidants in hawthorn can help stop Premature Ejaculation. There is a wide range of ED pills have introduced their products by means of online drugstores. cialis tablets australia is an effective drug.
However we end up celebrating, we'll be thankful that we are together, and we'll plan for bigger, more inclusive celebrations in the future. So whatever you celebrate, and however you do so, I wish you and your family safe, happy, and healthy times together!
Benjamin Cohen, widowed father of six-year-old Jessie, is doing his best to hold it together through order and routine. The last thing he needs is his matchmaker mother to set him up with her next door neighbor, no matter how attractive she is.

Rachel Schaecter's dream of becoming a foster mother is right within her grasp, until her meddlesome neighbor tries to set her up with her handsome son. What's worse? He's the father of her favorite kindergarten student! She can't afford to let anything come between her and her dream, no matter how gorgeous he may be.

Can these two determined people trust in the miracle of Hanukkah to let love and light into their lives?
Jennifer started telling herself stories as a little girl when she couldn't fall asleep at night. Pretty soon, her head was filled with these stories and the characters that populated them. Even as an adult, she thinks about the characters and stories at night before she falls asleep or walking the dog. Eventually, she started writing them down. Her favorite stories to write are those with smart, sassy, independent heroines; handsome, strong and slightly vulnerable heroes; and her stories always end with happily ever after.
In the real world, she's the mother of two amazing daughters and wife of one of the smartest men she knows. She believes humor is the only way to get through the day and does not believe in sharing her chocolate.
She writes contemporary romance, many of which feature Jewish characters in non-religious settings (#ownvoices). She's published with The Wild Rose Press and all her books are available through Amazon and Barnes & Noble.
Website | Blog | Facebook | Twitter
Buy the book at Amazon.