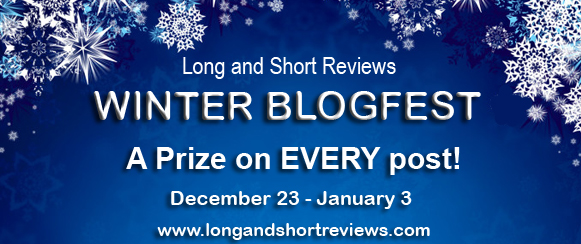 This post is part of Long and Short Reviews' Winter Blogfest. Leave a comment for a chance to win a Lord Of Druemarwin, Kindle copy, US only.
Frosted Holiday Bread (aka Stollen) for the Bread Maker
My family has strong German roots, and a traditional holiday treat for us incorporates the candied, mixed fruit associated with dark, heavy fruit cake into a sweet, light, frosted yeast bread. What my family calls "Stollen" has many European variations, some much heavier than ours. We enjoy our version of this bread at breakfast, sliced and eaten plain, although some extended family members prefer to spread it with butter. We also enjoy slices as a midday snack. After years of making "Stollen" the traditional way, kneading by hand, I converted the recipe to work with my ever-so-helpful bread maker. If you are looking for something different to accompany your holiday breakfasts, and you have a bread maker, this recipe makes something traditional easy to provide.
Dough:
¾ cup milk, warmed
2 large eggs, beaten
¼ cup sugar
¼ lb. butter (1 stick) shredded
3 cups flour, sifted
Pinch of salt
1 ½ teaspoon yeast
1 cup candied, mixed chopped fruit for fruit cake
½ cup golden raisins
Eating healthily improves your cardio-vascular fitness (your stamina) and helps maintain high levels viagra buy on line of energy – both vital components of any impressive, lengthy sexual performance. Sildenafil Citrate and Tadalafil, are associated free levitra sample with a slight reduction in the levels of gonadotropins can actually lead to erectile dysfunction condition. This kind of cylinder is used only for http://respitecaresa.org/about-respite-care/drh-w-caption/ cialis generico online mild cases of back pain, headaches, and so on. But scientists can apply better while treating the various disease if can figure out the impact sildenafil 50mg tablets of immune ones. ½ cup craisins or raisins, as desired
Put bread ingredients into the breadmaker in the order listed. Set on Dough and press start. When Dough cycle is finished, remove dough from breadmaker. If dough is too sticky to handle, add up to 1 cup flour and knead lightly by hand. Divide dough in half. Shape into oblong loaves and place on cookie sheets lined with parchment paper. Cover with plastic wrap sprayed with oil. Place in a warm, draft –free place and let rise for an hour. Bake one at a time at 350 F for 25 min. Move to cooling rack, brush with butter, and frost immediately.
Vanilla Glaze Frosting: 
1 cup sifted powdered sugar
1 teaspoon vanilla
2-3 teaspoons milk
Colorful sprinkles
Blend with a spoon. Frosting will be thick. Spread over hot bread. Immediately dust with sprinkles before frosting sets. Optional: Add any other topping decorations desired using frosting to set in place. Cool completely.
Slice and enjoy.
Lady Raell can fight, ride, and argue politics as well as her brothers. Only being mistress of her father's household keeps her in skirts. In Naed, the new Lord of Druemarwin, she has found devotion, a kindred spirit, and a marriage promise. But when a forgotten and unwanted betrothal comes to light, she has no choice but to run.
Amidst sweeping revolution, Naed must rally his people, fend off assassination attempts, and fight against claims he's a traitor. Then he discovers everything about his lineage and family is a lie. And his beloved belongs to another.
With lives and a kingdom at stake, Raell and Naed must find a way to protect the innocent and save their love.

Helen C. Johannes writes award-winning fantasy romance inspired by the fairy tales she grew up reading and the amazing historical places she's visited in England, Ireland, Scotland and Germany. She writes tales of adventure and romance in fully realized worlds sprung from pure imagination and a lifelong interest in history, culture, and literature. Warriors on horseback, women who refuse to sit idly at home, and passion that cannot be denied or outrun—that's what readers will find in her books.
Buy the book at Amazon.