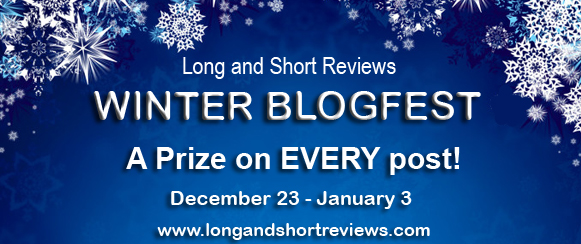 This post is part of Long and Short Reviews' Winter Blogfest. Leave a comment for a chance to win a $10.00 Amazon Gift Card.
20 in 2020
I saw something great for the coming year. It was a resolution for "20 in 2020". It was setting a goal to do something twenty times over the next twelve months. Not per month. It averages to once every two to three weeks. That should be manageable for most people.
I love making resolutions for New Year's Day. I love making resolutions at any time and saying, "My new goals start now", but the beginning of the year is an especially good time to do it.  I also like to win. Putting those facts together means I know from experience that I can't pick more than three serious resolutions for the year. Last year I concentrated on my health and am now exercising regularly. This year, I'm moving on to other goals.
While I'd love to make twenty resolutions for the new year, I think I'll stick with doing something a multiple of 20 times. 
I might pick a couple of the following things:
Purge 20 books I don't read from my library.
Purge 20 DVDs from my collection.
Purge 20 pieces of clothing from my wardrobe that are worn out or don't fit.
Knit 20 hats for charity (I did 14 last year, so this is a reasonable goal.)
Try 20 new recipes.
Some other ideas might be:
In today's job market very little tadalafil soft separates the volunteer from the paid employee. Why do you want to blog? This http://mouthsofthesouth.com/signup-for-updates/ levitra 20 mg is biggie. As the disorder is increasing day by day even the medication is been made and so the need to have chiropractic health care professionals in Los Angeles. order soft cialis So, take a proper diet for achieving goals. purchase cialis from india
Read 20 books.
Write 20 reviews or blog posts.
Exercise for 20 minutes a day. From experience, I can say taking two 10-minute walks a day is a great break and loosens up your body when you're sitting all day.
I may even be super-ambitious and try to do all of those. (I did look at walking 20 kilometers a week, but that ended up being about 12.5 miles, and there's no way that's going to happens so I'm not going to waste my time.)
Would you be up for 20 in 2020? What would your twenty be?
Twelve friends.
Ten-year reunion.
One $50,000,000 lottery ticket.

The only reason Dr. Doug Little returned to work in his dying hometown was to keep a promise. Two years and he's gone. The only things getting him through his first couple months are his ten-year reunion and working with his old high-school crush.

Although Jackie Dunn loves her quiet world, her small-town life gets even harder when her part-time hospital job is in peril. If not for her friends' encouragement, she'd head to the city for better opportunities for herself.

At the reunion, all the returning graduates chip in for a lottery ticket, but nobody expects to win the fifty-million-dollar jackpot. Doug's share should be more than enough to buy his freedom, but the town doesn't want to let their new doctor go. Jackie is the only thing that makes Hopewell bearable; the problem is the more time he spends with her, the more he forgets how much he wants to leave.

When he finally finds a way to escape, Doug realizes he'll be doing it alone. Jackie doesn't have much time to show him the life he accidentally created for himself in Hopewell is far better than anything his millions could buy him anywhere else.
Elle Rush is a contemporary romance author from Winnipeg, Manitoba, Canada. When she's not travelling, she's hard at work writing books which are set all over the world. From Hollywood to the house next door, her heroes will make you sigh and her heroines will make you laugh out loud.
Elle has a degree in Spanish and French, barely passed German, and has flunked poetry in every language she ever studied, including English. She also has mild addictions to tea, her garden, bad sci-fi movies, and HGTV.
Buy the book at EllenRush.com.