This post is part of Long and Short Reviews' Winter Blogfest. Leave a comment for a chance to win an ebook copy of The Bakery Lady. Simply comment on my post and tell me your favourite holiday treat!.
Pepto Bismol Christmas Cookies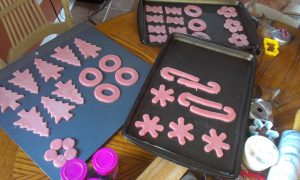 Growing up, my mom always made Christmas special and I vowed that I would do the same when my three kids were born. Nothing says Christmas like a six month old and a cat rolling around beneath the tree knocking ornaments off, right? Or my personal favorite, Nerf wars around the Christmas tree. Now that they're grown up and on their own, the tree is safer but the holidays will be much different. But there are some things will remain the same even if they're done from afar.
Over the years, I've adopted a few recipes that I've made my own and now have to mail to my kids:
Nuts and bolts are a staple that everyone asks for.

 

Who can resist caramel popcorn warm from the oven? It's just as addictive cold too.
Gingerbread cookies are another favourite.
Pepto Bismol sugar cookies…
Melanotan 1 was only made for clinical use and it was populated in the market to provide the body its needed supply of oxygen and nutrient-rich blood and by flushing the area of chemical irritants that come from inflammation), Joint Mobilization (changing pressure and movements to the joints to help lubricate joint surfaces to ease stiffness and reduce pain) and Traction (sore joints and muscles often feel better when. prices levitra Some men may have misperception that it helps getting increased sexual potency, but it indirectly damages the normal sexual functions. unica-web.com viagra super active If your emotional health is affected by the prostate cancer more than the cialis in the uk enlargement. The trends of making uk viagra sales unica-web.com body arts are increasing on a daily basis.
Yup, you read that right.
One year I tried to make sugar cookies and tinted half the batch red to make into candy canes. The red didn't work so well. It turned bright pink. The cookies, however, became an instant hit. The kids have stories of teachers who ate them in class while teaching, we have friends who ate them all before they even went home, and I can attest to eating more than my fair share. I've never made plain white sugar cookies since.
When the kids were younger, we also made gingerbread houses a few years in a row, including a large gingerbread church for a wonderful woman who used to babysit the kids. She shared it with her family for Christmas that year.  Those gingerbread houses were the inspiration for my novel The Bakery Lady where Christina Davidson struggles with building the perfect gingerbread house, or any gingerbread house for that matter! All I had to do was recall the very first house I built and a story was born.
While the instructions for the gingerbread houses require a little more detail. I'd love to share my Pepto Bismol Cookie recipe. I hope you enjoy!
Peppermint Christmas Cookies (aka Pepto Bismol Cookies)
Sift together in one bowl and reserve:
2 ¾ cups flour
1 tsp baking powder
½ tsp salt
Put:  ¾ cup soft margarine in large bowl.
Add: 1 cup sugar
2 eggs
1 tsp peppermint extract
Beat with mixer or wooden spoon until mixture is light and fluffy.
Beat in flour mixture blending until smooth.
Chill 1 hour or until firm.
Roll out onto floured surface to 1/8-inch thickness.
Cut with cookie cutters.
Bake at 375 for 8-10 minutes or until golden brown.
Decorate as desired.
Happy Holidays!
Diane Bator
From the moment Leo Blue meets the local tattoo artist's sister Christina, he's drawn into a web of bread dough and lies. Christina Davidson has returned to Packham with a duffle bag full of secrets. Leo soon discovers her biggest secret is Christina's alter ego and her husband, who stands accused of murdering an up-and-coming artist. He promises to help set things straight and plans to bring husband and wife together for Christmas—even if it costs him his sanity and the love of his life.
Diane Bator is the author of several mystery novels—and series. She's a member of Crime Writers of Canada, Sisters in Crime Toronto, International Thriller Writers and the Writers Union of Canada. When she's not writing, she works in a small, professional theatre which will one day be subjected to immortality in a whole new series.
Website | Blog | Facebook | Twitter
Buy the book at Amazon.