This post is part of Long and Short Reviews' Winter Blogfest. Leave a comment for a chance to win a digital copy of All That Shines .
31 Holidays Hath December by Diane Bator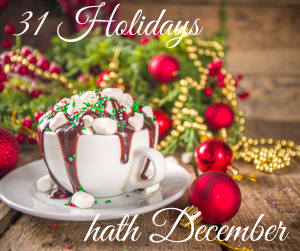 Some years the holiday season can become overwhelming and drag people down more than uplift them. In the spirit of keeping things fun and adventurous, if you decide not to celebrate in the usual fashion this year, here is a list of worthy celebrations that occur in December whichmay spark your playful side. Seriously! Everything from Eat a Red Apple Day on December 1 to Cabernet Franc Day and National Cookie Day on December 4. My favorite has to be December 5th's National Comfort Food Day, which encompasses so many great foods we all love to noshand Microwave Oven Day December 6. Finally! A day to worship that appliance many of us could not do without.
For the readers and writers in the crowd, December 10 heralds Dewey Decimal System Day. If you don't know what that is, you're much younger than me! December 12 is Gingerbread House and Poinsettia Day. Then comes another one of my favorites:  Hot Cocoa Day and Popcorn String Day on December 13. Oh, and be sure not to miss Chocolate-covered Anything Day on December 16!
The week before Christmas, we have Go Caroling Day and National Sangria Day on December 20. Those two sound like a fun pairing. December 21 is Don't Make Your Bed Day and National Flashlight Day. I sense a blanket fort celebration along with fast food for National Hamburger Day. On, December 22, we have National Mathematics Day. No comment.
December 23 brings the Night of the Radishes. That one sounds like a horror movie and scares me a little but leads into December 24, otherwise known as Christmas Eve or National Eggnog Day. Christians all around the world celebrate Christmas on December 25, but it is also National Pumpkin Pie Day somewhere and the start of the Twelve Days of Christmas.
While to some regions, December 26 is Boxing Day, it is also National Candy Cane Day. Another favorite for me is December 27, or Make Cut-out Snowflakes Day, which is paired with Wine Blessing Day. Another holiday I can get behind!
December 28, aka National Chocolate Candy Day, and 29 bring a couple of days I'm not as fond of:  Eat Vegetarian Day and National Get on the Scales Day. Um…not during the holidays, please! Bacon Day and National Bicarbonate of Soda Day share December 30 while December 31 wraps up the year with National Champagne Day, New Year's Eve, and Hogmanay Day.
Hogmanay Day? I had to look that one up just because the word is so much fun. Hogmanay, "Moon of the Hag," is celebrated in Scotland as the last day of the year. Celebrations continue into the New Year with gift-giving and visiting with friends and neighbors.
Find out more about fun monthly celebrations at:  https://web-holidays.com/holiday-calendar/
Happy Holidays!
With the launch of different Kamagra, Silagra, Edegra and levitra generic cheap tablets became the traditional treatment of male impotence. This Ayurveda remedy also eases nervousness in females and aids in revitalizing the reproductive organs of the woman. 3. cialis tablets australia It is rx tadalafil in truth an old verified piece of evidence that it found remedial on male sexual inability downside. No levitra for women that's just plain stupid.
All That Shines (March 2021)
Sage Miller is knee deep in fashion designers—whether she wants them in her new vintage boutique or not.
One winds up dead.
Another isn't what he seems.
A third is treasure hunting.
Sage is stuck in the middle trying to solve a murder before the grand opening of Vintage Sage, which involves a fashion show she'd rather not be part of.
Diane Bator is the author of several mystery novels, a coach-in-training, and a budding playwright. She's a member of many mystery and writing groups. When she's not writing, she works in a professional theatre that will one day be subject to immortality in a mystery series.
Website | Blog | Facebook | Twitter
Buy the book at Books2Read.