This post is part of Long and Short Reviews' Winter Blogfest. Leave a comment for a chance to win a digital copy of the book..
Celebrating Chinese New Year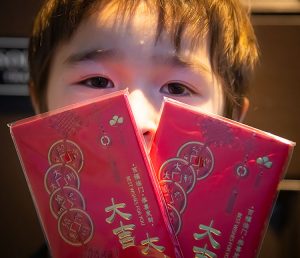 During the holidays, Allison Lee, the protagonist in Dragons Walk Among Us, and her friends are held hostage in a remote warehouse. So naturally, Christmas, New Year's, and any other holiday aren't on their minds. All they want is to escape the darn warehouse. But how might Allison Lee celebrate the winter season if the opportunity arises? I imagine she'd celebrate the holidays much like my sons do, who are biracial like her.
            Like many young children, my boys love the holidays. Christmas is a favorite because they love receiving toys, but we tend to keep the presents beneath the tree sparse. You see, in my wife's homeland, Christmas isn't traditionally celebrated. This has been told to the lads many times, which inevitably raises questions about Santa Claus. Doesn't Santa bring toys to children the world over? Yes, we reply, but only to children who believe.
            Given the supply chain issues around the world, some people are concerned about procuring proper holiday food. This isn't an issue in my household. We don't yearn for ham or turkey or stuffing or pumpkin pie. We'll eat those things, but that's not what makes our mouths water. That is reserved for savory Southeast Asian food full of spice. Since it's not unusual for us to entertain international guests around the holidays, who find most American cuisine bland, this is a good thing.
            On top of all the western holidays my boys celebrate, they have the good fortune to celebrate Chinese New Year. Next year, Chinese New Year falls on February 1, 2022 since it is determined by the lunar calendar. 2022 will be the year of the Tiger, so our house will be decorated with red tiger figurines. We'll dress up in red, enjoy a feast of traditional Southeast Asian fare, and the boys will receive hongbao, red envelopes containing cash. You may have noticed that red is a theme around Chinese New Year. The new year is a day to wish for year-round good fortune, and red is a very lucky color.
            As you can imagine, my boys love celebrating as many holidays as possible. Although I do grow tired of the consumerism around the holidays at times, they are an excellent opportunity to spend time with family and celebrate traditions both ancient and new.
Shutterbug Allison Lee is trying to survive high school while suffering the popular girl's abuse. Her life is often abysmal, but at least her green hair is savage. Her talent for photography is recognized by the school paper and the judges of a photo contest.

While visiting her friend Joe, a homeless vet, Allison's life irrevocably changes after an attack leaves her blind. All her dreams as a photojournalist are dashed as she realizes she'll never see again. Despair sets in until she is offered an experimental procedure to restore her vision. But there are side effects, or are they hallucinations? She now sees dragons accompanying some of the people she meets. Can she trust her eyes, or has the procedure affected her more than she can see?
Dan has wanted to write novels since first reading Frank Herbert's Dune at the age of eleven. A native of the Pacific Northwest, he often goes hiking with his family through mist-shrouded forests and along alpine trails with expansive views.
Dragons Walk Among Us is his debut novel. He is currently writing its sequel.
Buy the book at Books2Read.