This post is part of Long and Short Reviews' Winter Blogfest. Leave a comment for a chance to win one free ecopy of Legacy of Truth, book 2 in The Druid's Brooch Series .
Happy Holidays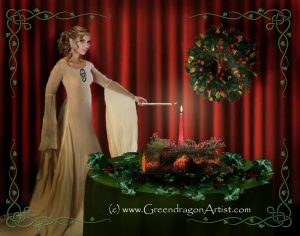 Ah, December. The ringing of jingle bells until you want to smash the little buggers whenever they appear, the mad dash for holiday gifts, the dreaded anticipation of hordes of relatives appearing at your doorstep.
And yet, it is a time of serene beauty and joy. It is a time of solitude and dark nights, a time to contemplate the love in your life, and all your blessings.
Nights are made bright with blankets of pristine snow sparkling in the sublime moonlight. Days are made sweet with the ringing of children's laughter in the snow. And the food… oh, so much food! Candies, cakes, roasts and eggnog. How can we keep from singing?
 No matter what your beliefs, no matter what your religion, December is a month of peace and joy. So, Merry Christmas, Happy Channukah, Joyful Yule, and Happy Kwanzaa. Enjoy those things in life that you hold dear, now and throughout the year. Hold them tight and fierce, for tomorrow is a new day with new opportunities and possibilities.
Be of good cheer!
Why do I say 'happy holidays' rather than 'Merry Christmas?' Not because I hate Christmas or Christians, or want a war on any of them. Because there are many different holidays in this time, by many different religions. Here are just a few of them!
Some December festivals:
•
Chanukkah (Jewish Festival of Lights)
•
Hogswatch
(From Discworld – fictional)
•
Krampusnacht
(December 5th)
•
Kwanzaa (Pan-African Festival)
•
New Year's Eve (Dec 31st)
•
Saturnalia (the Roman Winter Solstice)
•
St. Lucia's Day (Dec 13th)
•
Yule (Pagan winter festival/Solstice)
When the magical secrets of The Emerald Isle beckon, will she survive answering the call?
Pittsburgh, 1846. Valentia McDowell wishes she could rest. Plagued by nightmares of her grandmother's mysterious brooch lost in Ireland, the well-off woman grows more troubled when a fire ravages her family's business. But as she buries herself in the rebuilding efforts, she can't shake the sense that a powerful inheritance awaits her across the ocean… if she can weather the treacherous journey.

Horrified when the voyage claims her brother's life and afflicts her with malaria, Valentia believes her grief will be for nothing if she returns from the famine-struck island empty-handed. But as she nears her gran's birthplace and the last known location of the heirloom, the determined woman draws ever closer to a force beyond her imagination… and a battalion of deadly danger.

Can Valentia uphold a destiny she doesn't yet understand without losing everyone she loves?

Legacy of Hunger is the sweeping first book in The Druid's Brooch historical fantasy series. If you like compelling female characters, immersive authenticity, and a dash of magic, then you'll love Christy Nicholas's transatlantic quest.

Buy Legacy of Hunger to trace a family treasure today!
Celtic Fairies, Fables, and Folklore!
Christy Nicholas, also known as Green Dragon, is an author, artist and accountant. After she failed to become an airline pilot, she quit her ceaseless pursuit of careers that begin with 'A', and decided to concentrate on her writing. Since she has Project Completion Compulsion, she is one of the few authors with NO unfinished novels.
Christy has her hands in many crafts, including digital art, beaded jewelry, writing, and photography. In real life, she's a CPA, but having grown up with art all around her (her mother, grandmother and great-grandmother are/were all artists), it sort of infected her, as it were.
She wants to expose the incredible beauty in this world, hidden beneath the everyday grime of familiarity and habit, and share it with others. She uses characters out of time and places infused with magic and myth, writing magical realism stories in both historical fantasy and time travel flavors.
Combine this love of beauty with a bit of financial sense and you get an art business. She does local art and craft shows, as well as sending her art to various science fiction conventions throughout the country and abroad.
Website | Blog | Facebook | Twitter
Buy the book at Books2Read