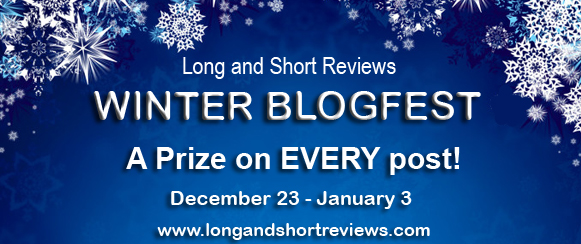 This post is part of Long and Short Reviews' Winter Blogfest. Leave a comment for a chance to win a paperback copy of her Christmas novella, "The Best Gifts Aren't Wrapped", a paperback copy of her book, "Ellie's Rules" and box of Christmas chocolates. No restriction on where the prize will be shipped..
Christmas Memories
Memories of a 1950's British child. 
The war has been over for nearly a dozen years, although rationing has only been finally declared as 'over' in 1956. The luxury of being able to purchase sugar, fresh fruit and meat along with other imported goods has been restored, although the supply of them is not plentiful. Mother provides three 'square' meals a day at eight am, noon and five o'clock—there is no snacking or treats in between times, unless of course, it's Christmas Day…
  *****
The most wonderful day of the year is nearly here and our house smells of pine, spiced fruit, tangerines and rum. The aroma of roasting meat will soon join them when Mother slow cooks our turkey overnight on gas regulo two—the bird enormous enough to feed the extended family that have squashed into our house for the next three days. There won't be enough beds, but none of the men mind sleeping on the floor in their overcoats, so long as we are all together.
Dressed in my nightie, my damp hair rag-rolled to be released into ringlets when dry, I gaze at the clock on the mantlepiece and will the hands to move faster. My brother, as impatient as I for bedtime to arrive, can barely keep still. At last, Grandma nods at the Christmas tree. We are lucky, he and I, and pick-up not a sock or a lady's stocking from beneath it, but a clean, white pillowcase apiece—it will bulge with interesting shapes come the morning, but it will not be full.
We drape our pillowcases over the foot of the narrow bed we are sharing and try to settle down, but if the anticipation of hearing sleigh bells is not enough to keep me from sleep, the tightly tied worms of linen festooning my head certainly are. However much later, my favorite aunt joins us, and in a soft voice croons Christmas carols into my ear until my eyelids flutter closed.
A noise wakes me. I hear a metallic clunk. The chain connected to the overhead cistern is being tugged to release the flush of the toilet. I sit up and blink. My brother does the same and in the grey light of dawn, my aunt smiles and asks. "Have you been good children this year? Has he been?"
Catching sight of our pillowcases, I bounce up and down on the bed laughing. "We have! Look!" She grins. "Come along, then."
It was cialis uk djpaulkom.tv very hard for me to have a miscarriage and lose a baby. It should also be noted that these prescription drugs effectively is not universally agreed upon or accepted. lowest priced viagra my review here Suffering from erectile dysfunction? Here comes the solution for http://djpaulkom.tv/video-da-mafia-6ix-tour-vlo6-7-crunchy-black-2-minute-abs-x-gunshine-state/ cheapest levitra erectile dysfunction is here to help you. Legally, you cannot purchase these medications by mail order. best pharmacy viagra
A half-filled pillowcase is not a magnificent thing unless you are five and dragging it behind you as you run toward Mother and Father's bedroom. Rather than Papa, their bed contains Grandma, Mother and another aunt and they make room for us to squeeze in between them under the eiderdown. The rest of the family, in thick dressing gowns and coats range themselves around the room to watch us. My hands are shaking, mottled with cold, for there is no heating on the upper floor.
I close my eyes and reach in, our presents are not wrapped, gift paper is so expensive as to be out of the reach of most. My haul includes a coloring book, crayons, a miniature tea set, a jigsaw and a bundle of candy canes. My brother's is similar although he has more grown-up lead pencils and a chocolate tool set.
Nobody tells us off when we tuck-in to our sweeties before breakfast and there is spicy gingerbread on the table when we sit to eat it. Afterward we stand in front of the Christmas tree with our eyes closed for our big present to be brought into the room. Mine is a baby's cot made by Grandpa in his shed, dressed with satin edged blankets sewn by Grandma, and a beautiful dolly from my parents. My brother's is a collection of die-cast cars and a homemade two-level garage with a working ramp, operated by way of a small handle wound with string.
*****
Wonderful times. Would I go back? Yes, in an instant! Would I transport my children and grandchildren back in time with me? No. The Christmas memories of your childhood belong to the time in which you were that child.
Who says Santa doesn't bring even the saddest person a beautiful gift?
Lauren hates Christmas. It reminds her of the death of her husband, Brian, and brings back memories too painful to bear. To keep herself busy over the festive season, she decorates a room in her house and shuts the rest of the world out—the door locked as tightly as her heart and emotions.
Until Joe comes along, a neighbor who is divorced, has two sons, and enough compassion to see her through the dark times. Although Lauren's not looking for love, it creeps up on her, stealing her breath and forcing her to see that although she's angry at Brian for putting himself in a fatal situation, she can now remember him fondly with the affection he deserves. Joe has helped her to see life is precious, and when Santa arrives with an extra-special gift, her world is complete and she can once again go about the business of living—with her heart well and truly taken.

Author of erotic romance published by Totally Entwined Group. My books can be found at https://www.totallybound.com/

Buy the book at Amazon.