This post is part of Long and Short Reviews' Winter Blogfest. Leave a comment for a chance to win a $50 gift card to Barnes and Noble or Amazon, reader's choice!
Preparing for Christmas by C.H. Lyn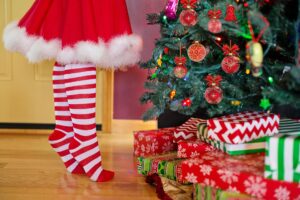 For the past five years or so, my husband has struggled to hold Christmas at bay. He enjoys Thanksgiving and believes the decorations should stay away until after that fateful turkey day. As for me, while I'm not one for having reindeer up for sale before Halloween ends, I definitely prefer putting up Christmas decorations to baking pumpkin pie.
We've settled on something of a truce. I'm ready. Prepared for a bombardment of garland, lights, and tinsel. Black Friday doesn't mean shopping in my house. It means decorations galore. It means hauling the tree out of the garage and carefully handing the kids ornaments they won't easily destroy. It means candy canes everywhere, peppermint hot chocolate for the kids (peppermint mochas for me), and the beginning of the true holiday baking season.
My Gran used to make tins full of homemade candy every year. Caramels, fudge, butterscotch, cookies, brownies, blondies… you name it, she'd have it in a tin. We would go together, handing them out to her friends a few weeks before Christmas. It's one of my most cherished memories.
That being said, I'm not about to spend seventy hours baking homemade candy. She was retired and didn't have toddlers running around the house. I stick to a simple set of recipes, a few favorites that I enjoy sharing with the neighbors (and eating).
My eldest child is 4 this year. She fully understands the concept of this winter holiday, and is anxious to wrap the presents we've already picked out, bake with mommy, and have family visit. Both kids are also pretty psyched about the possibility of snow and a sledding filled Christmas Day.
It's early November as I write this. The sky is blue, no snow clouds visible on the horizon. I've left out the gourds, and other fall themed decorations that aren't specifically Halloweeny. I'll wait, somewhat patiently, until Thanksgiving night to pull from the boxes in my garage. It is the truce, after all. And yet, I can't help the grin as I think of the tiny colorful Christmas tree my youngest asked me to buy at the store the other day. It's on the top shelf in their bedroom, out of sight unless you're looking for it. A small decoration only the girls and I know about… promising a lovely holiday season.
International travel means international danger.

Lacey Devaine is a four-year veteran of a spy ring which fronts as an exclusive escort service, Miss Belle's Travel Guides. Maintaining her cover is Lacey's number one priority to protect the integrity of the operation she works for.

While on assignment in Tokyo, a nosy newspaper reporter threatens to blow the lid off a scandal that will put dozens of innocent lives at risk. To protect her cover, Miss Belle is called in to act on intelligence Lacey has uncovered.

Can these beautiful, intelligent, and deadly women complete this assignment in time and emerge unscathed? Or will this mission be their last?
C.H. Lyn live in Colorado with her husband, two little girls, and a massive German Shepherd. She enjoys the mountains and trails Colorado has to offer, especially the easier ones she doesn't have to carry the kids on. She loves to write, and finds time for it while the kids play and after they've gone to bed. She is working on more Miss Belle's Travel Guides books, as well as several projects for Kindle Vella. She can be found on almost all social media platforms @chlyn.author
Buy the book at Tirgearr Publishing — note: this book is 99c during the blogfest!