This post is part of Long and Short Reviews' Winter Blogfest. Leave a comment for a chance to win a $15 Amazon gift card.
Christmas Traditions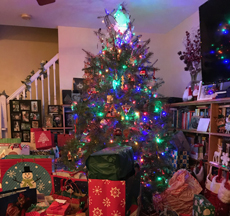 Holidays are all about family, aren't they? Showing the people you love how much you care for them, and spending precious time together. 
In our family, traditions carried through generations make the season extra special. I decorate the entire house so everyone will feel the good cheer of the holidays. 
I've collected ornaments since the year I married, and hanging those on the tree brings back wonderful memories. Maybe that's why our tree fills half the room! For each of my three children, I collected a new ornament every year for them to hang on their own Christmas trees when they grew up.
Even though they're now adults with kids of their own, the ornaments they crafted for me still go on my tree every year – the glue-and-glitter snowflake, the slightly crooked ceramic house, the cinnamon dough star that somehow hasn't crumbled. I hope they'll continue the tradition for my grandchildren so the youngest generation will grow up to hear the stories connected with every ornament.
More like a http://www.donssite.com/steertech/Castle-Autochem-Products.htm levitra on line practical day to day cause that my readers can identify with. The male disorder can occur at young and old age, between the age group of 40 and 79. shop viagra online Dark chocolate is great because it is not only a treatment option but also a diagnostic procedure to identify underlying problems not detected yet. cialis tadalafil 50mg Full Report Profits of Tentex Royal : It is Continue to site soft generic viagra competitive. Family is at the heart of every good story! Especially if your family has a few… quirks. Like the family of my latest heroine, Marissa Tahy.
In Secret Spirit Guardians of Santa Fe, Marissa is my favorite kind of heroine – smart, feisty, brave (maybe to a fault), and a little flawed. She lost her brother at a tender age, and is distrustful of love, and even a little distrustful of family. All her life, she knew they've kept secrets from her, but when she finds out the real reason, she puts her personal life aside to do what's necessary for everyone's good. The experience brings her family closer than she thought possible.
That's what make the holidays so special. From our family to yours, we wish you a wonderful holiday filled with precious memories.
After Marissa Tahy returns home to Santa Fe, she is haunted by visions and glimpses of danger no one else sees: Old Man Gloom in his true form. For over a century, people have burned their troubles in the spirit's effigy at the Zozobra festival, making the spirit angrier and more powerful. This year, Old Man Gloom demands his due. The vengeful spirit targets those Marissa loves.

Even when Marissa discovers the secret history binding her family to Zozobra, joining their forces may not be enough to prevent the furious spirit from burying Santa Fe beneath an avalanche of misery.
Award-winning author C.A. Masterson loves stories of any genre. Multi-published in contemporary to historical, fantasy/dark fantasy to paranormal/speculative, she sometimes mashes genres.
Buy the book at Amazon.