This post is part of Long and Short Reviews' Winter Blogfest. Leave a comment for a chance to win a copy of the award-winning romantic suspense Fall to Pieces wherein the heroine of YESTERDAY'S OVER is first introduced. Suggest a book for me in the comments below and a randomly chosen winner will be chosen.
Traditions Define the Season by Becky Flade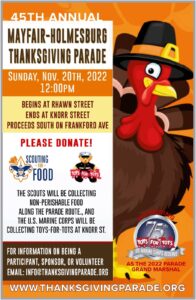 The male lead in Yesterday's Over is an anthropologist, a scientist who studies humanity and human behavior, biology, cultures, societies, linguistics, and the traditions that define present and past humans. That resonates with me in particular as we head into a season that is largely defined by its traditions.  
The Sunday before Thanksgiving our neighborhood holds a Thanksgiving Parade featuring local bands, schools, floats, and more. For me and my family, that's the start of the holiday season. We set up at the firehouse on the route (home away from home for my oldest friend, a Philadelphia Firefighter) as they put out food and goodies for families and friends [plus, you know, bathrooms].
It begins, every year, with motorcycles: the Philadelphia Fire Department, the Philadelphia Police Department, the Philadelphia Fallen Heroes, and the Philadelphia Veterans motorcycle clubs fill the Avenue. The roar is thrilling and heralds the start of the parade. Old neighbors come back and mingle with the new. Generations huddle together in field chairs or resin patio furniture they carry to the Avenue while kids dance in the street, hunks of soft pretzels stored in their cheeks like holiday chipmunks. At the end of the parade, Santa rolls by and his elves walk the curb-line, collecting letters and wish lists, and handing out candy canes.
After we go home, we change into warm comfy clothes and watch our favorite holiday specials: Christmas Eve on Sesame Street, A Muppet Family Christmas, the Polar Express, etc. It's like a mini-Christmas because the very next day, we go back to Thanksgiving preparations and we don't embrace Christmas mode until December 8th, the Immaculate Conception when I put out my nativity set.
It's the traditions that define humanity and my favorites are the ones that flood this time of year.
In the rubble of a massive explosion that rocked Philadelphia, bones are discovered beneath the remains of a row house.

Assistant Chief Medical Examiner Trudy Beasley prides herself on providing answers and closure to victim's families, but the mystery surrounding the skeletal remains is something she's never seen before. Could whoever did this still be loose in the city? Trudy's instincts demand she pursue the truth.

Forensic anthropologist Benjamin Roberts disagrees. Ben sees the puzzle as an academic challenge, not a legal one.

As the investigation progresses, Trudy and Ben are pulled closer together, until their professional relationship crosses the line and they find themselves in each other's arms. Will their newfound romance survive when someone is willing to kill again in order to keep secrets buried along with the bones from being unearthed?
A city girl, born and bred, I tend to place my stories in and around southeast Pennsylvania, or at least have a character or two from the area. Home is where the heart is and I make mine with my children and grandchildren. When I'm not busy living my own happily ever after, I'm writing about someone else's.
Website | Blog | Facebook | Twitter
Buy the book at Amazon.