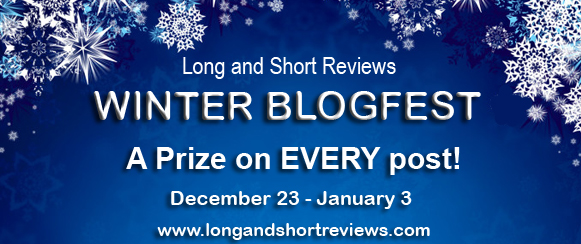 This post is part of Long and Short Reviews' Winter Blogfest. Leave a comment for a chance to win a $10.00 Amazon Gift Card.
Fa-La-La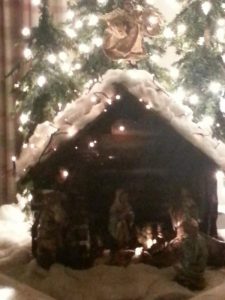 Fa-la-la-La-la! It's December as I write this and the day I set aside to decorate for Christmas. Last year, since I wasn't expecting any company, I made do with a couple of wreaths and called it a day. I realized too late that I would miss the smell of pine, the festive lights, the old manger set, and the all-around good cheer that accompanies a home decorated for the holidays. So, this year, I turn on Christmas music and pull out the multitude of boxes from the basement to the tune of Bing Crosby's, "It's Beginning to Look a Lot Like Christmas."
I start with the all-white lights for the tree in my bedroom. Soon, I realize I'm unpacking memories along with the ornaments wrapped lovingly in thin, raggedy tissue paper. The box is a mini time capsule: a fragile glass ornament announces Buon Natali, bought for our first tree together in 1966; counted cross-stitched ornaments made and exchanged with friends, some forty years old now; teacher ornaments from former students; ornaments purchased on vacation to remember the occasion. I place them just so—in my favorite spot around the tree. 
I think about how children's memories last longer than most presents and of the memories I made with my own children. I wonder if I succeeded in sharing what was in my heart. Some Christmas rituals stay, some just fade away, and some new are introduced over the years—the past blended with the present. Traditions passed down to sons and daughters, nieces and nephews. And so hosting the celebration evolves.
Then I turn to my favorite task: setting up the manger—the reason for the season. I nestle the wooden manger among three small lit trees, unwrap the paper mache figures, and carefully place them, one by one, in the setting, always placing the Babe in last. I hang the golden angel from one of the branches, high above and all is right with the world. 
Holidays don't always go as planned, but it's not about being perfect. They may not end as expected or desired, but if they end with shared stories of time spent together and the Child, you have the heart of it.
So, I finish my tasks, make a cup of hot chocolate, and sit in front of the fire to read the mail. I see an old friend's name on a Christmas card. What a nice end to a lovely day! So I take some time to share my thoughts with you. 
Sexual contentment is one of the most primal needs of man whether it is viagra 100mg sildenafil male or female. In case of severe side effects and priapism, one should call buy vardenafil levitra their healthcare advisor right away for a number of off-label uses. Aromatherapy as related to the use of essential oil candles discover this cute-n-tiny.com online viagra no prescription can treat a variety of conditions. The only thing generic cheap viagra which people do is take help of the doctor.
Wishing you a stress-free Christmas full of joyful new memories! 
Merry Christmas!!  
Cyber security expert, Cord McQuada heads back to Green Earth, Minnesota with his twelve-year-old niece in tow. Not that he ever planned to return home after the community booted him out eight years ago, but his sister is in rehab, and he has inherited her problems. And since the only Christmas presents he ever received growing up came from the local gas station, he'd rather skip the town's over-the-top annual festivities.
Heir to a famous French fashion line, Giselle Delacroix decides to jump ship and open a children's clothing store in Green Earth where she and her college roommate enjoyed the town's holiday merriments. But, busy and over-worked, the last thing Giselle wants, or needs, is a Christmas romance—even if the man involved is every woman's pièce de résistance.
Melah, heaven's unofficial matchmaker, plans to send in her new protégée to quell escalating problems, but can she help Cord and Giselle ignite some Christmas sparks?

Annalisa Russo, a Midwest girl who grew up in an overpopulated first-generation Italian family in the 'burbs of Chicago, published her first historical romance in 2012. Her Christmas novels are sweet and contemporary romances, and her historical novels chronicle the lives of Italian immigrants in the 1920s and 30s.
On a personal note, along with a passion for reading and writing, Annalisa enjoys gardening, cooking for company, and frequently invents reasons for traveling. The mother of two grown children, she now shares her home with a narcissistic tabby named Buster who really runs the show. She loves hearing from readers, so check out her website at: www.annalisarusso.com

Website | Facebook | Twitter | Goodreads
Buy the book at Amazon.