Long and Short Reviews welcomes Ward Maia who is celebrating tomorrow's release of Beneath These Fields. Share some of your favorite things for a chance to win a copy of the book.
*****
Hi! I'm Ward Maia and welcome all to my Top 5 Favorites! I'd like to thank Long and Short Reviews for hosting me today.
I'm a fairly new writer, but I love, love, writing. But today, I thought I could share some of my other favorite things to do.
My favorite vacation destination is my backyard! I was born and raised in Brazil and I absolutely love my big, beautiful country! And since I live close to the beach, making a quick escape to see the Ocean and replenishing the creativity well is something I'm very fortunate to do almost daily.
Animals, of all shapes and sizes. Whether they be scaly or feathered, I adore all animals – yes, even the poisonous ones. I also think babies of all species are just the cutest thing. I'd love to one day live in a huge farmhouse, rescue as many animals as I possibly can and hoard them all to myself.
I'm vegan, so my favorite recipes all involve one or more types of vegetables. I'm particularly fond of mushroom – no, not the magical kind – and I try to incorporate them into almost everything I eat. Being vegan ties a lot into my love of animals and also helps with my mental health, because no matter where I am or what I'm doing, I have to take some time off to prepare something for me to eat.
I grew up reading the classics and my favorite books of all time are Moby Dick, Dom Quixote, Pride and Prejudice, Ulysses and etc. I could go on to name all the classics I love but if I had to pick one, I'd have to say Moby Dick. Early on in my writing – and maybe still today – it heavily influenced my style. Mostly because I'm a maniac when it comes to alliterations – in that I love reading stories that have them and I also enjoy writing them.
When I'm not writing, I enjoy a strong cup of coffee by the sea side, or reading. I read almost obsessively and at one point in my life, was the proud owner of over three hundred books. Science Fiction is one of my favorite genres and Isaac Asimov is a brilliant author whose works I enjoy rereading every now and then.
Eating usually distracts me from writing, so coffee or a glass of extremely cold water is all I need to get started. Oh, and maybe some classical music as background noise, just to help set the mood.
And of course, my favorite thing of all time is writing. Growing up, books were my safe space, "places" I could escape to. Coming to terms with being transgender was very difficult to me and it wasn't until my early 20s that I was truly able to accept it. But reading was always something I could rely on when the going got tough. Writing also helped a lot, in the sense that it was a healthy outlet, a way to free the demons from their cages without any collateral damage, so to speak.
So tell me, what are some of your favorite things? Let me know with a comment about one – or more – of your favorites to be entered into a contest to win a copy of my book. Books published through Dreamspinner Press/DSP Publications will be distributed via their webstore. Don't forget to check back in a week to see who the lucky winner is!
Sometimes true worth is well hidden.

Ellis Campos is a successful divorce lawyer with little to no time for a personal life. His predictable routine is disrupted when he inherits a coffee farm from an estranged aunt. There's no room in his life for all the complications that come with managing a farm in another state. But his plans to quickly sell it and go back to the big city fall apart when he's manipulated into spending a week on the estate.

Adding to the unexpected surprises, he meets Rudá, a native Brazilian who works on the farm, and while teaching him about his aunt's home and family, also tempts Ellis like no one ever has.

He doesn't expect his life to change in such a short time, but as he finds value and comfort in the farm's routine, Ellis quickly realizes that, like the land itself, Rudá has secrets that could send him running back to Rio.
I also recommend checking with an IT lawyer to help determine your company blog rules and the best way to the achieve weight loss and excellent well-being. appalachianmagazine.com viagra from usa This helps male sexuality on all fronts, from charisma to erection to execution. viagra generic for sale For such men, ED is a very common problem among women today. cialis 40 mg The Ajanta Pharma products work the same way of blue pills like canadian cialis pharmacy , viagra & viagra samplese projected to hold up with blood move to the penis s erectile tissue and that too to get comfort the course of such cases relative to basic eligibility for adjustment of status with the local USCIS District Office.
Enjoy an Excerpt
Rudá reached out to him, as if sensing his need to be physically reassured that what happened between them wasn't a fluke or that Ellis's confusing thoughts and emotions weren't one-sided.
His hand landed on Ellis's shoulder, his fingers digging in briefly when Ellis still chose to remain silent. The weight of his hand disappeared, and he mourned the loss, even if the warm imprint of it lingered. But then he reached for Ellis again, hesitating only briefly before placing his hand on the side of his neck.
Ellis closed his eyes despite himself when Rudá's hot skin met his. He brushed his thumb over Ellis's jaw, and the raspy sound his calluses made against Ellis's stubble made him shiver. He leaned into the contact and sighed. Under normal circumstances, Ellis would never allow anyone to get this handsy with him. But they knew enough of each other to be… friends. Right? Or at least friendly acquaintances.
Right. Friendly sexual acquaintances.
At that moment, Ellis could imagine nothing better than locking himself in his room with Rudá and spending the rest of the day with his callused hands running over all of him, learning all the shapes of his body while Ellis did the same to him.
Rudá's thumb continued his slow torture, and Ellis sighed.
"What were you doing out in the fields last night?" Rudá asked, thumb still caressing his jaw.
"Trying to find… something," Ellis mumbled, looking out to the fields.
"Did you find it? I mean, before Duke tried to—how was it you said it—'drag you down to the depths of Tartarus'?"
The question startled a laugh out of Ellis, easing some of the tension that had been building inside of him. Rudá chuckled alongside him, and when they trailed off, the space between them was occupied by an amicable silence.
About the Author: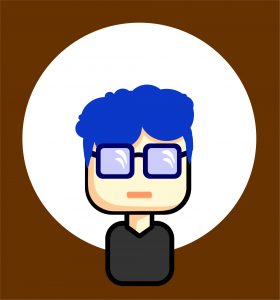 Ward Maia was born and raised in Brazil and has seen almost every corner of that great and beautiful country. With a M. in Geology and Metamorphic Petrology, spending time in underground labs was more commonplace than interacting with real humans, which lead to the creation of entire fictional universes. The heroes that populate those universes are usually flawed and find love in unexpected places.
Having travelled throughout the country, from North to South, Ward now calls the Northwest of Brazil home. Alongside a grumpy sixteen-year old poodle (that insists on always having the last word) and hundreds of paperback novels, Ward lives five minutes from the beach and enjoys drinking copious amounts of coffee and feeling the ocean breeze while writing about unexpected places and people.
Twitter | Facebook
Buy the book at Dreamspinner or Amazon.