Long and Short Reviews welcomes Rachel Brimble. Leave a comment or ask the author a question for a chance to win $15 Amazon gift certificate.
Rachel started writing seriously towards publication once her youngest daughter started school full-time in 2005 and her first book was published by The Wild Rose Press in 2007. Since then, she's had at least two novels published per year. She's working on her 30th book, a historical romance. She's also written contemporary romance and romantic suspense.
She told me that she never suffers from writer's block because she doesn't allow herself to give into it, no matter how much she might want to shut her laptop.
"I make myself write," she explains. "Anything I write can be edited or deleted, but as long as I don't stop altogether, the block loses! There will also be something a writer can use no matter how bad they think the work is when they are struggling."
I asked Rachel what came first – the plot or the characters. She said that more often it would be the setting.
"I often see a building or a picture, and it sparks something inside of me telling me a story is on the way," she laughed. "I then work to find the characters who live there, what they do, what they want… this is an exciting part of the process. The problem is making that nugget of an idea stretch to 90,000 words!"
Rachel has her own home office that she loves. I asked her to tell us about it.
"It was once a small spare bedroom but it now entirely mine! The walls are a pale blue (apparently good for concentration) with two big corkboards in front of me covered with pics of my latest hero and heroine, where they live and the building where most of the action takes place.
"On my desk are a set of three trays containing my planner, notebooks, magazines and usually a self-development book of some sort that I dip into. As well as that, I have my laptop, a separate monitor, printer, candle and a pic of my daughters."
When she's not writing, her main hobby is knitting.
"I am somewhat obsessed and spend hours working on my latest project in front of the TV," she said. "Watching TV is the other thing I tend to do a lot of when I'm not working – I especially like crime and period dramas. Outside activities including long country walks with my husband and our chocolate Labrador, Tyler, as well as visiting stately homes and places of historical interest."
Rachel was born in Bristol, England and lived there for 27 years but since 2001, she's lived in a small market town just a short 30 minute drive from the famous historical city of Bath. She absolutely loves where she lives mainly due to its proximity to Bath.
"All my historicals are set there because of how easily I can spend time there soaking up the atmosphere and imagining my characters working and living there during the 19th or 20th centuries," she told me. "The architecture and history of Bath is immense and I encourage your visitors to take some time there if they are ever in the UK."
"What are you passionate about these days?" I wondered.
"What I have always been passionate about… the fight against prejudice. I cannot stand it in any form – I will never understand why some people cannot just live and let live. Is it really that difficult to focus on your own life and stay out of others? I think not… Is it so hard so live in a world where people are of every race, creed, sexual orientation? I think not…"
Finally, I asked, "What is something you'd like to accomplish in your writing career next year?"
"I would love to get an Amazon bestseller flag in the States – I have managed it in the UK and Canada so America would be the cherry on the cake! I'd also like to finish books 2 and 3 in my latest trilogy – book 1 is done and currently under consideration so a contract offer would be nice, too!"
From grieving widow…

1851. After her merchant husband saved her from a life of prostitution, Louisa Hill was briefly happy as a housewife in Bristol. But then a constable arrives at her door. Her husband has been found hanged in a Bath hotel room, a note and a key to a property in Bath the only things she has left of him. And now the debt collectors will come calling.

To a new life as a madam.

Forced to leave everything she knows behind, Louisa finds more painful betrayals waiting for her in the house in Bath. Left with no means of income, Louisa knows she has nothing to turn to but her old way of life. But this time, she'll do it on her own terms – by turning her home into a brothel for upper class gentleman. And she's determined to spare the girls she saves from the street the horrors she endured in the past.

Enlisting the help of Jacob Jackson, a quiet but feared boxer, to watch over the house, Louisa is about to embark on a life she never envisaged. Can she find the courage to forge this new path?

A Widow's Vow is the first in a gripping and gritty new Victorian saga series from Rachel Brimble. You won't be able to put it down.
About the Author: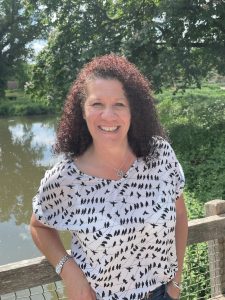 Rachel lives in a small town near Bath, England. She is the author of over 25 published novels including the Ladies of Carson Street series, the Shop Girl series (Aria Fiction) and the Templeton Cove Stories (Harlequin).
Rachel is a member of the Romantic Novelists Association as well as the Historical Novel Society and has thousands of social media followers all over the world.
Newsletter | Website | Twitter | Facebook | Instagram
Buy the book at Amazon or Barnes and Noble.