Living with ghosts
Ghost walks are such fun! I've been on a few, in New York City and in Gettysburg, and the blend of history and spookiness makes for an unusual night. Even better if a spirit makes an appearance!
So far, the closest encounter I've had is with orbs. Plenty showed up in photographs along the Gettysburg walk. But a few loved ones who've passed on have returned in dreams, both for me and for my family. I always love to see them. It's like being able to visit for awhile, though I miss them even more afterward.
My daughter's boyfriend, Justin Jones (not his real name) had one of the most unusual dreams I've ever heard. While my daughter was helping Justin renovate the house he'd bought, built by his great grandfather James, sometimes cabinet doors would open by themselves, and they'd hear noises in the other room. It always gave my daughter the chills.
One night, Justin dreamt an old man sat on his bed and awakened him to ask, "Who are you?" Justin gave his name, and asked, "Who are you?" The old man said, "James Jones." Justin's great grandfather!
James asked, "What are you doing here?" and Justin replied, "I live here." His great grandfather nodded, and said, "I'll tell her to leave you alone then."
When Justin told his parents about the dream, they revealed that James had had a younger sister who died as a girl. True to James' word, no more cabinet doors opened, no more sounds from the next room. Now that gave me the chills when I heard it! I bet James and his younger sister are still there, though. Just more accepting of the new tenant. 🙂
Have you ever lived with a ghost? Or dreamed of a loved one who'd passed on?
GIVEAWAY
One commenter will win an ebook of my fantasy time travel, Cinderella Dreams!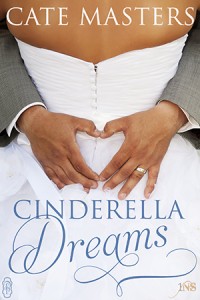 No one should live a life filled with regret. Once a successful wedding photographer, Genevieve Fuller's life changed the day her ex-boyfriend wed someone else. Heartbroken for decades, she realizes too late who she truly loved and makes one desperate call to Madame Evangeline. She risks everything to right the wrongs of her past, which she hopes will heal her broken heart. Can Gen alter the course of her own future to include the Cinderella happy ending she should have had the first time?
Available from Decadent Publishing
http://www.decadentpublishing.com
Amazon: http://www.amazon.com/Cinderella-Dreams-1Night-Series-ebook/dp/B00E4RH9WC/ref=sr_1_1?s=digital-text&ie=UTF8&qid=1374687682&sr=1-1&keywords=cinderella+dreams+cate+masters
View the book video: http://youtu.be/eq3qLLPceYc
Cate Masters has made beautiful central Pennsylvania her home, but she'll always be a Jersey girl at heart. When not spending time with her dear hubby, she can be found in her lair, concocting a magical brew of contemporary, historical, and fantasy/paranormal stories with her cat Chairman Maiow and dog Lily as company. Look for her at http://catemasters.blogspot.com and in strange nooks and far-flung corners of the web.
Cate loves to hear from readers! Email her at: cate.masters@gmail.com