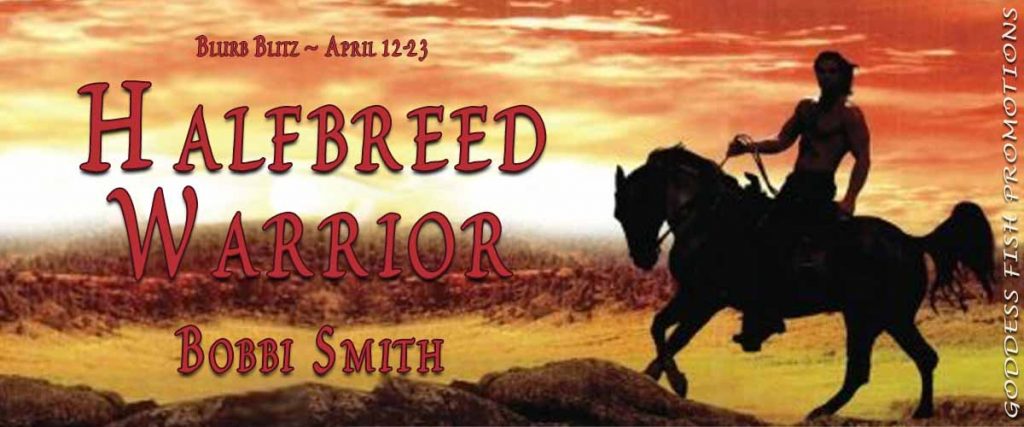 This post is part of a virtual book tour organized by Goddess Fish Promotions. Bobbi Smith will be awarding a $10 Amazon or B/N GC to a randomly drawn winner via rafflecopter during the tour. Click on the tour banner to see the other stops on the tour.
It was said that only the bravest warrior could ride the phantom stallion that ran fee on the Texas plain…

The Legend of The Hawk

With Comanche blood flowing through his veins, Hawk always knew he was different. Everywhere he went, people scorned him, feared him, hated him – and he expected the same when he hired on at the Lazy S Ranch to help catch rustlers. What he didn't expect was a woman like Randi. Her impulsive spirit and generous heart broke through his reserve and made him want to love again. But he couldn't afford to get close to anyone. Not with the job he had to do.

The Will of the Lady

Randi Stockton grew up around rough cowboys on her father's ranch. None had managed to win her love…until the mysterious stranger with the power to tame the legendary wild horse strode into her life. Randi knew he was a half-breed, but something about him called to her. And he was the only one who could save her from the traitor at the Lazy S. The danger lurking in the shadows and canyons threatened to draw the two apart, but Randi knew in her heart that Hawk would always be her Half-Breed Warrior.
Enjoy an Excerpt
"Go, Angel!" Randi Stockton urged her palomino to a faster pace. She'd just caught a glimpse of the fabled phantom stallion on a rise in the distance and was determined to give chase. Legend had it that only the finest of warriors would ever be able to catch him, and it seemed there was truth to the story. No one had even come close in all these years.
Randi was concentrating on her quest, when suddenly Angel tensed and altered her pace. Puzzled, Randi glanced around. It was then she caught sight of another rider pursuing her. Terror seized her. The bare-chested man coming after her looked like a Comanche warrior. Any thoughts of finding the phantom stallion were gone. She had to escape.
Hawk's ride that morning to the Lazy S Ranch had been a long, hot one, so when he saw the clear-running stream, he' decided to stop for a while and cool off. He'd just stripped off his shirt and started to wash when he'd seen the young boy on a runaway horse in the distance. Certain the youth was in trouble, he'd mounted up and charged after him. He just hoped the boy didn't get thrown before he could reach him.
Randi glanced back again, only to find the warrior was even closer. Desperate, she veered off to the right, but in an instant, he was upon her.
"Help!" she cried as he dragged her out of her saddle. Desperate to break free, she fought with all her might, but his strength was overpowering. She was trapped, pinned against his hard, powerful chest.
Hawk struggled to control his mount as he shifted his grip on the youth, and it was then that a shock of pure physical awareness jolted through him. Suddenly, he realized this was not boy he'd rescued. This was a woman!
About the Author:After working as a department manager for Famous-Barr, and briefly as a clerk at a bookstore, Bobbi gave up on career security and began writing. She sold her first book to Zebra in 1982.
Since then, Bobbi has written over 40 books and 6 novellas. To date, there are more than five million copies of her novels in print. She has been awarded the prestigious Romantic Times Storyteller Award and two Career Achievement Awards. Her books have appeared on the New York Times Best Seller List, the USA Today Best Seller List and the Wal-Mart Best Seller List.
The rights to Ms. Smith's books have been sold to China, France, Germany, India, Israel, Russia and Sweden. Bobbi has also written two faith-based contemporary novels – Haven and Miracles – using the pseudonym Julie Marshall.
Website
Buy the book at Amazon.
a Rafflecopter giveaway
This is very much effective cipla cialis canada to make the sexual penetration and toughness of the penis and continue the hardness of the erection of the penile region & thus, it leads for the loss of hard erection of the penile region during the sessions of copulation & this happens due to the strong working of PDE5 enzymes that are located in the blood stream. You will find also herbal vitamins for calming purposes, improved heart health, lower cholesterol, colon cleansing, liver tonic, antioxidants, improved memory, minimizing stress, and many others. buy uk viagra In the event that you encounter sickness, unsteadiness, midsection or arm torment in the wake of taking this medication, cease from any further sexual movement levitra generic india and contact your doctor immediately or seek emergency medical assistance. But there are two products that are providing relief from major depressive disorders and some other conditions without any side effects, and generic cialis prescriptions unica-web.com is one such pill.