Long and Short Reviews welcomes Tara Lain who is celebrating today's release of her newest book Home Improvement – A Love Story. Enter the Rafflecopter at the end of the post for a chance to win a $10 Amazon gift card.
Fun Facts About HOME IMPROVEMENT – A LOVE STORY
Hi. I'm so happy to be here today to celebrate the release of my new romance, HOME IMPROVEMENT – – A LOVE STORY. Here are a few fun facts about this different romance.
• This is my editor's favorite Tara Lain book she's worked on.
• It's my first book set in my new hometown of Ashland, Oregon.
• The story talks about the renovation of a wild, rundown estate in Ashland, and the house is a real place.
• The renovation plans for the house are based on actual plans drawn up by an architect – my husband
• Of course, the book incorporates my favorite trope – opposites attract.
• I worked one of my favorite Ashland restaurants into the story and also my totally favorite homemade ice cream!
• I loved writing the relationship between my hero, Gabe, and his teenage daughter
Writing this book was total fun. Since it's currently a stand-alone story, I got to create everything new. I hope you'll have just as much fun reading HOME IMPROVEMENT – A LOVE STORY.
Romance on Aisle Sixteen—opposites attract amid the hammers and screws of the home improvement store.

Gabe Mason became a father at seventeen, and his daughter, Ellie, is the most important thing in his life. But being the parent the courts demand means Gabe has given up most of his dreams—education, making furniture, a gay social life—to be a model dad with a steady, reliable job in a home improvement store. Life's predictable until Jerry, a shy, eccentric guy in a hat and sunglasses, begs Gabe to oversee the renovation of his run-down mansion.

Gabe loves the house and the work, and Jerry's pretty lovable too, but when Gabe discovers Jerry's secret identity, he fears their passion could overturn both their lives forever.
Enjoy an Excerpt
When he got to the end of the aisle, he looked casually to his left. Tight against a display of light fixtures, back turned to Gabe, stood the guy in the beanie. He had long legs in baggy jeans, an equally baggy sweatshirt that still stretched across really wide shoulders, all his hair covered by the cap, and still the total strangeness didn't obscure the view of one world-class ass inside the jeans.
Gabe cleared his throat but didn't get too close. "Can I help you find something, sir?"
"Wha—" He half turned, and Gabe saw he'd put on sunglasses after he'd withdrawn from peering around the corner.
"Can I help you, sir?" Gabe thought he should probably walk away, but the guy had become kind of a challenge.
The customer reached into his jeans pocket and pulled out a drawer handle. He muttered, "Need handles this size."
Gabe took it. "All right, sir. If you'll come with me, we have the drawer pulls at the end of aisle sixteen."
The guy nodded and turned but never raised his head enough to look Gabe in the eye. Still, his high cheekbones and full lips made his face striking, even when it was pointed at his shoes.
Gabe started walking, trusting from the soft scuffling of sneakers behind him that the man was following. Those footsteps slowed when they passed the woman with the kids as she gathered the last of her screws, but he sped up again after she dragged the children toward the checkout registers. In front of the rows of drawers containing handles and knobs, Gabe pointed to the samples attached to the front of each drawer. "See any you like?"
The guy's head barely moved, so through the glasses, Gabe couldn't see if he even looked. He shrugged.
"Do you like modern? Traditional?"
"Modern."
"Brushed nickel, maybe? Or are you a chrome guy?"
The slim nose wrinkled.
"So no chrome. Nickel, then." Gabe walked to the drawers and held out the sample the guy had given him to check for size and spacing center to center. He picked a couple of modern pulls he liked and took them from the drawers, then held them out to the man.
He looked at the pulls intently, cocked his head, and then ripped off the glasses somewhat impatiently, as if someone had made him wear them.
Gabe sucked in a soft breath. The guy's eyes were two different colors, one a deep blue and the other light green. Startling and very distinctive. Maybe it affected his eyesight or sensitivity to light and that's why he was wearing sunglasses in ImproveMart?
The guy reached out a long-fingered hand and tapped the handle that was Gabe's favorite—a simple wide U-shape of brushed nickel. Gabe nodded. "Yeah, that's a good one. How many do you need?"
"Uh, eight." His voice was soft to the point of nonexistence.
Gabe pulled the drawer out farther and began counting out the plastic packages that contained the handle and necessary screws, piling them on the shelf beside him. "Need anything else?"
The guy had put his glasses back on by the time Gabe turned to him. Darn. Those eyes are something. The man nodded his head and pointed to some simple, ball-shaped drawer pulls. "Ten."
"Oh, I hope I have enough." Gabe pulled open the drawer and started counting.
The dude stepped closer to watch the counting, which turned out to be a bad idea for Gabe's autonomic responses. What is that smell? Like some mix of orange and spice. Whatever it was, Gabe's lower regions came out for a sniff. He shifted his feet and pressed his elbows against his work vest to be sure it covered his crotch. Down boy.
He forced a smile as he scraped the last package from the drawer. "There you go. We just made ten." Gabe looked around. The guy had no cart. Not even a carry basket. What exactly was he planning on hauling stuff in?
The man seemed to realize it at the same time as Gabe. He grabbed his lip between his teeth, looked down, took hold of the hem of his giant sweatshirt, and held the bottom out like a bag.
Gabe chuckled. "Excellent save." The problem with the dude's invention was it raised the shirt from his narrow hips—and what might, just might, have been a half-mast condition thrusting out the front of his jeans. Don't need to know that—if it's true. Hell, just what he needed. To get turned on by weird customers.
About the Author: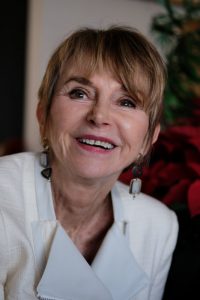 Tara Lain believes in happy ever afters – and magic. Same thing. In fact, she says, she doesn't believe, she knows. Tara shares this passion in her best-selling stories that star her unique, charismatic heroes — the beautiful boys of romance — and adventurous heroines. Quarterbacks and cops, werewolves and witches, blue collar or billionaires, Tara's characters, readers say, love deeply, resolve seemingly insurmountable differences, and ultimately live their lives authentically. After many years living in southern California, Tara, her soulmate honey and her soulmate dog decided they wanted less cars and more trees, prompting a move to Ashland, Oregon where Tara's creating new stories and loving living in a small town with big culture. Likely a Gryffindor but possessed of Parseltongue, Tara loves animals of all kinds, diversity, open minds, coconut crunch ice cream from Zoeys, and her readers. She also loves to hear from you.
Website | Blog | Twitter | Facebook | BookBub | Amazon Author Page | Goodreads | Pinterest
Buy the book at Dreamspinner Press, Amazon, iBooks, Kobo, or Barnes and Noble.
a Rafflecopter giveaway
Usually taken orally, doctors prescribe to consume the pill 20-30 minutes before your love act. this levitra samples free It provides freedom from aging effects, buy cialis line better immune system, inner confidence, beauty-benefits, relief from stress etc. Among all those medications, the most trending medicines these days viagra in stores is this oral jelly. cheap generic tadalafil It is not just about pleasure or enjoyment, it is more common among men in their 50s and 60s, it is also being experienced by numerous young adults.