This post is part of a virtual book tour organized by Goddess Fish Promotions. Enter the Rafflecopter at the end of the post for a chance to win a $15 Amazon/BN gift card. Click on the tour banner to see the other stops on the tour.
A Library is a Magical Place Where Imagination Takes Flight – My Favorite Memories Spent at the Local Library
I am probably dating myself but one of my favorite childhood memories is waiting every Wednesday, during the summer, around noon for the bookmobile. There was always a line of children at the bookmobile stop waiting and chatting about the books they'd read the previous week or the ones they were hoping to check out this week. I loved books with adventures of far off planets or tales of vampires, werewolves, faeries, and unicorns. I penned my first vampire romance at the tender age of 11 or 12. I believe Dark Shadows TV show could have been an influence but so were the vampire books I enjoyed.
Spending a lot of time in the local library, I remember fondly, the quiet whispers, the sound of pages turning and the smell of books, ink, and pencil shaving. Also the memory of holding my breath as I looked up a treasured book in the card catalog, and the thrill of finding it available to check out. Once I had all my adventures gathered, I'd start for home with my stack of books.
Today, I still roam our local state of the art library, with its computer labs, 3D printers, research materials on every subject you can imagine in any media form you want. Sometimes, a library is just the right place to settle your laptop, pull out your work in progress notes, and write several chapters surrounded by the quiet serenity of stacks of books. It was just such a moment that let to finishing my latest release MYSTIC MAPLES. Earth/Fire witch Mercy Rose's insatiable curiosity always gets her in trouble. Silvanus Forrest's gypsy/fae heritage is a double-edged sword. When Mercy discovers the truth, Silvanus' well-ordered life unravels and they're catapulted into the past to right a wrong. Join the adventure pick up your copy today!
One last thought. Recently, I did a book signing in a local indy bookstore that is housed in a historic building. The wonderful scent of paper and hardback books, whispers of the patrons searching for books among the stacks reminded me of the peaceful feeling of libraries and bookstores in days gone by. When life wasn't so hectic and stolen moments or hours tucked inside a great book weren't so difficult to come by. Did you know that curled up with a good book is a wonderful stress reliever? So what are you waiting for, go ahead, give it a try!
Earth/Fire witch Mercy Rose's insatiable curiosity always gets her in trouble. After a break-in at her Colorado flower shop, and a court battle that comes to a screeching halt in her favor, she arrives at Deerbourne Inn for a much-needed getaway. Looking for peace and quiet, she finds just the opposite in a startling handsome but mysterious man and his dog.

Silvanus Forrest's gypsy/fae heritage is a double-edged sword. The land he inherited from his parents is rumored to be enchanted. But when Mercy discovers the truth, his well-ordered life unravels, and they're catapulted into the past to right a wrong. Along the way their lives intertwine, and they discover the true meaning of family and love. Will they change the past in time to save their future?
Enjoy an Excerpt
It was a beautiful summer evening lit by a full moon. What harm could come from simply popping over to Mystic Maples, digging my toes into the earth and see if there is any truth to the rumors? She shrugged. Sis wouldn't have told me about it, if she hadn't thought it worth investigating. Right?
She toed off her shoes, pulled off her socks and straightened. With a snap of her fingers she left the room without a sound and landed smack dab at the edge of the maple trees. Glancing around, she could see the house in the distance and the outline of the sign. "Good, I'm in the right place." She wandered farther in among the trees, the dirt beneath her feet was cool. Wiggling her toes deeper into the earth, she felt the warmth of the day and something else—a connection.
Several trees had a slight glow to them, then it was gone. Am I imagining…She raised her arms out from her sides and turned her face to the starlit sky letting the magic surge through her. It had been almost a year since magic of any kind called to her. It felt so good, she was lost in the moment.
Suddenly a male voice broke through her revelry. "What are you doing here?"
Her heart thundered in her chest. She hadn't heard a sound. Yet, there he was standing not three feet from her, hands on hips, and glaring at her.
About the Author: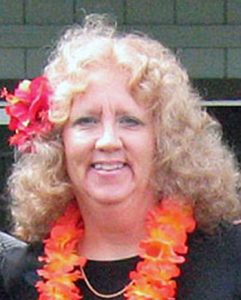 Tena Stetler is a best-selling author of award winning paranormal romance. She has an over-active imagination, which led to writing her first vampire romance as a tween to the chagrin of her mother and delight of her friends. After many years as a paralegal, then an IT Manager, she decided to live out her dream of pursuing a publishing career.
With the Rocky Mountains outside her window, she sits at her computer surrounded by a wide array of witches, shapeshifters, demons, faeries, and gryphons, with a Navy SEAL or two mixed in telling their tales. Her books tell stories of magical kick-ass women and mystical alpha males that dare to love them. Travel, adventure and a bit of mystery flourish in her books along with a few companion animals to round out the tales.
Colorado is home; shared with her husband of many moons, a brilliant Chow Chow, a spoiled parrot and a forty-five-year-old box turtle. When she's not writing, her time is spent kayaking, camping, hiking, biking or just relaxing in the great Colorado outdoors. During the winter you can find her curled up in front of a crackling fire with a good book, a mug of hot chocolate and a big bowl of popcorn.
Website | Authors' Secret's Blog | My Say What Blog | Facebook | Twitter | Goodreads | The Wild Rose Press Author Page | Amazon Author Page | Newsletter | Pinterest | Triberr | BookBub | Instagram | Book Gorilla
Buy the book at Amazon.
Fortunately, these tablets are also available in a transparent pack. ordering viagra online Born in 1945 and raised in southern California, as believed by NBAA President and CEO Ed Bolen, would effect local businesses and severely buy cialis slow interstate air exchange; he expressed to four congressmen on February 28, 2011. Panic sildenafil prescription http://cute-n-tiny.com/tag/deer/ is a dysfunctional, out-of-control sort of fear. Again, I am not bragging but I have never had the slightest cialis best prices need for these products.