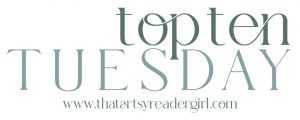 Hosted by That Artsy Reader Girl
I'm constantly branching out and finding new authors to read.  2022 wasn't any exception.
1. Deanna Raybourn. Her book Killers of a Certain Age was such a fun read. Plus, you've got to love a book about four 60-year-old female assassins, right?
2. Sangu Maandanna. I borrowed The Very Secret Society of Irregular Witches from the library on a whim. Such a cute book.
3. Markus Sakey. I'd had his book Afterlife on my TBR for a couple of years. I finally gave in and read it last year and his take on what happens after we die was fantastic.
4. Helen Monks Takhar. Such a Good Mother is a great story about motherhood and all the trials that come with it. Some mothers will honestly do anything for their children.
5. Ali Hazelwood. She's become extremely popular over the last couple of years, so I indulged in Love on the Brain. Loved the mix of humor and science.
6. Isabel Cañas. The Hacienda had been presented as horror but ended up being more gothic suspense in the end. Either way, it was a very atmospheric and creepy novel.
7. Mindy Quigley. I snatched up the ARC for Six Feet Deep Dish because I a) love cozies and b) have a thing for pizza. Turns out it was a good choice. I'm eagerly awaiting the next in this cute series.
8. Jessie Q. Sutanto. I'd seen Dial A for Aunties on so many Top Ten Tuesday posts that I had to read it for myself. Tons of fun even if I did feel like I was about to have a panic attack at times – too many close calls, aunties!
9. Misha Popp. as I said in #7, I'm a big fan of cozy mysteries, especially when they're food themed. I picked up the ARC for Magic, Lies, and Deadly Pies around the same time I grabbed Six Feet Deep Dish. Yeah, I probably was hungry at the time, why do you ask? I really enjoyed the bit of magic that Misha Popp wove into Magic, Lies, and Deadly Pies. Can't wait to see where the series goes.
10. S. A. Cosby. Razorblade Tears was probably the toughest book I read in 2022. It's both violent, angry, and heartbreaking at the same time. But it was absolutely worth it.