Long and Short Reviews welcomes Kerrelyn Sparks who is celebrating the release of her newest book So I Married a Sorcerer, the second book in her new Embraced series. You can read our review of this book here.
From the New York Times bestselling author of the Love at Stake series comes a novel of the Embraced—an epic tale of two star-crossed lovers destined for doom—or desire…

Growing up on the Isle of Moon, Brigitta knew that she was born with the magical powers of the Embraced—even if she did not know how to wield them. But she has finally learned the truth: Brigitta is the lost princess of the kingdom of Tourin. She was sent into hiding as an infant to escape the wrath of her half-brother, the king. And now he knows just where to find her. . .

Rupert is a notorious pirate and sorcerer. He's spent most of his life plotting revenge on the evil king—and Rupert believes that Brigitta could be the key to finally destroying his enemy. But what begins as a kidnapping of the innocent beauty escalates into something deeper, and more passionate, than either captor or captive could have imagined. Rupert soon vows to protect Brigitta against the king—but will they survive long enough to find their happily-ever-after. . .or does fate have something else in store?
Enjoy an excerpt
Brigitta turned to peer out the window once again. Over the years, the Telling Stones had proven to be an entertaining game. But then, a year ago, something strange had happened. Luciana's prediction for her own future had actually come to pass. She'd met and fallen in love with the tall and handsome stranger she'd foretold in specific detail, using the Telling Stones. And if that hadn't been amazing enough, she'd become the queen of Eberon.
Eager to experience something equally romantic, Brigitta had begged her oldest sister to predict a similar future for her.
A mistake. Brigitta frowned at the churning ocean. Blue, gold, seven, and eight. Those had been the stones
Luciana had selected. Blue and gold, she'd explained, signified the royal colors of the kingdom of Tourin. Seven meant there would be seven suitors to compete for her hand. And eight . . . in eight months, Brigitta would meet a tall and handsome stranger.
The eight months had now passed.
She pressed a hand against her roiling stomach. When they'd boarded this morning, she'd quickly assessed the captain and his crew. None of them had struck her as particularly tall or handsome. Captain Shaw was portly, bald, and old enough to be her father.
As for the seven suitors vying for her hand, she had initially been thrilled, considering the idea wildly exciting. But when her sisters had likened it to her being a prize in a tourney, she'd had second thoughts.
Why would seven men compete for her? She had nothing special to offer. Even the gift she possessed for being Embraced was hardly special. And did this contest mean she would have no choice but to marry whichever man won her? The more she'd thought about this competition, the more it had made her cringe.
So, five months ago, she'd played the game again, hoping to achieve different results. But to her shock, there had been four stones in her hand.
Blue, gold, seven, and five.
Had some sort of mysterious countdown gone into effect? Reluctant to believe that, she'd attempted the game again a month later. Blue, gold, seven, and four. Alarmed, she'd sworn never to play again.
But one month ago, Sorcha had dared her to play, taunting her for being overly dramatic. Those words never failed to irk Brigitta, so she'd accepted the dare. With a silent prayer to the moon goddesses, she'd reached into the bowl, swished the pebbles around, and grabbed a handful. And there, in her palm, four stones had stared up at her.
Blue, gold, seven, and one. A fate was shoving itself down her throat whether she liked it or not.
And she did not.
About the Author: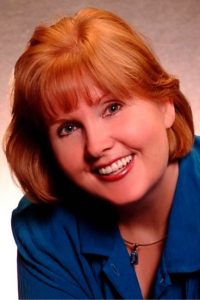 Apparently, she has issues with reality. After writing 16 books about vampires and shifters, Kerrelyn has now completely gone off the deep end and wound up on another planet.
Although Kerrelyn is best known (so far) for the Love at Stake series, which has hit as high as number 5 on the New York Times list and 22 on the USA Today list, she hopes her readers will love The Embraced as much as they did her merry band of vamps and shifters.
Kerrelyn lives with her family in the Greater Houston area of Texas.
Goodreads | Facebook (monthly contest) | Twitter