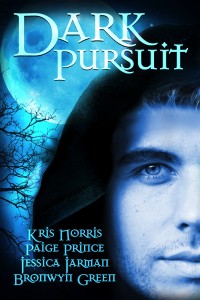 Long and Short Reviews welcomes the authors of the Dark Pursuit anthology as they share three unknown facts about their hero/heroine. Enter the Rafflecopter at the end of the post to win a $100 Amazon gift card.
JESSICA JARMAN
Tempted to Death
1. Luca is gifted with languages. He's fluent in Spanish, English, Portuguese, French, Russian, and has enough knowledge of Arabic, Mandarin Chinese and Japanese to muddle along, if need be.
2. Oliver loves to read—anything and everything. And hates that he needs reading glasses.
3. Tara hates working out, and only does it because she has to.
Months ago, Tara Wilcox ran away from Luca Castell and Oliver Gordon. She'd fallen hard for the pair of hunters and feared their growing feelings for her. But what truly terrified her was the possibility that they'd discover what she really is. That she's the very thing they hunted.

Luca and Oliver are partners, in every sense of the word, and their lives are spent running toward danger. Falling for Tara was the biggest risk they'd ever taken, and her vanishing without a word gutted them.

But, she's back, desperate for their help in hunting a vicious para creature. Despite the risks—to their lives and their hearts—reigniting the love they'd had is simple. But nothing is simple when, faced with an impossible choice, Tara reveals her true nature.

Now that Luca and Oliver know the truth, Tara has another choice to make—run again or trust that their love is strong enough to look beyond the monster she fears they'll see.
About the Author: Jessica Jarman is an author, blogger and rather obsessive fangirl. Having grown up in Upper Michigan and currently living in Minnesota, she's a Midwestern girl through and through. And wouldn't have it any other way.
When Jessica's not working to get words on the page, she passes the time with her amazing husband and four children, attempting to be crafty (and failing miserably), squeeing uncontrollably over her favorite shows or curling up with a good book.
Website | Blog | Twitter | Facebook | Tumblr
BRONWYN GREEN
Rising Blood
1. Harper had considered a career in theatre, but when she joined the police academy cadets to study for a role, she changed her major to criminal justice.
2. Elliot is actually on the domestic side and likes to relax by cooking and is considering planting a garden.
3. Harper binge watches a lot of Netflix and is unapologetically watching season four of The Gilmore Girls.
Vampire hunter, Harper Yovanoff, is not happy. Ever since her former partner vanished, she'd been content to work alone. Unfortunately, her boss doesn't feel the same way. Harper's been assigned a new partner—a new partner who's an utter pain in her ass. Elliot Zielin is panty-meltingly gorgeous, but he's also reckless, not to mention, insufferably arrogant. If he's not careful, the vampires will be the least of his worries.

Elliot knows he should play nice with his new partner, but he can't resist poking the bear—the tiny, angry bear who's so freaking beautiful, she makes him ache for things he shouldn't want. Despite the fact that Harper has a stake with his name on it, he keeps pushing.

When a powerful vampire begins actively stalking and turning hunters, Harper and Elliot are forced to work more closely together than ever in an effort to save their own. With tempers and adrenaline high, letting off a little steam goes way too far, and they both end up in a place they never expected. The threat against them increases and fighting their growing feelings for one another becomes impossible. But if they can't stop the sire hell-bent on their destruction, all the love in the world won't save them from becoming the very thing they hunt.
About the Author: Bronwyn Green is an author, blogger and compulsive crafter. She lives Michigan with her husband, two children and three somewhat psychotic cats. When not frantically writing, she can be found helping in her youngest son's classroom or binge-watching Netflix while working on her latest craft project.
Website | Blog | Twitter | Facebook | Tumblr
PAIGE PRINCE
Next Lifetime
1. Caitlin takes up a new hobby every time Lucas is reborn. In 1930, she took up needlepoint. In 1958, she learned ballroom dancing. In 1986, she went to culinary school. She doesn't like to be bored.
2. Lucas unwinds by watching reruns of NCIS. He has a huge crush on Abby.
3. Caitlin smells like vanilla and lavender because of the shampoo she makes, herself.
Born a witch, Sarah, the daughter of the town's only judge, keeps her gift and her love of William, a lowly farmhand a closely guarded secret. Their plans for a life together come to a grisly end when Bastian, one of the world's most feared and evil vampires, finds out about her power and decides to add another prize to his collection.

A hundred years later, William has been reborn as Lucas Dagan, the most powerful vampire hunter the Order of St. Marcellus has in its ranks. He has no memory of his past with Sarah. But, Sarah, now known as Caitlin, remembers. Worse, she's now the very thing Lucas has sworn to exterminate from the earth. Any chance they might have had at happiness has been crushed.

But Bastian has returned with far more sinister plans. Duty and passion collide when Caitlin and Lucas are forced to fight together to save the world. But will determination and remembered love be enough? Because if Bastian has his way, there won't be a Next Lifetime for anyone.
About the Author: Author Paige Prince has been writing since she was 7 years old when she first picked up a pen to write out her fantasy of being Joe McIntyre's girlfriend (she was 7, cut her some slack). Since then, she's discovered that there are more fun things to write about than just holding hands and going to the movies.
Paige hails from a small suburb of Houston, Texas. She's married to the man of her dreams and they have one beautiful little girl who is the light of their lives, two very lazy dachshunds, and one adventurous cat.
You can find Paige avoiding work on Facebook, or chatting up her friends on Twitter.
Website | Twitter | Facebook | Tumblr
KRIS NORRIS
Grave Measures
1. Daniel actually loves watching Casper, the Friendly Ghost and uses old episodes as a way of detoxing from work. He also is eagerly waiting for an episode of Scooby Do where the ghost is real.
2. Arrynn doesn't have a zombie apocalypse plan because she firmly believes the coming 'end of days' will be a mass uprising of spirits. Though she has stockpiled several barrels of salt.
3. Daniel spends a week every year hunting for Bigfoot, after seeing the legendary creature when he was only five.
Not all souls go quietly.

After the brutal murder of his girlfriend thrusts Daniel Cartwright into the world of the supernatural, he's finally adjusted to the reality that monsters are real. And not all souls cross over on their own. He'd thought banishing her spirit would bring him peace—allow him to move on. That is until her ghost returns—angrier than ever and hell bent on finally completing her mission. She wants Daniel to join her…and she's not taking no for an answer.

Arrynn Baker has spent the past two years watching Daniel flourish into one of Threshold's best hunters. Decisive, highly skilled—she's proud to be his partner. There's just one small issue… She's fallen for the man. Hard. While she's not opposed to taking him as a lover, she's not convinced he feels the same—not with the distance he seems to maintain. The emotional walls he never steps beyond. Besides, mixing business with pleasure rarely ends well.

When a grisly new killing rocks both their worlds, lines get crossed, and Daniel knows he's got a choice to make. Either be content with one night with Arrynn, or man up and jump in. But if he wants a future with the woman of his dreams, he needs to deal with his past, once and for all. Even if the solution takes grave measures.
About the Author: Author, cover artist, single mother, slave to chaos—Kris Norris a jack-of-all trades who's constantly looking for her ever elusive clone.
Website | Blog | Twitter | Facebook
Prize is $100 Amazon gift card. Contest runs from 10/7 through 10/27. Winner will be chosen via Rafflecopter at 10pm CST on 10/27. If a valid email address is not provided, the winner will forfeit their prize and another winner will be chosen.