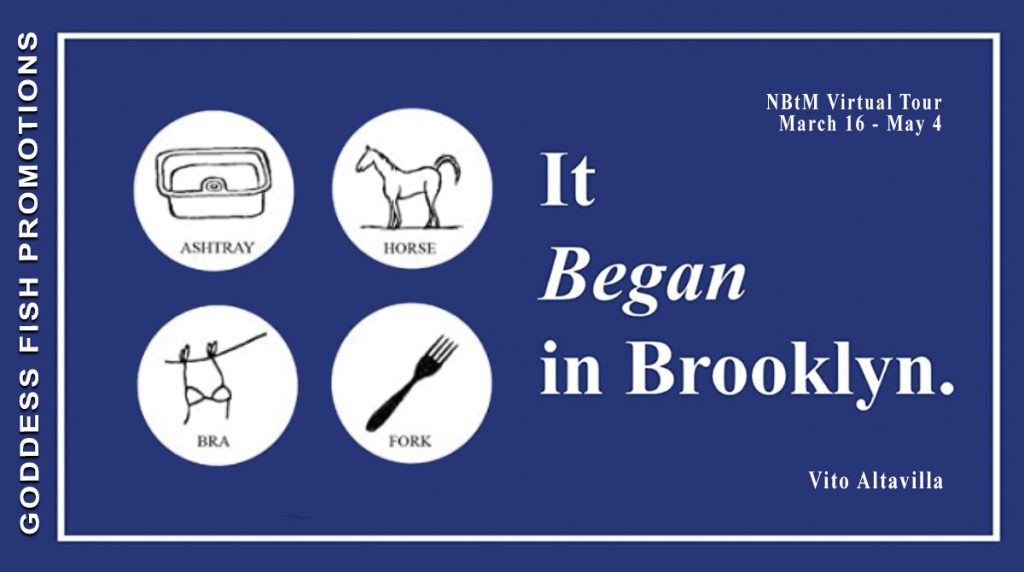 This post is part of a virtual book tour organized by Goddess Fish Promotions. Vito Altavilla will be awarding a $10 Amazon/BN GC to a randomly drawn winner via rafflecopter during the tour. Click on the tour banner to see the other stops on the tour.
WHAT KIND OF WRITER ARE YOU?
I'm a writer that is now an old man and as a consequence have had many experiences in life. Fortunately, I still have an excellent memory hitch is the source for my writing. Mysteries are snippets of different times in my life.
I'm not a creative writer but rather a chronicler of real past events. I guess the most accurate description of me would be non-fiction narrative writer.
Joey has a fork stuck in his side! I'll never use that pail and shovel ever again. I didn't know an ashtray could hold so much… What do you mean she doesn't have a penis? The great meatball Controversy of 1952, courtesy of 'Fat Mama' An industrial research chemist who participated in several technological breakthroughs and has a number of national and international patents in concert with his business partner to his credit has a much lighter side to his life. During the course of his life time he was often the cause or in the middle of a number of humorous and unique events that he focused this book on. I am sure that the reader will often smile and sometimes laugh out loud at his very original and unique stories. When was the last time you read a book that made you laugh or at the very least smile? This book will definitely do that. Read and enjoy.
Enjoy an Excerpt
The stories are of a more innocent time where neighbors helping neighbors was the norm and payment was a handshake and a smile. This was the environment in the late nineteen forties and sixties where "SONNY" grew up in.
The following event occurred when SONNY was nine years old and the only difference between boys and girls that a nine-year-old noy knew was that boys had short hair and wore pants and girls had long hair and worker dresses. There was no other thought to a nine-year-old boy in 1949 that girls were really not that different until that day when he was with his mom when she visited her girlfriend.
His mom had just knocked on her friend's screen door and was told her to come on in as she was just toweling off her daughter after her bath. SONNY being curios moved in front of his mom just as her friend dropped the bath towel.
SONNY looked at the young girl. A terrified look on his ashen face. "Mom! Mom! He yelled she has no pe pe! How is she going to pee! is she going to die?"
Calm down. She is not going to die. I'll explain it to you later when we're home.
On the way home SONNY pesters his mom to please tell him now.
"Okay Sonny, girls don't have a pee pee, and the real name is penis. Girls have a vagina and that's what they use. You will learn more when you older."
SONNY gets home and sees his friend MATTY outside, goes out, yells, "Hey MATTY, you'll never guess what I saw today."
MATTY
"What?"
SONNY
"I saw a vagina."
MATTY
"What the heck is a vagina?"
SONNY
"It's what girls have to pee with."
MATTY
"That's weird. Look let's play catch, I gotta get my glove, but I'm gonna ask my mom if she knows what a vagina is."
"Hey Sonny, my mom looked at me and wanted to know where did I hear that word then told me that girls have that instead of a penis and that I'll know when get older. I'm confused. Let's play catch. Anyway, I'm glad I have a penis, it's easy, just pull it out and pee ta da and you're done."
About the Author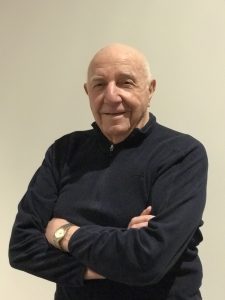 Vito Altavilla has extensive experience as an industrial researcher and has participated in many technological breakthroughs. He also has his own podcast called, "The Year Was: A Podcast About Life, Love, And The Pursuit Of A Good Time." Now retired, he lives in Cincinnati, Ohio. In addition to all of that he is currently finishing a screenplay based on the novel, as well.
Website
Buy the book at Amazon.