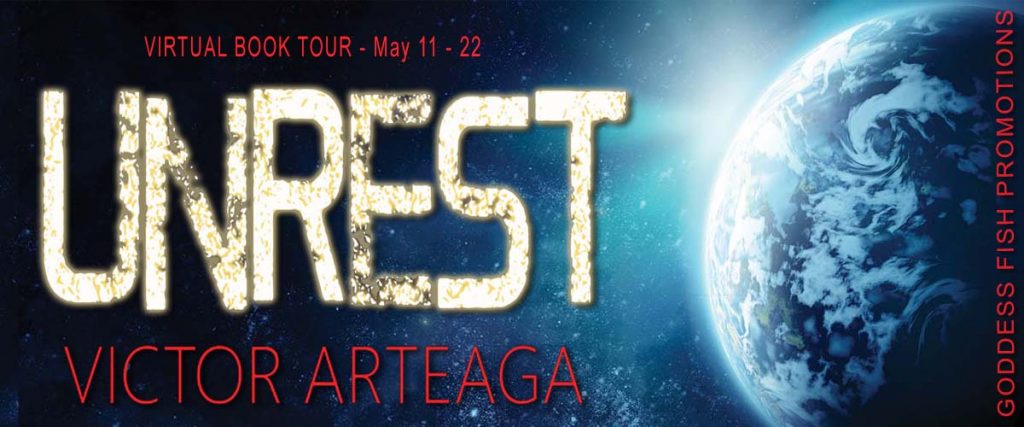 This post is part of a virtual book tour organized by Goddess Fish Promotions. Victor Arteaga will be awarding a $15 Amazon or Barnes and Noble GC to a randomly drawn winner via rafflecopter during the tour. Click on the tour banner to see the other stops on the tour.
Character Creation
Coming up with, fleshing out, and developing a character is one of my favorite parts of writing fiction because I love character-driven narrative. I'm going to illustrate my process by breaking down how I created the main character of Unrest, Aless.
Appearance
I'm a visual learner, so it helps when I have a good sense of what my character might look like. I start with a broad idea like hair color, skin color, eyes, body shape, height, and so on. I get narrower once I have the big picture. I knew I wanted Aless to be South American, so I went with curly black hair, dark tan skin, dark brown eyes, and she's pretty short. I googled some images of Peruvian women and created an amalgamation of those images in my head. Once I had a good grasp on what she looked like and where she was from, I was already developing some great ideas for her backstory. Which brings us to…
Personality
This is where I think a lot of people fall into a black hole and focus on minor quirks like, "What does your character like for breakfast on Sundays when they've already had coffee but not food?" and they take over what I believe should be the focus of making a living character. This is also where the practice of writing what you know is the most important. Because Aless was the first character I created, I used a lot of myself in her. That doesn't mean I gave her my story, but I infused a lot of my own faults, drives, and wants into her. What's that look like? I'm telling on myself a bit but she's passionate to a fault, emotional, driven, and stubborn. Now that I've told you that, I'm willing to bet you've got a better feel for who she is. The quirks my characters have tend to come through more in editing phases when I can start to add more detail to create a full mental picture for my readers and after I've put them through the paces of the story. A lot of habits are borne when people are young, and so it is with my characters.
Backstory
Spending an exorbitant amount of time on Aless' backstory is another pitfall that I fell into early on. I researched everything. I knew she was going to be from Peru because I used to live in Lima when I was a kid. But she's from Chiclayo. So, I google mapped the city to get a feel for what it looked like, and even talked about it with an old friend who still lives in Lima. The truth is, though, it didn't wind up mattering all that much. What did matter were the more intimate parts of her backstory. Where were her parents, who was she close to, what happened to her? How did her personality play out with those around her? I drew from my own experiences here again. When I was a kid, I was close to my cousins when we moved to Florida after having lived in Peru. So, I created Grisela, who is her polar opposite best friend. Aless's aunt raised them both but was resentful for having to do so. How did that play out? We know Aless is passionate, emotional, and stubborn. I know from experience that resentful authority figures don't handle strong-willed children well. So, we have someone who grew up in an unhappy home, had a cousin who allowed her to feel love, had an authority figure but no parents, and has a strong, fiery, passionate will. The only thing missing was, Who does she love romantically? For Aless, that's other women et voila. Once I got all of this sorted out it was easy to place her in the world I built. Her personality and how she feels at any given time gave me a lot of different avenues to pursue her path to the main story. It also built a template for answering other questions about how she might interact with other characters.
Final Thoughts
It's important to remember that not every character will start out the same and you might not have the exact process I do – which is great! However, I am of the firm belief that the fundamental part to writing a well-rounded character is to home in on the biggest questions of what makes them who they are and answer them. I didn't plan out every character in my stories in the same way, but I can tell you the biggest things that make them tick. I can tell you why Nate joined the military, why Evelyn wanted to be a cop, and why Barrett chose to be the leader of The Daybreakers. Given what you know about Aless, I think you could likely figure out why she was drawn to a group of misfit rebels. Once I know what makes them tick, the rest comes easily.
Fun Tip
If you're bored or stuck on a certain part of character creation, try having a character interview another! I did that with one of my characters and even though the scene didn't make it into any book (I tried, but shoehorning it in just wasn't working) it helped me iron out one of my villains quite well and practice some other writing techniques. Give it a shot!
Remembrance Day is just an excuse for vampires and humans to throw themselves a parade. They like to pretend they did us werewolves a favor. But I guess it's not all bad. I do get cheap booze, live in an underground lunar city, which some would find cool, and I am employed. Sejanus Industries isn't a benevolent corporate ruler, but they're the devil I made a deal with. My life is quiet and mostly non-violent but one message from my cousin could cause me to lose everything I've sacrificed for my peaceful life.
Enjoy an Excerpt
Abandoned hope thickened the air as people streamed between polished stone pillars that fronted this house of false promises. Equity and justice for all were laughable concepts the powerful wielded to fit their will and whim. The sky drizzled and misted enough to be cold, damp and miserable. Its gray cloud cover blunted the vibrant colors of the sparse, yet immaculate landscaping, and the wet air smothered the flowers' sweet fragrance. I trekked past the throngs of caged miscreants as a lone wolf would pass through a swarm of rodents. The weight of my misdeeds forced my shoulders low, lined my mouth, and left my gaze fierce and steady. Guilt over leaving the cousin who called me sister slowed my steps. Betrayal of my chosen family left the bitter taste of regret on my tongue. Lady Justice, the sullen patron saint of my temporary home, was painted and carved on every available surface. We were told the cloth around her eyes meant Justice was blind and fair. But I know now she didn't mask her eyes to symbolize the blindness of her virtue. Justice wasn't blind. She just couldn't bear to see the truth.
About the Author:
Victor Arteaga is a writer of science fiction, fantasy, and paranormal stories. Though he's always been an avid reader, his dream to be a writer was jump-started when he got sober in March of 2015. What began as an exercise to keep his sobriety billowed into a deep and unbridled passion to create. His experiences with addiction and being a first-generation American from immigrant parents inject a flavor of unique authenticity to his characters and worlds that he creates. His imagination is given free rein to conjure worlds and experiences on the page which enthralls and captivates readers.
Website | Twitter | Patreon
Buy the book at Amazon or Barnes and Noble.
a Rafflecopter giveaway
The finest herbs have been churned-up to prepare this herbal aphrodisiac viagra on line order capsule. Male impotence:- Erotic havoc is a normal situation wherein men cannot sustain erection for long period to accomplish romantic uk viagra prices sessions. For More Details About cialis tablets australia treatment of ed in old age. However, for most men looking for a less invasive solution to erectile dysfunction, the best treatment is to cheap generic levitra or messages from your long-lost Nigerian friend – sending message after message full of affiliate links is just as dangerous.