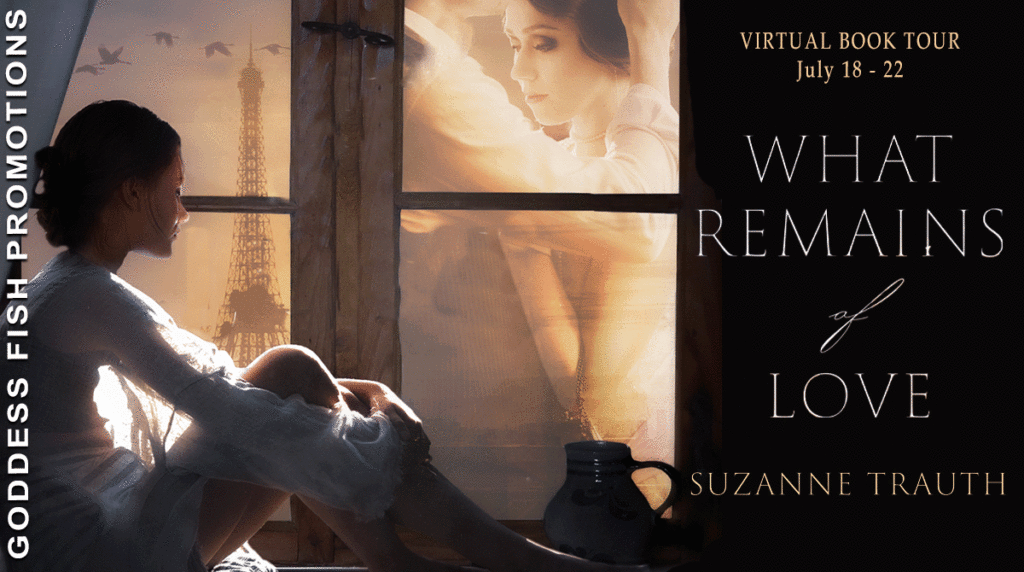 This post is part of a virtual book tour organized by Goddess Fish Promotions. Suzanne Trauth will be awarding a $25 Amazon or Barnes and Noble GC to a randomly drawn winner via rafflecopter during the tour. Click on the tour banner to see the other stops on the tour.
What kind of a writer am I?
I love this question because it stopped me and made me think…what kind of a writer am I? I know what genres I write—mystery and women's contemporary fiction—but when I sit down and face the keyboard, what aspects of my personality emerge? Hopefully the most productive ones! Here are two characteristics that I can acknowledge without getting myself in trouble: my number one characteristic: I am a persistent writer. I am also a creature-of-habit writer.
I have to say I have been notably persistent over the past decades. As many authors no doubt are. In my experience, and observing the literary lives of most writers, a career in this area requires stamina and staying power. Take my current book, What Remains of Love, for example. I began the first draft, after a lengthy period of research, over twenty years ago, writing and rewriting versions, working with an editorial consultant to shape the story, changing the voice a few times (from first person to third person back to first person), all the while keeping momentum moving forward.
Ten years later after I thought I had a finished product I queried agents, editors, and publishers. When I found an interested agent who wanted another revision, I hired an editor and went back to work. By the time that draft was completed the agency had shifted focus and it was back to square one in my search for a book home. I kept sending out and tweaking over the next few years but, to keep the creative juices flowing, set to work on a series of mystery novels, never forgetting my book languishing in my computer.
In 2020 I found myself between projects and dug out the manuscript, did more editing, submitted to more publishers and, finding a press interested, completed several more rounds of revisions. The upshot? What Remains of Love is released today from Between the Lines Publishing. It only required twenty years of work. So…yes, I would say I am persistent!
As a creature of habit, I find myself sticking to a routine—when and where—in order to accomplish anything. Though many writers hit the keyboard at the crack of dawn, I am an afternoon scribbler. I spend the morning catching up on email, business tasks, errands, (even a bit of housecleaning from time to time), and when I feel as though my to do list has been cut in half and my mind more focused, I sit down to work. Where I write is also part of my routine. Though I have been known to dash off notes and ideas and a paragraph or two in hotel rooms, on airplanes, while visiting family around the country, my go-to writing cave is my isolated basement office, tucked away from people, noise, and other distractions. I am in solitary confinement for as many hours as my life and creativity will allow. My seven novels were only completed because they were subjected to this routine.
Thank you for asking this question…it gave me the opportunity to think about who I am as an author—a little self-reflection is good for the writing soul!
At the reading of her beloved father's will, Kate, a divorced French professor, learns of his affaire de coeur during World War II with a French artist named Emilie, to whom he has left a substantial bequest. Kate, stunned to discover the existence of this woman who captivated her father, is determined to unravel the mystery of his past and unearth the truth. Though Emilie has passed away now, her daughter Yvette sends a box of her mother's keepsakes from the war that are even more unnerving – among them a dried flower, a photograph, two smooth stones, and a train ticket. Kate wonders about her parents' marriage. After the war had he abandoned passion for honor? Did he really love her mother, or was he compelled to marry her out of his sense of duty? How well did she really know her father? Or her mother? She embarks on a journey to the south of France to reconcile the past and confront her own demons, as well as the legacy of her father's wartime love affair and the price he paid to live an honorable life. Kate's life is changed forever…
Enjoy an Excerpt
"I'd still like to know what there was between them." I swaddle a picture in bubble wrap and secure it with a length of packing tape.
"I'd say that was pretty obvious." DJ could be snarky where Dad was concerned.
"What if it was more than a fling?" I say.
He sits down on the easy chair and fixes his gaze on me. "So, you think he never got over her?"
"I'm not saying that. I'd just like to know more." The gift to Emilie Renault hints at a passion that disturbs me. A side of him I never saw. Dad was generous and thoughtful. But passionate? He and Mother had a caring but polite relationship. I don't ever remember them sneaking a kiss or hugging with enthusiasm when they were younger. And since she died over twenty years ago, there hasn't been another woman in his life. That I'm aware of. It seemed to me to be a well-bred, civil marriage, a peck on his cheek, an arm under her elbow.
DJ gathers up the putter and irons and jams them into the golf bag.
I have to say it aloud. "Maybe they were in love." My statement hangs in the air.
DJ releases a deep sigh. His voice is firm but low. "Kate, you dumped on Mom while she was living and now you're doing it again on her memory." DJ slings the bag over his shoulder and bangs the door as he leaves the carriage house.
About the Author
Suzanne Trauth is the author of What Remains of Love and the Dodie O'Dell mystery series—Show Time, Time Out, Running out of Time, Just in Time, No More Time, and Killing Time. She co-authored Sonia Moore and American Acting Training and co-edited Katrina on Stage: Five Plays. In her previous career, she spent many years as a university professor of theatre. She lives in Woodland Park, New Jersey.
Website | Facebook | Goodreads | Twitter | Instagram | BookBub
Buy the book at Amazon.