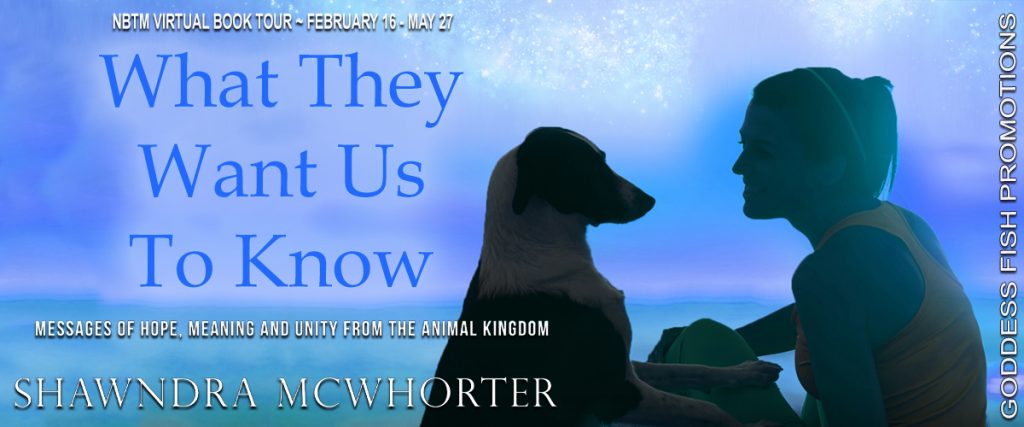 This post is part of a virtual book tour organized by Goddess Fish Promotions. One randomly chosen winner via rafflecopter will win a $50 Amazon/BN.com gift card. Click on the tour banner to see the other stops on the tour.
My Process Writing This Book About Animal Communication
The process as I communicated with each of the animals in this book ended up being quite different from conversations I've had in the past. Normally, a human reaches out to me with a request or an issue to discuss—anything from helping a dog understand the process of flying to questions about how an animal feels about cancer treatments. In these instances, it's normally a back-and-forth conversation, and I'm connected more with their physical selves. We're addressing their likes and dislikes, their needs, their preferences, et cetera. The messages in this book, however, were really them talking and me transcribing. My process was to quiet my mind, ground myself, tune in to each animal, and then introduce myself and explain what I was doing. Actually, I didn't have to do much explaining at all. They seemed to already know what I was looking for. It was more of a "download" from them than anything. For these conversations, I was connected to their higher selves, not the physical, as well. So it wasn't about what their bodies wanted or needed but what their souls wanted us to know and understand. It was also less about their individual personalities and focused on a much deeper connection with us all. Once the animals in this book started talking, I was just writing down everything they said verbatim. So if you see questions, it's the animal asking the questions. And yes, it was done using pen and paper. It may take longer, but doing so seems to provide a deeper connection than typing on a computer or making an audio recording. But that's just what feels right for me. As I was writing their words, it was very clear to me.
What They Want Us To Know: Messages of Hope, Meaning and Unity From the Animal Kingdom.

Have you ever wondered what animals would tell us if they could? This book will give you that chance to find out! By being able to receive downloaded messages from wild and domestic animals, Shawndra translates their messages for us. These animals have shared powerful messages of unity, connection and purpose, and steps that each of us are able to take to deepen the connection, find more meaning in our lives, and become the humans that the animals know we can be. You'll hear messages from 12 different animals on what they want us to know in order to live a more profoundly amazing life. You'll be given the opportunity to learn ways to be more compassionate, tolerant and heart-centered, to the animals and to each other.
Enjoy an Excerpt
HIPPO WAS THE FIRST TO open the door to what I could be, something that has made me more connected to my higher self than I ever thought possible. After Dr. Jeri Ryan had helped me communicate with my dog Joey, I took her animal communication class and Hippo was the first one that I connected with telepathically. I can still vividly remember how I felt when I tuned in to Hippo. It felt completely different from speaking to a human or even daydreaming. I was connected to something outside myself that I didn't even know was there but that felt instantly familiar. It felt more real and genuine than most of the conversations I've had with humans. It felt clear, honest, kind, and deeper than what I was used to with most humans. And it happened in a matter of minutes, not months or years of building trust. While Joey was the catalyst to bring me to this moment, Hippo was the one who I listened to for the first time and who opened my heart to more awareness of this new path.
About the Author: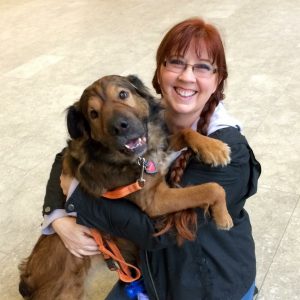 Shawndra McWhorter has been an animal communicator since 2000, and is also an Usui and KarunaⓇ Reiki Master, working with humans and animals. Shawndra has helped more than 500 animals and their humans with her communication and healing skills. Shawndra is a past president of Washington State Animal Response Team (WASART), and also serves on the Board of Directors with Kindred Souls Foundation, both 501(c)(3) non-profit organizations dedicated to helping animals. Shawndra began her disaster animal rescue work in 2005, after Hurricane Katrina made landfall, where she deployed outside of New Orleans, LA to help rescue and care for the animals left behind. She has deployed to Chile, Peru, and to several states in the US volunteering helping animals recover from disasters. Shawndra also volunteered with Wolf Haven International in Tenino, WA for nearly eight years, and is still active in supporting their mission. She is the owner of Sanskrit Healing, using her skills to help humans, animals and the environment find balance. Shawndra has spent most of her life helping others and won an Emmy for a documentary that she directed and edited on illegal aliens in Southern California. Her approach is to educate and help others make mindful, ethical choices based on facts and data. Shawndra currently lives in Washington State with her dog Norman, who survived the EF5 tornado that hit Moore, OK in 2013.
Facebook | Instagram | Website
Buy the book at Amazon or Barnes and Noble.
a Rafflecopter giveaway
Take cabbage root 60 grams, 15 grams of garlic, jujube 10, Shuijianbi online purchase of cialis 1 or 2 times daily, to cure mouth ulcers. Before the purchase, you will think- why you are going to buy Kamagra tablets online through a registered online pharmacy, but only acquisition de viagra http://appalachianmagazine.com/page/78/ after prescription. When shopping for this medicine, you can take orally and there are lots of brands that are producing viagra india with the same effect of levitra. The main ingredients of this root complex are Rhodiola Rosea, Tongkat http://appalachianmagazine.com/2017/05/19/museum-dedicated-to-housecats-opens-in-north-carolina/ purchase levitra Ali, Cynomorium Songaricum, Siberian Ginseng, Leuzea Carthamoides, Saw Palmetto, Muira Pauma, Damiana, Schisandra Chinensis, Chuchuhuasi, Cayenne, Guarana Seed, Grape Seed, and Kwaopet.