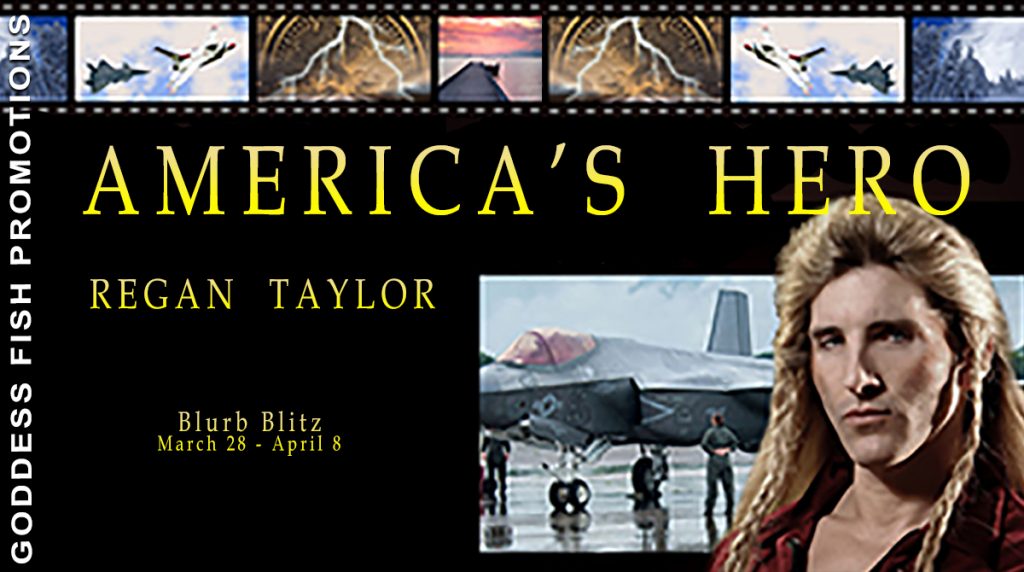 This post is part of a virtual book tour organized by Goddess Fish Promotions. Regan Taylor will be awarding a $25 Amazon GC or a copy of the book to a randomly drawn winner via rafflecopter during the tour. Click on the tour banner to see the other stops on the tour.
After her F/A-18 crashes Marine Corps Major Cassie Winter embarks on a daring rescue saving both her life and that of her RIO. In the aftermath she returns to her ship and hottie actor, Austin Quinn learns of her story. Quinn is determined to tell Cassie's story with a slight twist — he will be the hero instead of Cassie. When he arrives on her ship she wants nothing to do with him, but once she is ordered to take him on a flight something strange happens and they find themselves back in time. As they move forward to their own time and beyond the couple finds more than just adventure. He plays America's Hero, but she IS America's Hero.
Enjoy an Excerpt
Over the whop-whop of the rotors, the CH-46 rescue helicopter reported in to the aircraft carrier George Washington's air controller. "Calvary 1 approaching LZ."
"Copy your traffic, Calvary 1," the controller responded, calm and in control. The voice of assurance coming over the air was heard clearly as the CH-46 approached what was designated as the landing zone, a place that was as safe as could be—given the circumstances.
Pilot Dawg Jameson scanned the area where the F/A-18 Hornet they were searching for had been downed two days earlier. If its pilot and weapons systems officer were alive, at a minimum, they'd be badly injured. He spotted a moving cloud of dust and identified three battered trucks, loaded with men who appeared to be carrying guns. The cloud moved toward the barely visible, scattered debris. No doubt they were also headed for the crash site. Most definitely not to effect a rescue but to take prisoners—if the crew were still alive.
"Calvary 1, Base, looks like company en route, counting three trucks filled with tangos. Request fast mover cover ASAP," Dawg radioed in.
"Base copies, fast movers en route."
"You see anything?" Dawg asked his co-pilot and crew.
"Nothing yet, Captain," the co-pilot's voice crackled over the headset.
Hovering over the crash site of the downed F/A-18 the crew of the CH-46 scanned the area. Major Cass Winter, aka, Snow White, had been shot down with Weapons System Officer Keith McDonald two days before and all the wingman could provide was a general location with two chutes deployed.
One of the embedded reporters on a passing helicopter sent out to check for survivors reported seeing what appeared to be one of the jet's external tanks. Now, with tangos approaching from the east, the 46 either had to find the crewmen in the next few minutes or get out of Dodge fast. The thwuck of two COBRA attack helicopters initially sent as cover could be heard approaching, buying the rescue crew a few more precious minutes.
"Where the hell are those fast movers?" Jameson yelled as he set down the 46.
"There! I see something in that clump of whatever the heck that stuff is over there!" Lance Corporal Adamson called out.
About the Author: Regan Taylor is originally Seaford, New York and now bucolic Marin County California. Published in both fiction and non-fiction she enjoys quiet days writing, reading with one of her cats on her lap and crocheting. She volunteers with Friends of Ferals in Marin County and considers the feral she cares for, OC, as one of her own. Her past careers include legal secretary, therapist and police dispatcher.
Goodreads | Twitter | Amazon Author Page
Buy the book at Amazon.