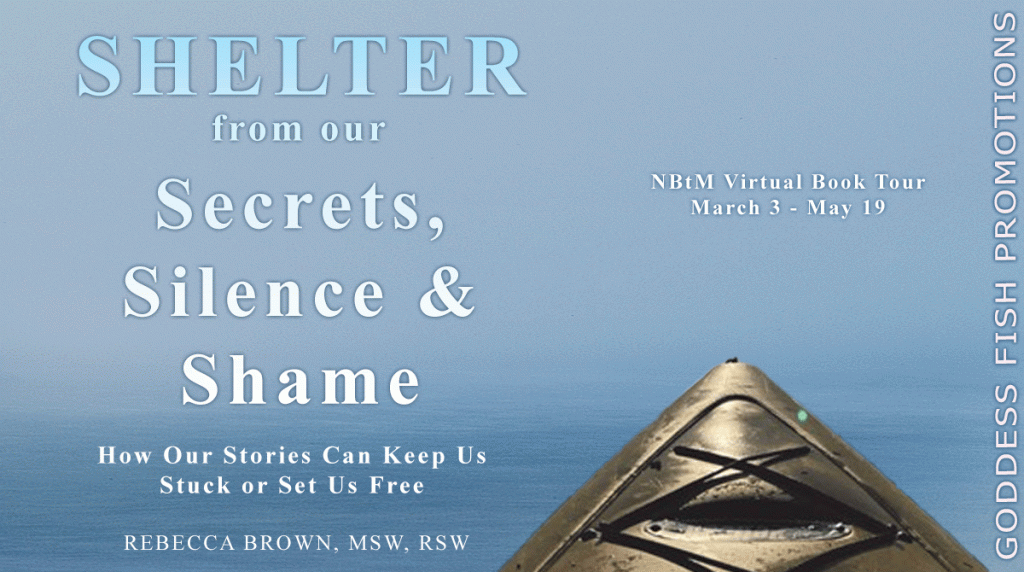 This post is part of a virtual book tour organized by Goddess Fish Promotions. Rebecca L. Brown, MSW, RSW will be awarding a $15 Amazon/BN GC to a randomly drawn winner via rafflecopter during the tour. Click on the tour banner to see the other stops on the tour.
I thought I'd share an excerpt from my book. This is the beginning of one of the chapters, I don't want to spoil it; enjoy!
People say that I'm good with people. I've always been in the helping field. People and animals seem to be naturally drawn to me. Maybe it's feminine intuition mixed with maternal instinct. I'm able to feel an energetic connection with people, and I prefer to be around others than on my
own. All my formal training, although helpful and a great foundation, just helped to lay the groundwork for what was to come: working with people to enhance their connection, healing and promoting growth and learning.
I've had my own struggles. Haven't we all? I was separated from my family at an early age and taken in by a family who had the best of intentions. They wanted me to fill a void in their lives, but after a few years, I became invisible, a burden, and was left to myself most of the time. I felt that I had done something wrong. I became sensitive to strong emotions and could sense someone's energy from a distance, particularly the negative. Negative energy is louder than positive energy. It takes me longer to trust people, and I withdraw myself sometimes. It's a primal instinct. Some may say a coping strategy. Sometimes it's more comfortable being alone, than risking being hurt and rejected, again.
I have a big heart.
I can hold space for people's pain.
I can see into their soul.
I know when their insides don't match their outsides.
I recognize the walls people put up to protect themselves.
I help them to break down their barriers and obstacles.
I lead them to a new understanding of themselves.
I teach people to trust themselves, to trust in others again.
Like I have learned to do.
We met on a cold and dreary day.
She approached me with gentleness and a bit of trepidation.
She wanted to make a connection.
Trust takes time for me.
She seemed like she was going to invest the time.
Our connection grew day by day.
She asked me to trust her.
I tested her to be sure she deserved my trust.
We found a new home together.
We work well together.
We take long walks together; we run together.
We can read each other's body language now.
We have made other friendships together.
We have a strong relationship.
We respect each other.
We trust each other.
We challenge each other.
We work together.
We play together.
We help each other heal.
We help others heal.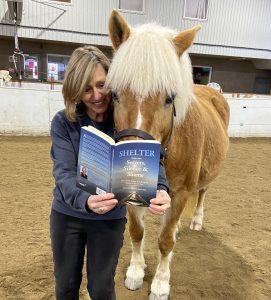 I have blonde hair, brown eyes.
I weigh over one thousand pounds.
My name is Dolly.
To find out more about Dolly, my equine therapy partner, pick up a copy of my book and learn more about Equine Assisted Therapy and how it changed my life, both personally and professionally.
You can also check me out on Instagram and see our weekly "Mental Health Moments" straight from the horse's mouth!
~Rebecca
As a mental health clinician, Rebecca Brown has been a safe place for many to seek shelter from their secrets, silence and shame. Inspired to finally slow down, stop running from herself and share her own story, she found ways to seek and savour her own shelter.

Rebecca's personal journey takes us through sadness, tragedy, self-sabotage, the impossible pursuit of perfection, distorted thinking and eating, engaging with her shadow self, divorce, and numbing with alcohol, all in an attempt to avoid the story needing to be shared.

Dispelling the limiting beliefs we hold about ourselves can unlock our limitless potential to reach goals we never dared to dream. From the Boston Marathon to working with horses, Rebecca sets out to prove to herself that anything is possible when you don't listen to the negative stories you tell yourself.

Everyone has a story. We become who we are because of what has happened to us, and because of the stories we tell ourselves. But do our stories continue to serve us well, or keep us stuck? Are our stories fact or fiction? Is it time to rewrite the versions we have been telling ourselves?

Shelter provides strategies to help reframe the thinking patterns we have developed, and offers tools to recognize when we are suffering from our own thoughts, feelings and actions. Resilience-building techniques are woven through the pages, and encouragement for the lifelong journey of collecting moments of awe and happiness.

Seeking and reading Shelter is a gift of self-compassion and self-discovery. Rebecca's hope is that it will be read with a highlighter in hand, pages folded down, re-read, recommended to a friend, and used as a guide to start sharing our own stories with those we love.

We may not have written our beginnings, but we have the ability to write every word from this point forward and just imagine where our stories can take us when we are free of secrets, silence and shame.
About the Author: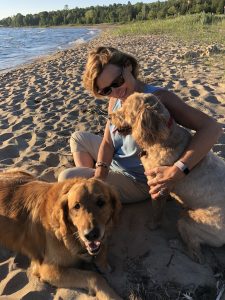 REBECCA BROWN is a clinical social worker with over 35 years in practice ranging from medical social work, childhood trauma, vicarious trauma for first responders, international psychological first aid, and Equine Assisted Therapy. She is honoured to hold a faculty appointment with the Department of Family Medicine at Western University in London, Ontario. She teaches extensively on the topics of trauma and resilience and has delivered keynote presentations throughout North America. She shares her life and career with her husband, a family physician and trailblazer in the field of Lifestyle Medicine. Together they live and work on the shores of the Great Lake Huron, where they seek and share shelter with their six adult children, four grandchildren, extended family and friends, two dogs, two cats and one horse.
Website | Instagram | Goodreads
Buy the book at Amazon, Amazon CA, Indigo Chapters, Barnes and Noble, or Smashwords.