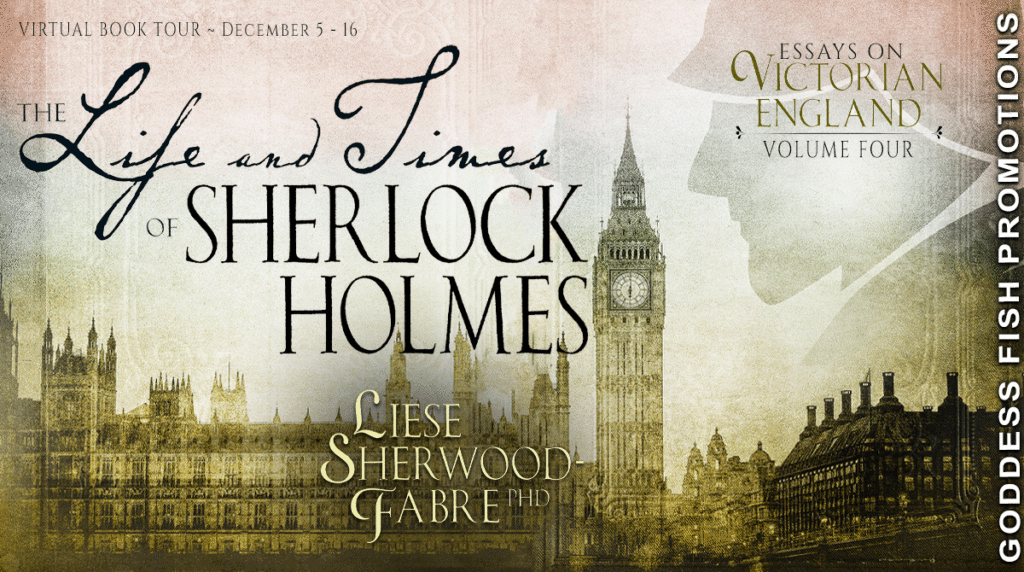 This post is part of a virtual book tour organized by Godess Fish Promotions. Liese A Sherwood-Fabre will be awarding a $20 Amazon, Apple or Barnes and Noble GC to a randomly drawn winner via rafflecopter during the tour. Click on the tour banner to see the other stops on the tour.
My Sherlock Holmes Collection
One way you can identify a true Sherlockian is if they have a collection. Different Sherlockians are interested in different items. I know one who has collected games based on the great detective (and yes, there are many), one who has assembled the photos and autographs of almost all the actors who have portrayed Holmes over the years (going back to early theatrical productions), and another who recently donated his copies of foreign editions of the cases to Southern Methodist University (SMU) library. In fact, libraries across the world can boast of being recipients of different private collections. One of the most extensive is at the University of Minnesota.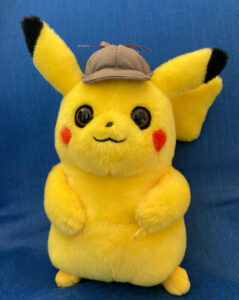 Some have a room—or rooms—dedicated to their collection. More than one has converted a room to a replica of Holmes' sitting room at 221B. Compared to those enthusiasts, my own collection is quite meager and could be displayed on just a few shelves. I have a plushy Pikachu doll with a deerstalker cap, a phrenology model (almost always in the background in 221B scenes), and the first-day issue of a series of Sherlock Holmes stamps from the UK. I also went on a search (and found) a ceramic figurine and some teapots in a likeness of Sherlock Holmes. This list doesn't even include the different books on Sherlock Holmes, Sir Arthur Conan Doyle, and Victorian England I consult for the essays I write each month.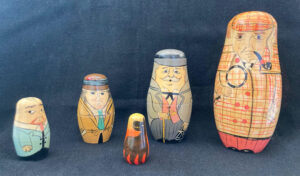 Of all, my favorite, however, is a set of nesting dolls I purchased at a Sherlock Holmes conference. It's special because it represents the intersection of my professional and writing lives. From 1990-1995 I worked for the US Agency for International Development (USAID) in Moscow. It was a heady time—Russia was moving toward a market economy and democracy. I was involved in assistance to the education and health sectors as innovations were introduced in both. Nesting dolls are an iconic part of Russian culture, and we purchased quite a number while there. When you visit a market, you will find sets range from only a few figures (three-five) to twenty or thirty. They can be simple or quite elaborately painted and decorated. My Sherlock set holds Sherlock, Watson, Lestrade, Moriarty, and the famous hound of the Baskervilles (the smallest).
What causes someone to decide to spend time and money on their collections? Some do so from an investment standpoint. The rarer and more desirable the item, the more likely it is to go up in value. But according to psychologists, most collectors do so for the hunt. Achieving a rare find is bring both satisfaction and joy when completed. My collection seems to fall into the joy of owning. You can't look at a deerstalker-sporting Pikachu and not smile.
What about you? Has the collecting bug ever bit you? What have you assembled?
Be as smart as Sherlock Holmes!

Arthur Conan Doyle's original tales include many references to everyday Victorian life that are no longer part of current readers' world. What Holmes would have eaten from a can while searching for the hound of the Baskervilles, Watson's enjoyment of a yellow-back novel, or the proper use of a gasogene would have been common knowledge to the Victorian contemporary but compels modern readers to run to the nearest reference book. These twenty-five short essays pull such items from the past and expand on their significance in the story. As an additional bonus, this book contains an essay on the role of scandal in Holmes; cases, originally appearing in a collected volume of essays on feminism and agency. After enjoying these concise treatises on Holmes' world, readers will have a deeper understanding and appreciation of both the times and the life of the world's greatest consulting detective.
Enjoy an Excerpt
The Intercontinental Reach of the Law
In two of Holmes' cases, he meets Pinkerton agents: Edwards in The Valley of Fear and Leverton, who trailed Giuseppe Gorgiano from America in "The Adventure of the Red Circle." By 1888, during the first encounter, the reputation of the Pinkerton Agency had been firmly established for almost 50 years and had already lost its founder, Allan Pinkerton. The Edwards character is said to have been based on James McFarland, who had garnered fame in the 1870s for infiltrating and testifying against the Molly Maguires, a secret Irish mining society. Leverton's fame also preceded him as "the hero of the Long Island cave mystery."
Allan Pinkerton was born in Glasgow, Scotland in 1819 and worked as a barrel maker there until immigrating to the US in 1842. He settled outside of Chicago and continued his trade. In 1847, he fell into his new profession when he was out collecting materials for his barrels. A particular island not far from where he lived had a plentiful supply of poles, and while gathering them one summer day, he came across evidence of someone else using the island. He informed the sheriff, and the officer investigated, capturing a large gang of counterfeiters. Later, local shopkeepers asked Pinkerton to help capture yet another counterfeiter. Based on these efforts, he was appointed as Chicago's first—and, in the beginning, only—police detective. Shortly, he had five detectives working under him, and his reputation continued to grow.
Beyond his detective work, he was also an abolitionist. He had been involved in radical politics in Scotland, which was why he was forced to emigrate. His shop served as a station along the under‐ ground railroad, and he raised funds to help transport eleven slaves freed by John Brown. In 1850 he left public services to form his agency. Pinkerton's National Detective Agency advertised "We Never Sleep" with an unblinking eye as its logo. This image lies behind the term "private eye." The company included Allan's brother Robert, who was a railroad contractor. The organization specialized in the capture of counterfeiters and train robbers, but also provided private military contractors and security guards. By 1853, Pinkerton Agencies existed in all the major Union cities. The company hired the first female detective (Kate Warne) in 1856, and during an investigation of a railway case, uncovered a plot to assassinate President-elect Abraham Lincoln in 1861. Warned of the threat, Lincoln changed his itinerary and, under a disguise, passed through the area at night unharmed.
About the Author: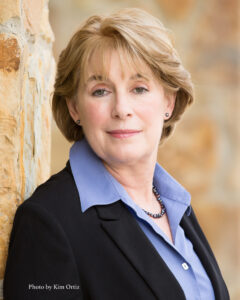 Liese Sherwood-Fabre knew she was destined to write when she got an A+ in the second grade for her story about Dick, Jane, and Sally's ruined picnic. After obtaining her PhD, she joined the federal government and worked and lived abroad for more than fifteen years. Returning to the states, she seriously pursued her writing career, garnering such awards as a finalist in RWA's Golden Heart contest and a Pushcart Prize nomination. A recognized Sherlockian scholar, her essays have appeared in scion newsletters, the Baker Street Journal, and Canadian Holmes. These have been gathered into The Life and Times of Sherlock Holmes essay collection series. She has recently turned this passion into an origin story series on Sherlock Holmes. The Adventure of the Murdered Midwife, the first book in The Early Case Files of Sherlock Holmes series, was the CIBA Mystery and Mayhem 2020 winner.
Website | Facebook | Twitter | Amazon Author Page | Goodreads
Buy the book at Amazon, Barnes and Noble, Kobo, iBooks, or other online venues.