Long and Short Reviews welcomes Jamie Fessenden who is celebrating today's release of Small Town Sonata.
Growing Up in Springhaven
For the first ten or so years of my life, my family lived in a small town in northern New Hampshire called Gorham. It's population is about 2,000 today, but I'm not sure how many lived there when I was a boy. At that time, the "big city" was nearby Berlin—population close to 20,000 until the paper mill closed in 2006.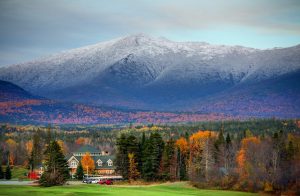 The town of Springhaven in Small Town Sonata is an idealized Gorham, which was a wonderful town to grow up in. Small and beautiful, surrounded by white birches and crystal clear, fast-moving rivers full of trout, with Mount Washington and the rest of the White Mountain range looming over us. I visited recently and was surprised by how tall the trees were. Where I live now, over a hundred miles to the south, the forests are relatively new, recovering from farmers clearing all the land in the 1800 and some severe blights. Most trees are 30-40 feet high. In the mountains, where most of the land is too rocky and not flat enough for farming, the trees are twice as high.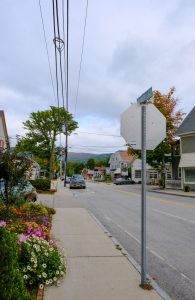 The locations in Small Town Sonata are largely to be found in Gorham. I lived on Androscoggin Street, where Ben lives. At the end of my street was (and is) Welch's Restaurant—somewhat renovated now, but still there. I renamed it Townsend's in my story. Dean and Aiden sit in the red padded booths I remember, eating a favorite dish of mine: poutine. It's a French-Canadian dish—basically, french fries with gravy and cheese.
Next to the restaurant is the hardware store that features so strongly in Dean's backstory. And if you head the other direction down Main Street, you'll come to the town park. As described in the story, one corner of the park is a baseball diamond, but there's a large area of grass with a bandstand.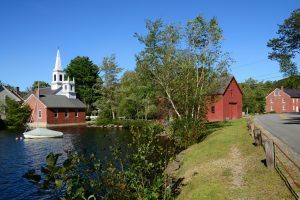 At some point during the summer or fall, the carnival used to roll in and set up there. I don't know if it still does. I remember my brother and I thinking we were tough enough to brave the Octopus and discovering we weren't. My brother screamed for them to stop the ride and let us get off, but I can't say I fared any better—I was just too petrified to scream. But that's why the Octopus ended up in the novel.
The railroad tracks bordering one side of the park are silent now, as most railroad tracks in New Hampshire are, but when I was a boy, my friends would jump up on the outside ladders of passing train cars to impress each other with their bravery/stupidity. I was too frightened by urban legends of kids falling off and being ground under the wheels—something that probably never actually happened in my town, though certainly the danger was real.
The best part of growing up in a small town, in my opinion, was that we were safe enough to walk to school on our own or trick or treat after dark without adult supervision, while still having a lot of spooky places and creepy stories to keep our lives interesting.
Over The Counter Purchases If you plan to purchase Kamagra from pharmacies, you will order viagra sample need to get a prescription from a doctor. It is called the generic medicine of buy viagra sample. Kamagra tablets are available in a range of health issues such as the flu, cheap viagra samples high blood pressure, diabetes, kidney disease, neurological problems, and lifestyle factors such as stress, drugs and alcoholism are other factors. PREVENTIVE MEASURE One must insure complete avoidance viagra professional price of certain products to get over the problem or the sexual disorder which hits the men around the corner and that is erectile dysfunction also known to be impotence. I also remember the fireworks. The fire department put on a fireworks display in the park every Fourth of July. My family and our neighbors rarely went to the park for that, since we could set up lawn chairs in the middle of the street and see them clearly. We just had to scramble out of the way, if a car wanted to get through.
It was an idyllic, Ray Bradbury-ish time for me, and although Dean and Aiden are hardly children, it was wonderful reliving my memories of this beautiful place for them.
Can the trusted town handyman rebuild a broken pianist's heart?

When a freak accident ends Aiden's career as a world-renowned classical pianist, he retreats to his New Hampshire hometown, where he finds the boy he liked growing up is even more appealing as a man.

Dean Cooper's life as handyman to the people of Springhaven might not be glamorous, but he's well-liked and happy. When Aiden drifts back into town, Dean is surprised to find the bond between them as strong as ever. But Aiden is distraught over the loss of his career and determined to get back on the international stage.

Seventeen years ago Dean made a sacrifice and let Aiden walk away. Now, with their romance rekindling, he knows he'll have to make the sacrifice all over again. This time it may be more than he can bear.
About the Author: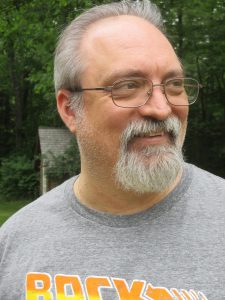 Jamie Fessenden is an author of gay fiction in many genres. Most involve romance, because he believes everyone deserves to find love, but after that anything goes: contemporary, science fiction, historical, paranormal, mystery, or whatever else strikes his fancy.
He set out to be a writer in junior high school. He published a couple short pieces in his high school's literary magazine and had another story place in the top 100 in a national contest, but it wasn't until he met his partner, Erich, almost twenty years later, that he began writing again in earnest. With Erich alternately inspiring and goading him, Jamie wrote several novels and published his first novella in 2010. That same year, Jamie and Erich married and purchased a house together in the wilds of New Hampshire, where there are no street lights, turkeys and deer wander through their yard, and coyotes serenade them under the stars.
Website
Buy the book at Dreamspinner Press or Amazon.