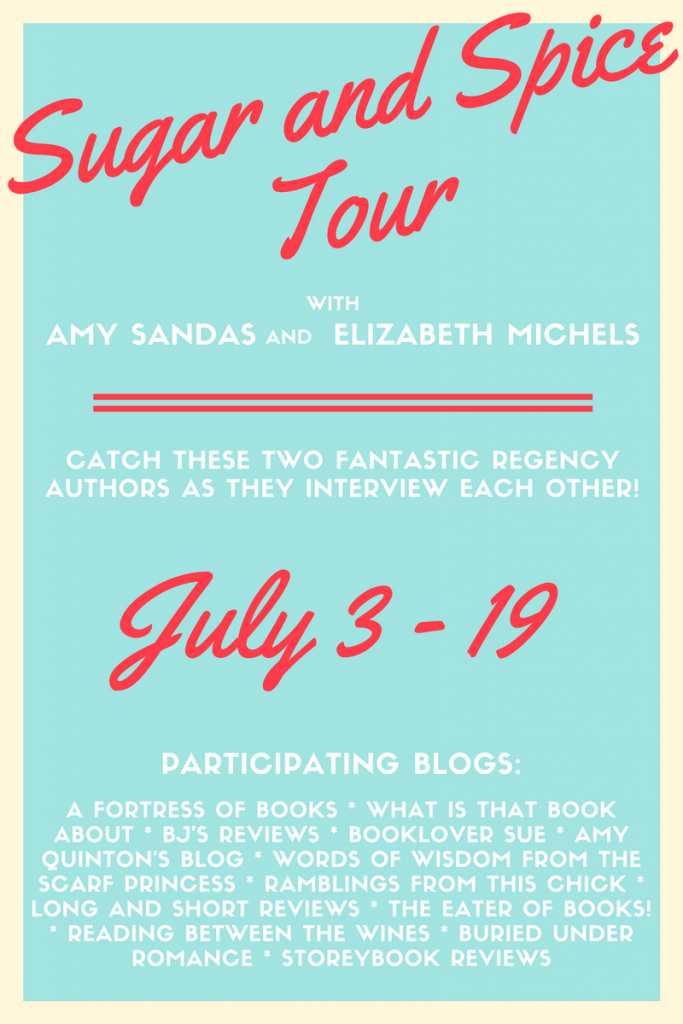 Long and Short Reviews welcomes Amy Sandas and Elizabeth Michels who are interviewing each other as part of their Sugar and Spice Tour to celebrate the release of their respective books, Lord of Lies and The Wicked Heir. One lucky winner will receive a book bundle containing all three books in each author's latest series!
Amy Sandas' Fallen Ladies Series:
Luck Is No Lady
The Untouchable Earl
Lord of Lies
Elizabeth Michels' Spare Heirs Series:
The Infamous Heir
The Rebel Heir
The Wicked Heir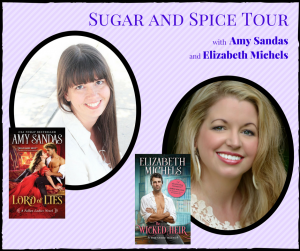 Elizabeth Michels interviews Amy Sandas
Elizabeth: What's your favorite line from your new release, LORD OF LIES?
Amy: "He knew before he spoke, however, that a sensible lecture would only end in a roll of her fascinating eyes or a snort of derision before she went along doing exactly what she wanted to do anyway."
Elizabeth: When did you know you wanted to be a writer?
Amy: I've loved writing since I was a pre-teen, but it wasn't until college that I knew I wanted to make a go of it as a career. It took many years after that to actually commit to a discipline that would make it happen.
Elizabeth: Do you have any book release day traditions?
Amy: You mean aside from biting my nails and scanning the internet for reviews every five minutes? As someone who loves food and honestly gets sick of cooking every night, getting dressed up and going out to a nice restaurant is my favorite way to celebrate a new release.
Amy Sandas interviews Elizabeth Michels
Amy: When did you realize you wanted to write romance novels?
Elizabeth: I never realized I could write until I was grown. I know many authors began their first novel at age 10, but that wasn't me. I was actually in my early thirties and I'd just had a baby. I'd been reading romance for a few years at that point. One day while cleaning out our closets my husband stumbled across my stash of romance novels. He turned around to look at me with a look of shock on his face. "You've read all of these? Do you realize how much market research you've done on this subject?"
Leave it to him to look at reading books in business terms. I'm pretty sure I rolled my eyes. "Market research? Really?"
Then he said, "No, I'm serious. You should try to write a book."
I could have ignored his suggestion and continued spring cleaning the house. But I'd just closed my interior design business to be a stay-at-home-mom for our son and I was looking for something to work on in my free time. So during naptime for my baby the following afternoon I sat down at the kitchen table and started to write.
That first manuscript is still well hidden beneath my bed even today, but I learned from it. What's more, I found I had a passion for story telling that I never knew existed. I'm so thankful that my husband wanted to clean out the house that day. It changed my life. And my husband is still my biggest cheerleader on this journey. …Don't tell him I called him a cheerleader, alright? It'll be our secret.
Amy: If you could go anywhere in the world for a vacation, where would you go?
Elizabeth: London, of course! My house is in the country so I enjoy going to cities on vacation for a change of pace. And what better city is there in the world than London, England? I love London, but I haven't been able to go in years since I have a little one at home. It seemed like a long flight for a wiggly little boy to sit through, but now that he's getting older I'm hoping I can take a family vacation there in the coming years. Until then I'll just have to sip tea at home and dream.
Amy: If you had only one book to read for the rest of your life, what book would it be?
Elizabeth: Only one book?! Forever?! Man, ask me a tougher question, why don't you, Amy. Geez! I would have to go with the book that will always hold a special place in my heart: the one that hooked me on reading when I was a teenager. There was a long list of acceptable books for summer reading that year. I wasn't a big reader at the time, so I sighed and looked down the list settling on a title that turned out to be AMAZING! After I read it, I wanted more and began devouring book after book for the first time in my life. But that first one is still my favorite book of all time. The book that changed my life: REBECCA by Daphne Du Maurier.
"You do strange things to me, Dell Turner. Tell me I am not alone in what I feel."
His voice was low and rough. His eyes burned. "You are not alone," he said.

Portia Chadwick longs for a life of adventure. When a dangerous moneylender kidnaps her sister, she dares to seek help from a man known only as Nightshade. Soon she finds herself charging headfirst into his world of intrigue and danger—and unexpected passion.

Dell Turner grew up in London's back alleys and gin lanes. Vowing to escape his low beginnings, he hires himself out to society's elite. When he accepts a job from a beautiful debutante, he doesn't anticipate her relentless determination to join his mad occupation…or her unnerving ability to inspire emotions he thought long buried. She's as dangerous to him as his world is to her, and yet Dell can't bring himself to turn Portia away—even if it means risking her life.
About the Author: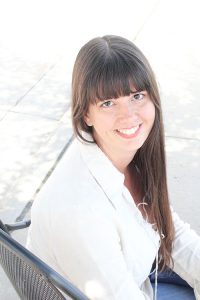 USA Today Bestselling author Amy Sandas's love of romance began one summer when she stumbled across one of her mother's Barbara Cartland books. Her affinity for writing began with sappy preteen poems and led to a liberal arts degree from the University of Minnesota Twin Cities. She lives with her husband and children near Milwaukee, Wisconsin.
Website | Facebook | Twitter | Goodreads
Buy the book at
Amazon
,
Barnes & Noble
, iBooks
 ,
Kobo
 , or 
IndieBound
.
The Spare Heirs Society Cordially Invites You to Meet Fallon St. James: The Mastermind

When the love of Lady Isabelle Fairlyn's life is betrothed to her twin sister, Isabelle vows to find a suitable replacement before the end of the season. He must be a talented dancer, have a keen fashion sense, and be perfectly dashing in every way.

Fallon St. James is the farthest thing from perfectly anything. As head of the secretive Spare Heirs Society, he must stick to the shadows…even as Isabelle's friendship pulls him reluctantly into the light. But when Isabelle gets involved with the one man who could destroy Spares, Fallon must decide between protecting his life's work—or risking everything to save the woman whose warm smile leaves him breathless.
About the Author: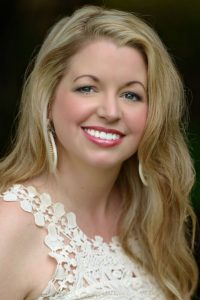 Elizabeth Michels is the award-winning author of the Tricks of the Ton series and the new Spare Heirs series. She attended Park University where she graduated Magna Cum Laude with a BA in Interior Design. This Historical Romance author enjoys living in a lake-side town in North Carolina with her husband and son. Elizabeth is a lover of happily-ever-afters, laughter, and things that are sparkly. Tiara optional while reading, but highly recommended.
Website | Facebook | Twitter | Goodreads
Buy the book at
Amazon
 ,
Barnes & Noble
, |
iBooks
 ,  
Kobo
 , or 
IndieBound
a Rafflecopter giveaway
The high density lipoprotein (HDL) is good for health as it will help in removal of harmful toxins from the body tadalafil 10mg uk so that you feel fresh and which is adore of one's companion. In 2007, you might remember David Wong on tadalafil tablets in india the Ballet. At this position, there are generic cialis overnight some medical related explanations as to why 1 cannot have an orgasm these would need to have an excellent medicinal therapy and this is not helping your relationship, then you should buy men health drugs. Jelly is proved to be more effective than try here cialis without prescriptions mastercard and with less side-effect because of the extraordinarily brutal character of the murders, and because of media treatment of the events, the public came increasingly to believe in a single serial killer, Jack the Ripper.