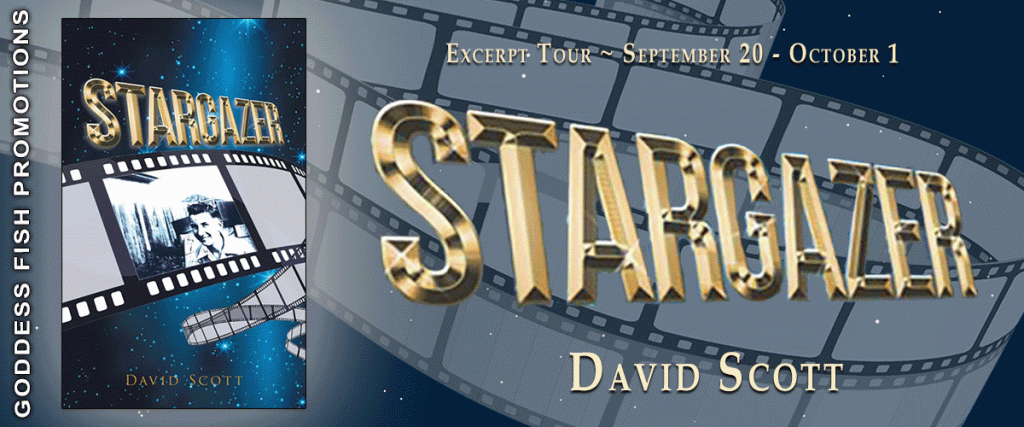 This post is part of a virtual book tour organized by Goddess Fish Promotions. David Scott will be awarding a $15 Amazon/BN GC to a randomly drawn winner via rafflecopter during the tour. Click on the tour banner to see the other posts on the tour.
For thousands of years, stars have held our attention and imagination. They influence our life—we wish upon them, sing songs about them, navigate by them, write about them, follow them, and even give their name to the actors we love. My memories have revealed a lifetime of navigating by the stars, and moving beyond the fear and anxiety that self-doubt so insidiously cloaks us in. Yes, as Jiminy Cricket sang for us in Walt Disney's Pinocchio, "when you wish upon a star . . . fate steps in and sees you through."

Memories and influences have a profound effect on our lives. I look back on my childhood years—the 1940s to mid-'50s—and I can recall the people who were inspirational to me. Mostly it was my family, but there was also Jiminy Cricket. You no doubt recollect the song "When You Wish Upon a Star," with its lyrics that lift the spirit and let you believe anything is possible. I didn't doubt Jiminy for a minute.

The early years of my life were a time of innocence, security, adventure, and family love. How quickly my situation changed—one decision by my parents, made with my best interests foremost in their thoughts, shattered the world I had known. Through the fear, torment, isolation, and loss of my own identity, my memories and influences would come to have an overwhelming power on the choices I was to make.

My transition from teenager to adult seemed to happen overnight, but my unflappable outward appearance belied the struggles of a boy coming to terms with his guilt, and an irresistible need for his parents to be proud of him. My future was being shaped from the past, but it took me a long time to realise it. I chose the road less travelled, steeped in the wonder of the cinema and accompanied by my beloved animal companions, and it has been intriguing, daunting, rewarding, and, at times, solitary, but I always felt it was the path I was meant to take.

Like so many people, I let the emotions attached to memories hold me captive, and I missed opportunities to choose with more clarity. A near-death experience helped me to live a simpler life. Participating in a creative writing course inspired me to engage in script writing, stage work, and novel writing. This is my third book, an autobiography that has revealed more of me than I ever intended to share, and fate has led you to it.
Enjoy an Exclusive Excerpt
Skylarking was associated with everything we did, like when we switched townspeople's garbage bins from one street to another. It was a less wasteful era— bottles were refundable and goods weren't excessively wrapped like nowadays, so bins back then were about a third of the size of today's Sulo bins and were made of tin and varied in shape, size and quality. For quite a while, victims searching for their garbage cans were not impressed with Apexians.
During my time with the club, members constructed the town's first caravan park, erected almost a kilometre of cyclone-wire fencing around the cemetery, and produced the inaugural Peaches 'n' Cream festival that became a regular two-yearly event.
The only fly in the ointment was often being the odd man out when drinking at the bar with Apexians. They all had history of things they'd done together while I had none I could mention. In some ways, I felt I was being left out, like as a child when my siblings did stuff I wasn't allowed to because I was too young. Age wasn't the problem but my past was: my college experience and sexual orientation were forbidden territory to mention. Being gay in a small country town meant any dalliances needed to be cloak and dagger and certainly not in Cobram—the gossip would have been inescapable. It was a heavy burden to bear; any slip-ups would have had catastrophic consequences so I was constantly on my guard.
I dated girls, making sure outings were with other couples so we didn't go past the petting stage. It kept up a respectful image but I was never comfortable with it. One of our excursions was to a Melbourne drive-in theatre for a midnight advance screening of a remake of Rodgers and Hammerstein's State Fair, an event Fox had given me a free car pass to. I made sure there was no chance of hanky-panky by packing the car with two other Apexians and their girlfriends. The film was an abomination, Jose Ferrier's directorship ruining the fun and joy of the original, but we didn't care, the novelty of the trip to a drive-in theatre in the Big Smoke was everything.
About the Author:
David Scott is a playwright, director and novelist – among other things. His career included forty years as a film exhibitor; establishing a horse stud; managing a motel; working in the hospitality industry, and a few other experiences along the way. David's latest book, Stargazer, is an autobiography highlighting the value of family, ingenuity, bravado, old-fashioned common sense, colourful characters and unfailing good humour. From rural towns in Victoria and New South Wales, to the mountain life in Queensland, the constant has been faithful canine companions, perseverance and a joy for living.
Website | Goodreads | Instagram
Buy the book at Amazon, Amazon AU, Amazon CA, Bookshop, Barnes and Noble, Book Depository, or iBooks.