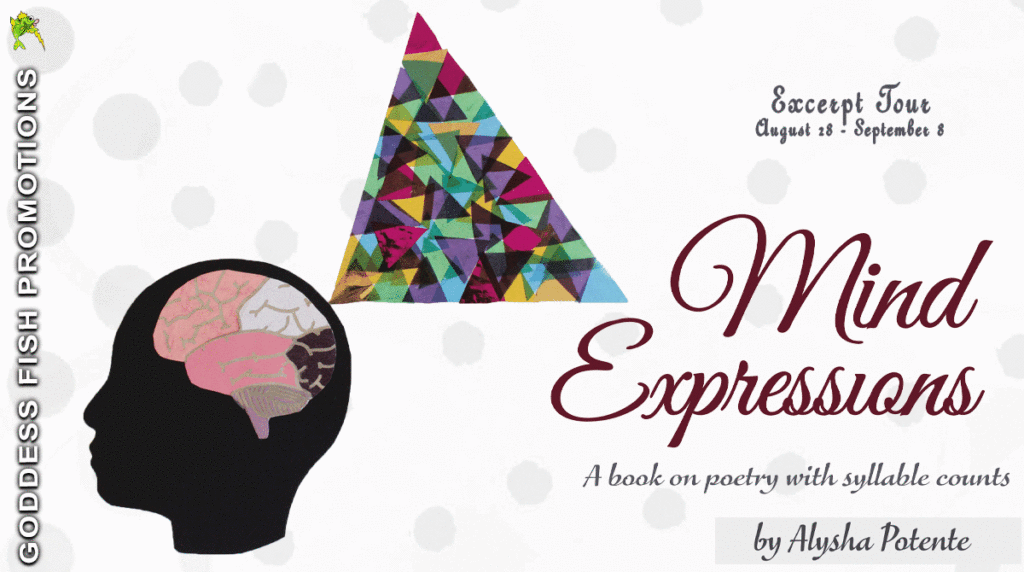 This post is part of a virtual book tour organized by Goddess Fish Promotions. Alysha Potente will be awarding a $15 Amazon or B/N GC to a randomly drawn winner via rafflecopter during the tour. Click on the tour banner to see the other stops on the tour.
This poetry book has a total of over 130 poems, and most feature alongside: beautiful photography art. All of the poems are different from the next, in meaning and technique.

Analytical in nature, each poem dives into various topics. With this are also syllable counts, where the number of syllables per line are counted and arranged. This brings forward a technical side to poetry writing, where it is precise and balanced.

It is a skill that requires practice, where you hear the word for what it is, using mathematics while rhyming words together. All of the poetry features different rhyming forms.
Enjoy an Exclusive Excerpt
THESE MYTHOLOGICAL CREATURES..
In your mind you visualise..
Something you can't see with your eyes..
Something that's found in fable pages..
Something that is known throughout the ages..
All are in folklore features..
Named 'Mythological creatures'..
What do we analyse for a start?..
Maybe their quite unusual body parts..
A half horse and a half man..
Named a 'Centaur' that's in Roman..
He's also in Greek mythology..
The 'piercing bull' in etymology..
With flying wings that breathes fire..
Named a 'Dragon' as an entire..
Making a mention in Fairy tales..
Usually with castle's as the details..
A lion and an eagle..
Named a 'Griffin' that looks regal..
In myths of Roman and Egyptian..
Guarding treasures is in description..
With hooves and a single horn..
Named a 'Unicorn' since it's born..
In European literature and art..
It's a symbol of pure grace and of heart..
Just a few creatures mentioned..
Next time I'll make the list lengthened..
For there are many popular that's known..
All of which we have heard of since we've grown..
Syllables: 7, 8, 9, 10, 7, 8, 9, 10, 7, 8, 9, 10, 7, 8, 9, 10, 7, 8, 9, 10, 7, 8, 9, 10, 7, 8, 9, 10= patterns.. (7, 8, 9, 10 repeated).
Every two lines rhyme together.
About the Author: Alysha has been a self- taught creative writer, since the age of 16, in her hometown of Perth, Australia. Her passion for it developed on its own, the need to express herself in a different way other than verbally, was what motivated her to keep up this passion. The use of words was captivating for expression and the love of rhymes was also heard by ear.
Alysha's first poetry book that she read was actually in Primary School and it was called 'Revolting rhymes', which was a retake on nursery rhymes but in a humorous way. This book started this creative side in her at a young age, that, and also her love for art in general.
In 2015 she studied a short course at Berklee, where she was introduced to the notion of syllable counts. In fact, though she had actually been doing syllable counts unconsciously with her poetry in general. By using the same measurement of lines going off of sight, had in turn created similar syllable counts/patterns in her work.
Her book 'Mind Expressions' is a technical side of poetry writing that's come to life. It's the use of mathematics, along with creative writing. She wanted to give the reader a breakdown of each poem within, in order for them to delve into each poem further and analyse it using a different set of eyes. The poems are analytical in nature, along with syllable counts (some perfect) and perfect rhymes. This really showcases poetry at the highest skill.
Alysha is multi-talented in Art itself and is also a perfectionist. For where her passion lies in different artforms, is where she crafts her skills to a perfection standpoint.
Website | Facebook | Instagram
Buy the book at Amazon, Amazon AU, Amazon CA, Barnes and Noble, or Kobo.